This post may contain affiliate links, which means we may receive a small commission when you make a purchase at NO additional cost to you. Thank you for supporting our site in this way!
We love visiting Dollywood at Christmas, but is it worth going to Dollywood in winter? After all, Dollywood is a theme park like no other nestled in the Smoky Mountains of Tennessee and it gets quite cold.
The short answer is: YES! I absolutely recommend a December Dollywood trip (or November or January for that matter). But there are a few important tips you need to know before you go.
Going to Dollywood in Winter: 7 Things to Know Before You Go
1. Dollywood Winter Hours are Limited
We visited Dollywood the week of Thanksgiving and it was only open from 2-9 PM. If you're visiting Dollywood during peak winter hours (such as weekends and the week between Christmas and New Year's), Dollywood is open longer hours (11 AM -9 PM).
Verify Dollywood Park operating hours and days on the Dollywood calendar. Shortened hours mean you may need to plan out your day a little better, but there's still plenty of time for fun for everyone.
Dollywood is also closed on Christmas Eve and Christmas day, so keep that in mind when doing your planning. Dollywood will then close after New Year's and reopen in mid-March.
2. Eat All the Cinnamon Bread
Dollywood's Cinnamon Bread is a good idea during any time of year. But during the holidays when it's cold, warm cinnamon bread from The Grist Mill is especially delicious. The only problem is that the Grist Mill lines can get crazy!
A little-known fact is that you can also find their famous cinnamon bread at Dollywood's DreamMore Resort AND at the bakery on Showstreet. Stopping at the bakery is also worth it for their famous apple pie too.
3. Don't Miss the Holiday Shows
Dollywood is known for its entertainment and the holiday season is no different. You'll find live music all over the park. While you can still enjoy the open-air theaters and strolling entertainment, you'll also find more elaborate shows inside the main theaters.
A can't miss is Christmas in the Smokies, Dollywood's favorite Hollywood tradition in DP's Celebrity Theater that runs until just after the new year.
4. Some Rides Close in Cold Weather
To maintain guest safety and ride integrity, some Dollywood rides don't operate when the temperature drops slightly below 40 degrees. According to the Fun Times Guide, cold weather causes extra friction in the wheels, so it's truly a safety precaution.
That means if you're visiting the park during limited holiday hours, plan to ride the major coasters as early in the day as possible. Head to your favorite ride as soon as the park opens and you'll also avoid long lines.
5. Christmas Only Holiday Events
There are so many special events you'll only find at Dollywood during Christmas, including:
50 ft animated Christmas tree
5 million lights
Christmas fireworks
unique Christmas shopping
6. Pay for Preferred Parking
As you can imagine, shortened wintered hours at Dollywood means long lines to get in when the park opens. That's why I recommend paying for preferred parking. You skip the tram lines and get to walk right into the park via the Group Entrance on the side by the wheelchair rentals and the trail that leads to Timber Canyon.
This means more time to enjoy in the park. And you won't have to wait as long (or walk as far) at the end of your day.
7. Dress in Layers
It's been said that we can experience all four seasons in one day here in Tennessee. While we may start and end the day in the 30's, temperatures can climb into the 60's or even 70's during the day.
To truly maximize your time at Dollywood in winter, dress in layers and consider keeping hats & gloves in a small bag with you.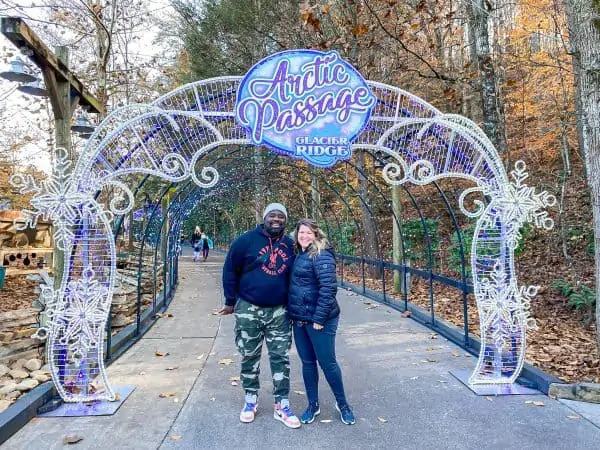 ---
The Golden Ticket Awards have named Dollywood "America's Best Christmas Event For More Than A Decade". There's a reason people keep coming back to experience a Smoky Mountain Christmas year after year. If you're planning a trip to the Gatlinburg, Sevierville or Pigeon Forge region, make sure you include at least one day at Dollywood for the holidays.
Remember, I was an inaugural member of the Dollywood Insiders. Follow along for all things Dollywood. Dollywood provided tickets for my family to visit Dollywood for the day, but all tips and opinions are my own.
Dollywood Harvest Festival
While not technically winter, you can experience the best of fall at Dollywood's Harvest festival in September and October. Plus, we heard the news straight from Dolly's mouth about a new roller coaster coming in 2023.
And if you're planning a trip to Pigeon Forge, make sure to stop by Downtown Flavortown. More than a Guy Fieri restaurant, this HUGE entertainment complex delighted the adults and teens in our family alike.