This post may contain affiliate links, which means we may receive a small commission when you make a purchase at NO additional cost to you. Thank you for supporting our site in this way!
Being is mom is exhilarating, fulfilling and comforting…
but at the same time it can be nerve-wracking, frustrating and downright scary!
Never has that been more true than in our world today.
Commit to the Lord whatever you do, and he will establish your plans. ~ Proverbs 16:3
Being a mom doesn't mean having all the answers, but it does mean knowing who to turn to when we don't.
Being a mom doesn't mean always saying yes, but it does mean acting in love regardless of how we feel.
Being a mom doesn't mean settling for satisfactory; it means pursuing with passion!
But before you head over there…
Even though I love reading (both for myself and to my children), I don't often recommend parenting books. However a new book I would strongly suggest you check out is The Passionate Mom by Susan Merrill.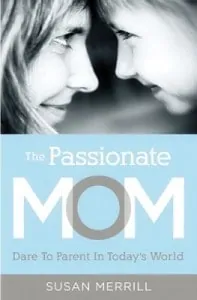 This book is far from a manual, but instead a thoughtful roadmap for how a passionate mom can parent almost any child…confidently.
Of course if you're looking for that delightful book to read to your younger children this Mother's Day, one of our favorite children's authors, Amy Parker, wrote "Thank You God for Mommy" which has quickly become a family favorite for its simple yet poignant way it conveys the sweet relationship between a mother and child.
If you'd like to win a copy of "Thank You God for Mommy", you can enter via RaffleCopter below. One winner will be chosen at random from all eligible entries. Good luck!