This post may contain affiliate links, which means we may receive a small commission when you make a purchase at NO additional cost to you. Thank you for supporting our site in this way!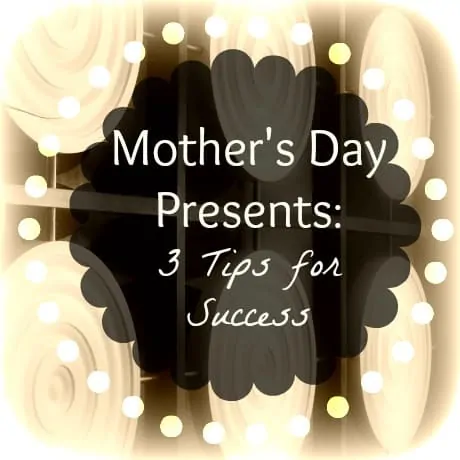 The perennial question when it comes to Mother's Day presents seems to always be this: to make homemade or buy?
On the "Family Friendly Morning Show" this week I shared my 3 step to success to make this a happy Mother's Day for every mom out there. If you follow these three steps to help you select 3 special gifts, you'll find it hard to go wrong!
Mother's Day Presents: 3 Tips for Success
1. Sentimental Mother's Day Present
This is where the homemade comes in to the Mother's Day present process. Have the kids paint a picture, make a card, form a clay pot…you get the idea. I would say  'make mom a mix tape', but then I'd be dating myself, wouldn't I?
2. Practical Mother's Day Present
If you've been paying attention since Christmas, chances are mom's mentioned needed a new 'something'. Whether it's a new vacuum, sweater, throw pillow or screwdriver, it doesn't matter – get it for her. Now this is why my 3 step process is so key: if you ONLY buy her this one practical gift, it seems insensitive. But if you present this gift along with something from each of the other two categories, you come off as thoughtful 😉 Tricky, isn't it? Oh, the female brain…
3. Wish-List Mother's Day present
Now this one is a little trickier, especially if you're on a budget. The wish-list can closely resemble something she's mentioned that falls under the practical category OR it can be something she mentions often that never gets fulfilled – we're talking something as simple as flowers up to an extravagant trip or piece of jewelry. Again, the idea here is to do something out of the ordinary that communicates to mom that you appreciate who she is, what she does and what she dreams about.
Make sure you check out my other Mother's Day Savings posts:
*Mother's Day Photo Deals & Discounts
*Mother's Day Free Food & Restaurant Deals
Do you have any other Mother's Day gift-giving success ideas?
Disclosure: There are Amazon affiliate links/banners used in this post. By shopping through them, not only will you get great deals for mom, you'll be helping my family too!