This post may contain affiliate links, which means we may receive a small commission when you make a purchase at NO additional cost to you. Thank you for supporting our site in this way!
If your household can't stop singing "Let it Go" like ours can't, then you'll FLIP like Olaf in summer for my Disney Frozen Sing-Along Edition DVD giveaway!
This is one of my kids' favorite movies, so to add a sing-along version is so exciting!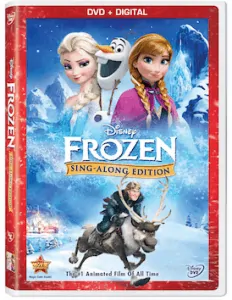 But what I do remember from that night in the theater is singing "Let it Go" as we walked out…and we haven't stopped since.
So while frankly I'm a bit afraid and the level of singing that will ensue once we own the Frozen Sing-Along DVD, but I'm fully prepared to take on the girl-power challenge.
(Though my kids already know that I'm a bit more partial to Olaf's rendition of "In Summer" – never fails to make me laugh out loud).
On November 18, the world was able to bring home Disney's Frozen via a Blu-ray Combo Pack, but right NOW you can enter to win a copy for yourself!
Click for more free Frozen fun:
Disney Frozen Coloring Sheets
Enter to win a Disney Frozen Sing-Along DVD via Rafflecopter below:
a Rafflecopter giveaway

Good luck to everyone…and keep singing!
While you're at it, make sure to watch this AMAZING Let it Go Duet between Jennifer Nettles (of Sugarland) and Idina Menzel herself from the taping of the CMA Country Christmas special (which airs on ABC on December 1, 2014):

Subscribe to my YouTube Channel so you won't miss any more great videos like this.
Disney's Frozen Sing-Along Edition is now available on Digital HD for you to take anywhere when you sign up for Disney Movies Anywhere! Today also marks Walmart's VUDU service joining Disney Movies Anywhere (DMA) as a participating retailer, further enhancing the ability to manage and enjoy your digital collections of Disney, Pixar, and Marvel movies at home and on the go.