This post may contain affiliate links, which means we may receive a small commission when you make a purchase at NO additional cost to you. Thank you for supporting our site in this way!
This isn't your typical gift guide post. Yes, I'm going to share my top 5 Mother's Day jewelry gifts under $50. But before I do, I need to be honest…
Top 5 Mother's Day Jewelry Gifts Under $50
There is a double-standard when is comes to Mother's Day gifts. Mother's Day is supposed to be about honoring moms. But the reality remains that most moms need to plan their own Mother's Day festivities. More often than not, moms even buy their own gifts too.
As my kids have gotten older, I've seen them wanting to spend their own money on gifts for me. (Just not too much money…)
That's why this year I'm putting together 5 Mother's Day fine jewelry gifts that cost less than $50. Thankfully, you can save 65% on fine jewelry at Belk, just in time for Mother's Day!
Mother's Day Fine Jewelry Gift Guide on a Budget
These are my top 5 fine jewelry gift picks under $50 for this Mother's Day. They range from the classic to the super-sparkly. I know you'll find something your mom will love too:
1. Pearl Stud Earrings
These Amour de Pearl button shaped cultured freshwater pearl stud earrings in sterling silver should be in every mom's jewelry box, especially since they are only $10 with code BLINGBLING.
2. Sterling Silver Lariat Pendant Necklace
If there is one piece of jewelry on-trend right now, it's the lariat necklace. I never thought I would find a sterling silver lariat pendant necklace under $50, but that's exactly what I did. This Belk & Co. lariat necklace is only $25 on clearance (normally $100). That's 75% off!
3. Sterling Silver & Stone Hoop Earrings
I couldn't leave these best-selling hoop earrings off of this list. And with five different gemstones and colors to choose from, you are sure to find the perfect pair for that special woman in your life.
Normally $150, each pair is only $37.50 on clearance. Here are direct links to each style:
4. Tree of Life Necklace
My number four pick is a sentimental favorite. While this necklace may not be personalized like some Mother's Day necklaces, it is very symbolic. The Cubic Zirconia Tree of Life Necklace in Sterling Silver is only $43.75 and shows off a network of branches that represents how a family grows and expands throughout many generations.
5. Belk & Co. Jewelry Care Cloth
Last but not least, if you're going to go through the effort of buying mom fine jewelry for Mother's Day, it's important to give her a way to take care of it. This Belk & Co. Jewelry Care Solution is just $5.59 after the coupon SHOPPINGSPREE.
These prices and styles won't last long. In fact, most of these coupon codes end on April 29. But that's a good thing because you'll be all set with your gift when Mother's Day rolls around this year on May 9.
Mother's Day at Belk Giveaway
One way to make your Mother's Day dollars stretch even further is to enter the Savings.com #MothersDayAtBelk giveaway. By entering, you have a chance to win a $100 e-gift card to spend at Belk.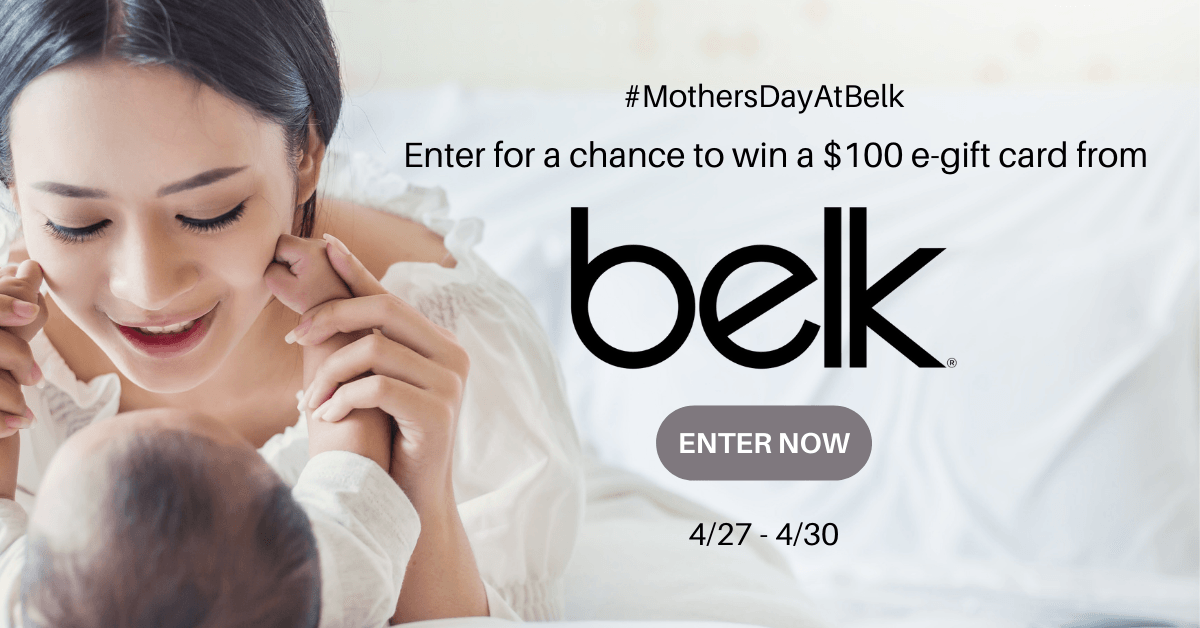 I sincerely hope one of my readers wins this giveaway. Wouldn't that be a great way to celebrate this Mother's Day?
This post is sponsored by Sivan Social. All comments and opinions are my own.