This post may contain affiliate links, which means we may receive a small commission when you make a purchase at NO additional cost to you. Thank you for supporting our site in this way!
Macy's 10 Days of Glam event has me looking back of some of my own makeup marvels and mishaps…
I'll never forget the first time I did my own makeup on-set just minutes before going on live TV. After we aired, one of the producers came out and couldn't believe how I accomplished the look so quickly.

This week, I found myself in a similar predicament. I had to take my car in to the shop, but also had limited time before a video shoot. As the shuttle driver drove me from the dealership back home, I managed to put on my entire face of camera-ready makeup.

It reminded me that you don't need a lot of makeup to look good, just the right makeup in a beauty bag that's always ready to go. Of course, it doesn't hurt if you can get those go-to beauty brands at a great price too
Macy's 10 Days of Glam
During the 10 Days of Glam at Macy's, you can save up to 50% on select beauty products during Macy's 10 Days of Glam! Each day, they'll be able to save on different brands like Too Faced, Clinique, Smashbox, bareMinerals, Anastasia, Philosophy, Murad, MAC and more!

The key to grabbing great deals during the 10 Days of Glam is to check Macys.com early and often. New deals will be released each day and can sell out if you don't act quickly.

While I don't know the specific deals just yet, I did want to give you a guide for what to buy. Here are my 7 essentials for your On-the-Go Beauty Bag:
7 On-the-Go Makeup Bag Essentials for 2021
1. Foundation/Tinted Moisturizer
I love a good tinted moisturizer. It covers a multiple of evils from blemishes to uneven skin without looking heavy.

If I have to be on camera, I'll put on foundation. But for daily use, I apply a light tinted moisturizer with SPF. Here are a few to try:
2. Powder
Even if you don't have any foundation or tinted moisturizer on hand, a quick sweep of powder provides a great canvas for the rest of your makeup.

I like a mineral based powder. I personally use bareMinerals BarePro Performance Wear Powder Foundation. I know a lot of people love their lose powder, but I find the compact more convenient for application on-the-go.
3. Bronzer/Highlighter Combo
I'll be honest, I'm not a big blush user. But I do love a little bronzer and highlighter to contour my cheeks. That's why a palette like Urban Decay Stay Naked Threesome Blush, Bronzer, & Highlighter is perfect for a quick set and touch up.
4. Eyebrow Pomade
This is a new one to my makeup bag necessities. I went for YEARS without doing anything to my eyebrows. Once I did, I couldn't stop. Seriously, I'd rather have this on my eyebrows than mascara on my lashes.

I've always used Benefit for my brows. For a long time I've used the Benefit Cosmetics Brow Zings Pro Palette, but I just started using the Benefit Cosmetics POWmade Brow Pomade and I don't see myself stopping. It goes on so easily and stays put for up to 36 hours.
5. Eyeshadow Palette
Every makeup bag needs a great neutral eye palette. I like a combination of matte and shimmers. These two are cult favorites:
6. Mascara
Mascara is like the perfect accessory to your favorite little black dress. I hesitate to even recommend a mascara because everyone has such different wants and needs when it comes to lashes. Some need volume, some want more length and others need waterproof mascara.

So in lieu of a recommendation, I'll share some top performers from Macy's:
7. Lipstick

I'm personally a fan of a tinted lip balm or lip oil. But when you want to really complete your look, nothing beats a classic lipstick. None sell better than MAC lipstick.
There are two shades in particular you may want to try:
Celebrity makeup artist Bryan Cantor says the best MAC shade for all skin tones is Twig.
"This muted, brownish-pink, is ideal for those who don't want a super bold lip."
When it comes to the best red for all skintones, the clear winner is Ruby Woo. Fun fact: Cantor says it consistently ranks as the brand's number one best-selling lipstick in the U.S.
Bonus: Primer
If you have room in your beauty bag for one or two more products, I highly recommend a face primer and an eye shadow primer. These will help whatever makeup you use last longer. A few favorites:
Macy's Glam Giveaway
For the ultimate makeup bag refresh, enter Savings.com's #MacysGlam giveaway for a chance to win one of five $100 e-gift card prizes to spend at Macy's.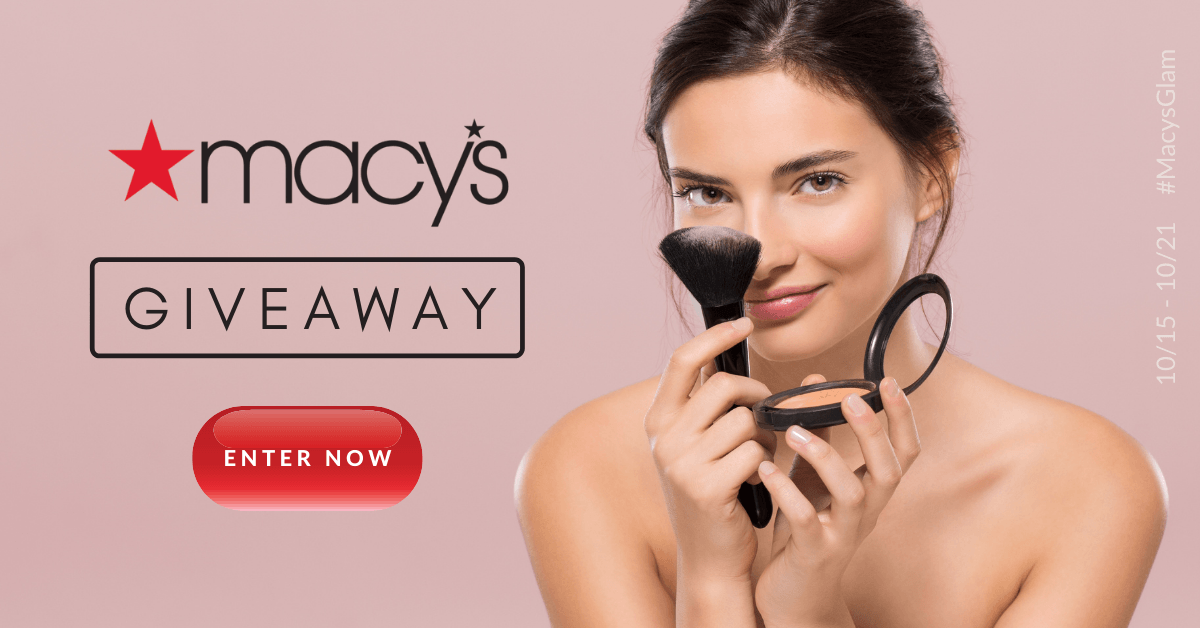 What are your makeup bag essentials? I'd love for you to share your must-haves in the comments below!
And don't miss any Macy's sales again with my updates on this weekend's Macy's sale post.
This post is sponsored by Sivan Social. All comments and opinions are my own.