This post may contain affiliate links, which means we may receive a small commission when you make a purchase at NO additional cost to you. Thank you for supporting our site in this way!
Have you heard about Disney Frozen Summer Fun going on at Disney's Hollywood Studios right now? It's even snowing in Florida!
We learned about the Disney Frozen Summer Fun days and happened to be driving back from Florida to Nashville while they were going on, so you can imagine our kids excitement when we surprised them with the news that we were making an unexpected stop at Disney World on our way back home before they started the school year. You can watch the actual announcement here during my Daily Dash video:
From the moment you walk into Disney's Hollywood Studios, you're greeted by snow (bubbles) and can pick up your very own Olaf to take along with you on your journey through the streets of Arendelle. Here's an overview of everything else that's included for free in your park ticket during these Frozen fun days…
Disney Frozen Summer Fun Activities at Hollywood Studios
Anna and Elsa's Royal Welcome: Watch Anna and Elsa embark on a goodwill tour of neighboring kingdoms. The royal sisters are joined by Kristoff, the ice cutters and joyous citizens of Arendelle who skate and snow ski their way through the procession. The magic culminates in an enticing moment at the Sorcerer's Hat Icon Stage to officially welcome Frozen to the kingdom of Hollywoodland!
Children and adults alike will be awestruck by enchanted experiences full of frosty, family fun!
For the First Time in Forever: A Frozen Sing-Along Celebration: Join Anna, Elsa and the newly-appointed royal historians of Arendelle in the Premiere Theater to enjoy For the First Time in Forever: A Frozen Musical Celebration. Laugh and sing along while enjoying this humorous and heart-warming retelling of the kingdom's history. I'm not sure what was cuter, the show on stage or all the little ones surrounding me that knew every song word-for-word. (Warning: the characters do not come out and sing the songs – with the exception of the final song – you're watching the animated version on screen with the sing-along words).
Watch the full opening video of the First Time in Forever Frozen Sing-Along: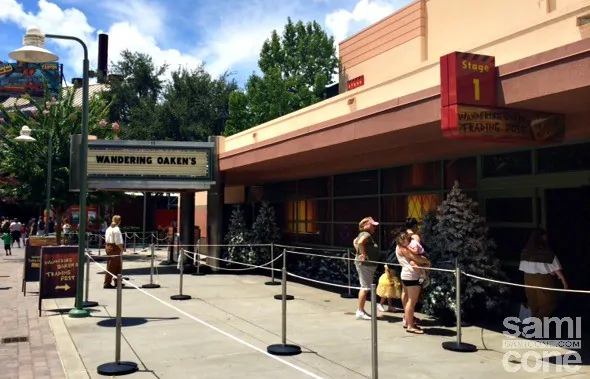 Oaken's Frozen Funland: Blow into Soundstage One to see how Oaken and his closest cousins have been creating winter magic! Frozen festivities include ice skating and snowman building!
You can even watch the cousins ice skate to your favorite Frozen tunes:
Olaf on Summer Vacation: Throughout the day, Olaf will share updates from his summer adventures at the Sorcerer's Hat Icon Stage. Pick up your very own take-a-long Olaf so he can join you on your summer vacation. Be sure to tag your pictures #OlafSummerVacation and they just might be shared in the day's grand finale!
Coolest Summer Ever Dance Party: Rock out to a medley of the hottest Frozen hits! Every evening starting at 5:30 PM, a dance party with a DJ and live band breaks out over Sorcerer's Hat Icon Stage.
Frozen Desserts: Check out the sampling of Disney Frozen Summer Fun desserts that you can find at Wandering Oaken's… disney frozen summer fun desserts
Wandering Oaken's Trading Post (Merchandise): Strap on your snowshoes and adventure to the Soundstage One for a wonderland of Frozen merchandise, food and beverage offerings. Don't miss out on this big summer "blowout". We even found a special birthday present for Kariss: the Elsa dress she's been wanting ever since the movie came out!
Frozen Fireworks Spectacular: At the end of a fun-filled Frozen day, Anna, Elsa, Kristoff and Olaf come together at the Sorcerer's Hat Icon Stage for a grand finale—complete with an awe-inspiring fireworks display set to the glorious music of the movie. Unfortunately, our family got rained-out before we could enjoy the fireworks, but we heard they were a blast…literally.
Aurasma App: For a special way to enhance your fun in and outside of Wandering Oaken's, you can download the Aurasma App for free on your smartphone. When you take pictures against the designated backdrops, a special friend from Frozen will appear in your photos!
If you have the chance, you'll want to head down to Florida for this special event before the Frozen fun thaws.
The Frozen Summer Fun has been extended at Disney's Hollywood Studios until September 28, 2014.
Don't forget you can Email Jennifer at Destinations in Florida for the best Disney deals and for free help in booking your Disney vacation.
Disclosure: My family was given four tickets to Disney's Hollywood Studios to experience their Frozen Summer event. In an effort to help you better enjoy everything Disney Parks has to offer, I've shared my honest experiences about the Disney Frozen Summer Fun activities. All opinions, videos and photos above are my own and were not impacted in anyway by the Disney employees or any of the cute characters we saw there.