This post may contain affiliate links, which means we may receive a small commission when you make a purchase at NO additional cost to you. Thank you for supporting our site in this way!
Wondering if it's ever possible to find a sale at Nordstrom? These are the annual Nordstrom sale dates and the Nordstrom Anniversary sale is here!
Nordstrom Anniversary Sale
For those of you who think shopping at Nordstrom is prohibitive to your budget, think again. It's not somewhere I shop on a daily basis (well, I don't shop anywhere on a daily basis), but I DEFINITELY frequent their sales, not just for the drop in prices, but for the service and all the free extras they offer as well (I've listed some free Nordstrom benefits that happen all year round below).
Nordstrom Sale Top Picks
There is so much goodness in the Anniversary Sale that it can be hard to narrow down your top picks. I know all of us shop differently, but I wanted to share a few of my top picks.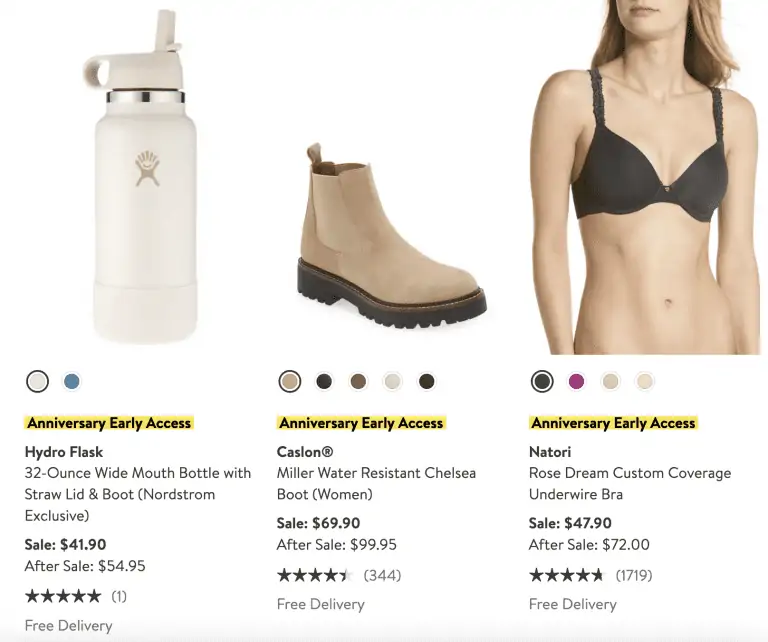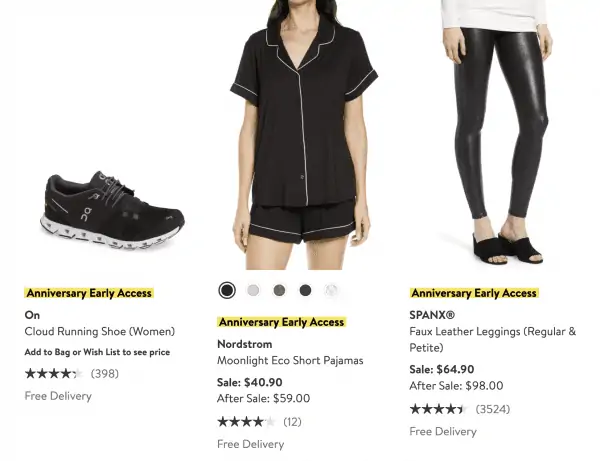 Hydro Flask 32 oz Wide Mouth Bottle
Caslon® Miller Water Resistant Chelsea Boot (Women)
ON Cloud Running Shoe
Nordstrom Beauty Sale
For instance, during the last Nordstrom Beauty Sale, they had a special Butter London nail polish offer. Typically, one bottle of Butter London nail polish can cost $10-$15; during the sale, they had a set where you got their famous base and top coat, a travel bottle of nail polish remover, a nail file AND the color of your choice for only $24!
And did you just see the great deal I got on my favorite frugal fashion watch in the Nordstrom juniors department?
During the Anniversary Sale, you'll save on everything from apparel to shoes and even handbags and accessories. Plus, in addition to all the savings, they have great bonus buys, especially in the beauty department.
Nordstrom Free Benefits
In addition to a great experience, here are a few other freebies to look for at your local Nordstrom:
*Free Personal Stylists – this shopping service is complimentary and their knowledge is not department specific, which can come in handy when you're looking to coordinate outfits for the entire family for that upcoming Christmas card picture!
*Complimentary Bra Fitting – this one I have yet to try, but it seems to go along with Nordstrom's focus on wanting people to leave feeling like a new person. "8 out of 10 women are wearing the wrong bra size. It's been shown that women who wear the right size look ten pounds thinner, have better posture and ultimately feel better about themselves," says Nordstrom representative John Bailey.
*Free Makeovers – all the cosmetic counters offer make-up experiences, many of which are free (some have a suggested product purchase. Check brands for details). Their overall objective is for you to "come and feel pampered"!
*Free Shipping. Free Returns. All the time at Nordstrom.com
Details for Annual Nordstrom Sale Dates
When:
* Icons status begins July 11, 2023
* Ambassador status begins on July 12, 2023
* Influencer status begins July 13, 2023
* Anniversary Sale: begins for everyone on July 17, 2023
Where to shop: Shop Nordstrom.com or shop Nordstrom through Rakuten to automatically receive up to 6% cashback with no extra effort or expense on your behalf!