This post may contain affiliate links, which means we may receive a small commission when you make a purchase at NO additional cost to you. Thank you for supporting our site in this way!
It was another fun Cone family adventure over the past few days and I'm thrilled to share our Dollywood Holiday Weekend Update in pictures with you today!
I had to start out with a shot of us all snuggled in bed watching the Incredibles on Friday night. We didn't think we were all going to be home together, so it turned out to be a nice treat. (Did you know you could even rent movies instantly on Amazon? Amazing!)

We woke up early on Saturday to drive over to East TN (Sevierville/Pigeon Forge). Since Dollywood didn't open until 11am, we thought we'd forego Friday night traffic and instead enjoy the Fall drive. Of course, I had to sport some Candy Cane socks under my boots to help get in the holiday mood…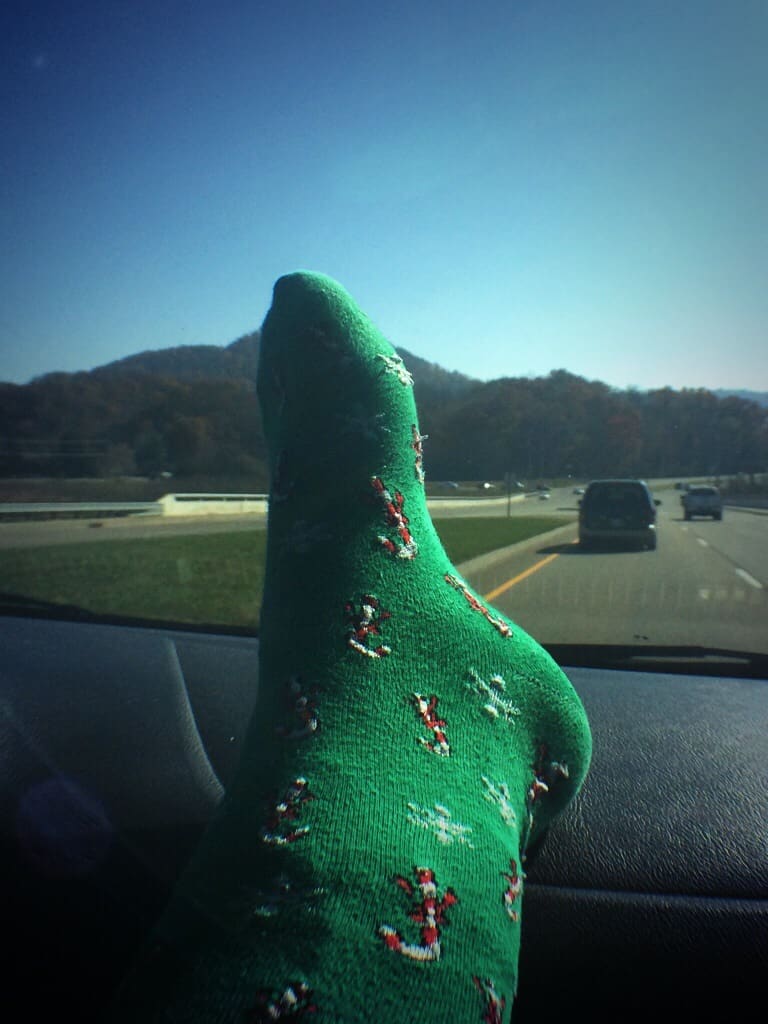 We arrived just after Noon to a beautifully sunny and crisp November day, perfect for celebrating Dollywood's Smoky Mountain Christmas!
Right away, the colors jumped out at us – we'd never seen the park look so lovely!
I was perhaps most excited to discover that Dollywood partnered to celebrate Rudolph the Red Nosed Reindeer's 50th Anniversary. That meant not only some special encounters (which you'll see pictures of below), but the chance to stand in a larger-than-life snow globe with Sam the Snowman himself!
Of course, what would a trip to Dollywood be without a stop in the Sweet Shop? My daughter's throat was hurting, so the candy sticks were purely medicinal 😉
The kids' favorite section of Dollywood is the carnival and I have to admit, I love it too. It houses great rides the entire family can enjoy together and with very little lines. I think the swings will always be a favorite…
Not only did I capture that selfie while in the air, but I also snagged a great shot of the carnival from high up above in all its Fall splendor…
My hubby and I did snag a little alone time on a bench while the kids took a whirl in the sky by themselves too…
As I mentioned above, Rudolph and ALL his friends were there to take pictures with us in Holly Jolly Junction, including Clairce…
We also grabbed a shot with Yukon Cornelius, but the HIGHLIGHT of my day (where I admit, I went a little Fan Girl) was meeting my namesake, Bumble. My mom's called me that ever since I could remember and I NEVER in my life imagined I get to hug the fuzzy guy in person!
Right outside Holly Jolly Junction was where we captured this Mistletoe Moment. I think my favorite part was not just kissing my husband, but watching all the kids be the ones to take pictures of their parents sharing a smooch under the mistletoe!
We got back to our hotel, Wilderness at the Smokies, pretty late, but with enough time to build a fort in the bunk bed and watch my beloved Chicago Bulls lose to Indiana. Before hitting the waterpark the next day, the kids got in a quick game of "Blankie Toss"…
I can't tell you how great it is to be able to stay at a resort that not only caters to families, but also provides amazing opportunities for time together and physical activity…even in the winter months! The waterpark opened at 9am on Sunday and we were there right when it opened! We all enjoyed playing in the wave pool, riding down the multiple water slides and even relaxing in the indoor/outdoor hot tub…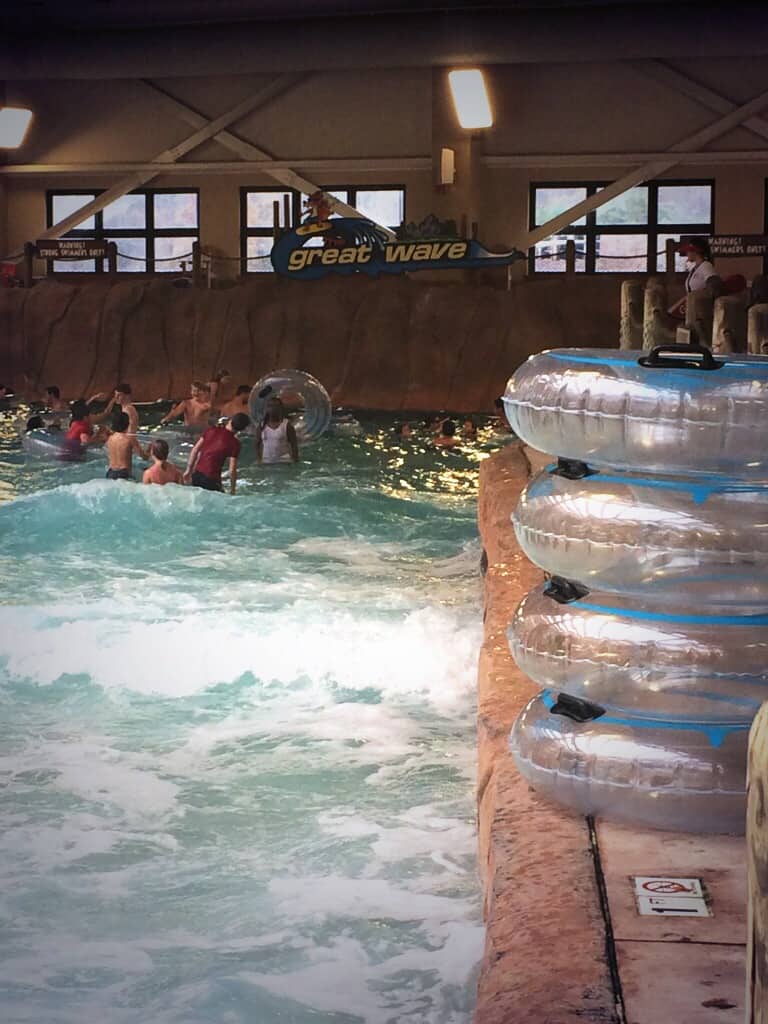 When it was all said and done, we were sad to leave (especially with the hotel being so beautifully decorated for Christmas already), but we were grateful for the memories made.
To think, in less than 48 hours and with less than a 4 hour drive from Nashville, our family was able to experience a holiday tradition we will never forget! These are the moments I treasure and the reason I value experiences over stuff.
I hope you and your family will be able to make your own memories at Dollywood and Wilderness at the Smokies this holiday season too!
My family visited Dollywood as their guest for their Holiday Media Fun Day and was also provided accommodations at no cost at Wilderness at the Smokies. All opinions and pictures are my own and we can't wait to do it again!