This post may contain affiliate links, which means we may receive a small commission when you make a purchase at NO additional cost to you. Thank you for supporting our site in this way!
When Selah performs at Dollywood's Spring Mix, it will be more than just a concert, it will be a Homecoming.
Not only do two-thirds of the popular inspirational group live in Tennessee, Allan Hall actually hails from East Tennessee. (Yes, just like Dolly).
In fact, when I asked Allan what makes this Dollywood concert so special to him in a recent interview, he admitted to feeling a real kinship with Dolly Parton.
"…we're both from East TN, and both from big southern families. I left home right after high school graduation. No-one in my family is in music and no-one moved to pursue it like I/she did. In fact, I was one of the first in my family to leave East Tennessee and go to college. If she left home at 18 and took a chance on her dreams, why can't I? It's scary but exciting!"
Dolly's path blazed a trail that made Allan believe achieving his musical dreams was possible. But it was more than just her career path that inspired him.
"Of course I've always loved Dolly's music, but she's also done so much for her home area: setting up hospital care in Sevier County and the Imagination Library." This inspiration is what kept him going during the rough spots in his life and career.
Believe it or not, this will be the first time Selah will perform at Dollywood, and the group couldn't be happier.
"We've always wanted to sing up there and are excited to be in the Celebrity Theater surrounded by our families. I was born and bred in Knoxville and have been going to Dollywood since before it was Dollywood."
For Allan, the show is even more personal. "For me, it's always emotional going home and playing. To go back home and have my family see me and see I've been able to make a living, that means the world to me."
So what will make this show special? Allan is sure everyone in the group will have a few adventures around the park between the shows.
He's also confident the setting will inspire the content of the concert:
"We'll talk about the Smoky Mountains – those mountains and the setting is special. Just the fact that the concert is in such a beautiful natural setting, sets it apart…when we're in a naturally beautiful area, we're invigorated by that."
Selah's Spring Mix concert will likely reflect the huge age range they attract to all of their concerts – from 8 to 80! In fact, Allan remarked how he's especially amazed when teenagers come up to them:
"We're just who we are and we sing these beautifully crafted songs and that's what really speaks to teenagers. Next to scripture, hymns contain so much truth. Back in the day, hymn writers wrote out of deep, deep sorrow; if you've lived any amount of time, these hymns resonate. Teens respond to us being ourselves and speaking from our hearts and singing songs rooted in human experience, heartache; any age can relate, but that's what teenagers relate to."
He went on to remind us all that "becoming a Christian doesn't mean your problems are over, but you'll have a personal God that has suffered himself to walk with you; He CAN remove suffering, but that doesn't mean he always will."
Over two decades of Selah's songs have touched people down through the decades. Allan remarked, "We do both hymns and more modern songs, but after singing hymns, older people will come up and talk to them about the sweetest memories they bring back. Hymns have always been foundational to what we do and who we are"
And while this is the first time they will be performing at Dollywood, it's not their first Dolly Parton encounter.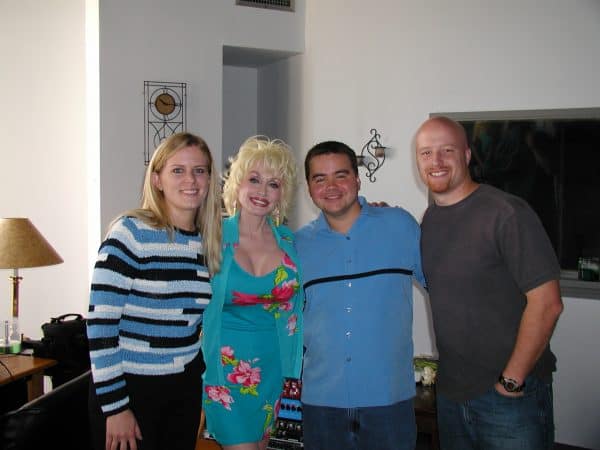 Selah got to work with Dolly back in 2002 on a new recording of "Rose of Bethlehem" (her song "Once Upon a Christmas" duet done with Kenny Rogers back in 1984), which was a dream come true for the group. Dolly told Allan, "God put a dream in your heart, gave you a vision and a good work ethic – and look, here we are standing in a recording studio today working together! And I'm a fan!" Those are words he treasures to this day.
Selah also recorded "Coat of Many Colors" in 2011 and Dolly personally wrote a letter to the group saying just how much the version of the song meant to her.
Selah will be performing two shows on Monday, April 23rd at Dollywood's Celebrity Theater: 2pm & 5pm.
You can find Selah online or on their Facbeook page.