This post may contain affiliate links, which means we may receive a small commission when you make a purchase at NO additional cost to you. Thank you for supporting our site in this way!
As someone who doesn't drink alcohol, I'm always looking for refreshing mocktail recipes beyond the typical club soda or Shirley Temple. Thankfully on my last trip to SoundWaves, Chef Myk introduced me to two easy summer mocktail recipes they created based on their original handcrafted beverages from Opryland Resort.
Easy Summer Mocktail Recipes
Typically when I travel and want a fun virgin drink, most bartenders look at me crazy or just mix some fruit juices together.
Not the SoundWaves food and beverage team.
From the time SoundWaves opened, I've always enjoyed unique, alcohol-free beverages there. So when the time came to highlight some of our favorite coastal-inspired food during my SoundWaves Summer special TV show, of course we had to include mocktail recipes!
We showcased two summer mocktails during the episode: SoundWaves Punch and the Best Pal
SoundWaves Punch Mocktail Recipe
The SoundWaves Punch Mocktail recipe couldn't be easier to make and is also very easy to tweak.
1 oz Lime Sour
3 oz Pineapple Juice
2 oz Pomegranate Juice
Garnish with a Cherry
Build all ingredients in mixing glass with ice shake and pour over fresh ice and garnish with a cherry.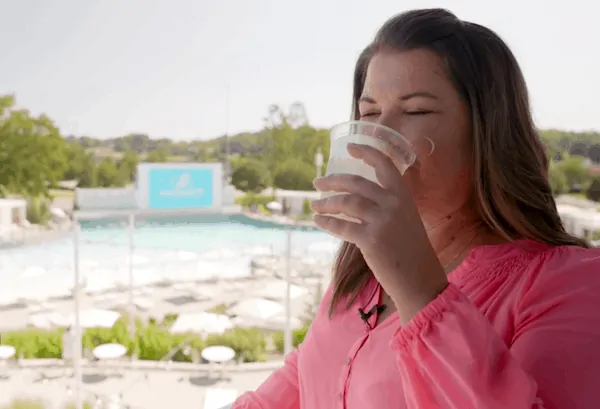 Best Pal Mocktail Recipe
The Best Pal Mocktail recipe is one of my favorites. I like to think of it as a virgin mojito with a citrus twist. I also like to use fresh mint in the drink in addition to just a garnish.
1 oz Lime Sour
2 oz Grapefruit Juice
½ oz Mint Syrup
Top with Club Soda
Garnish with Mint
Build all ingredients except club soda in a mixing glass with ice, shake and pour over ice top with club soda gently stir and garnish with fresh mint sprig gently slapped to express oils.
So whether your kids are asking for a fun drink while on vacation or you just want a refreshing treat sans alcohol, SoundWaves can mix it up for you…and now you can mix up your own at home!
Hawaiian Pork Taco Recipe
One of the popular dishes inspired by your favorite fun in the sun destinations is the Hawaiian Pork Tacos served on the Decibels menu in SoundWaves. In case you missed any of the steps or ingredients on our SoundWaves Summer Special, here is the full recipe:
SW Hawaiian Pork Tacos
Ingredients:
White Corn Tortilla Shells (Buttered and Grilled)
Smoked BBQ Pork or Chicken
BBQ Sauce
Shredded Lettuce
Pineapple Pico de Gallo
Sour Cream
Pineapple Pico de Gallo:
Ingredients:
1 each Pineapple Diced Small
½ each Red Onion Diced Small
1 each Serrano Pepper Minced (Seeded and Cored)
3 tbsp. Cilantro Chopped
Salt and Lime Juice to taste
BBQ Sauce Recipe:
2 c Ketchup
2 ea Garlic Minced
2 tsp Garlic Powder
2 tsp Onion Powder
¾ c Yellow Mustard
1 c Light Brown Sugar
½ c White Vinegar
1 T Tabasco Sauce
1 TWorcestershire Sauce
1 Oz Lemon Juice
½ T Chili Powder
¼ c Molasses
Watch Chef Myk demonstrate how to make both the BBQ Pork Tacos and the two Mocktail recipes in our full segment below: