This post may contain affiliate links, which means we may receive a small commission when you make a purchase at NO additional cost to you. Thank you for supporting our site in this way!
If music is the soundtrack of people's lives, TV is the scrapbook of mine.

From the time I became a latch-key kid at the age of 6, I turned to TV shows and its familiar characters to fill in for friends and family when I was alone. Throughout my school years, including into grad school, I don't know how I would have made it through living in an apartment alone without my on-screen friends.

To this day, I still turn on the TV to keep me company during the day, especially when I'm cooking in the kitchen. As a storyteller, I admire the relationships and storylines that develop over the course of a series.

But what I love most is sharing TV nights with my teenagers. Friday nights are our "Family Fun Nights"; we celebrate the school week ending and kick off our weekend with pizza, snacks, and a good show.
We used to watch a movie together, but as they got older, we realized how hard it was to make it through an entire movie without a friend needing to talk to one of them or someone needing to leave for a sporting event.

And gone are the days where we get to watch 30 minutes of TV and then wait seven long days for the next episode. Thankfully our favorite shows are now available to stream and watch in syndication.

I'll be honest, it's not always easy to find a show we all agree on. But in the end, there's a comedy that never disappoints us: Young Sheldon. If you haven't met Sheldon Cooper yet, allow me to introduce you…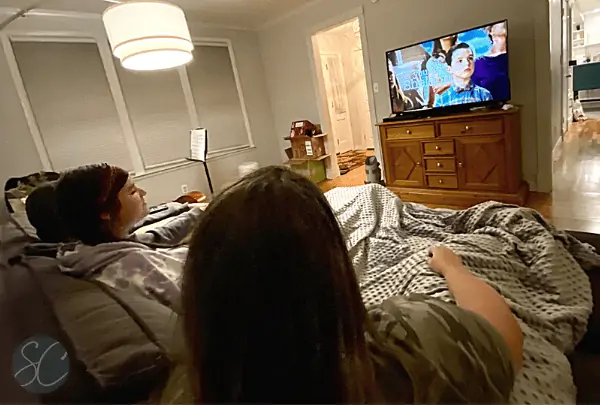 Sheldon first appeared in the quirky, smart, and modern classic comedy, The Big Bang Theory. TBBT quickly emerged as my go-to comedy in the last decade. It never failed to make me laugh out loud. With some of my favorite actors and witty dialogue representing a variety of cultures and backgrounds, I was hooked early on.

When the main characters started dating, hilarity ensued. But some of my all-time favorite episodes featured Sheldon's mom, Mary. Very few people in the series understand Sheldon's quirks, much less know how to get through to him. His mom, however, is somehow able to toe the line between a consistent Texas "Bless Your Heart" attitude mixed with a "Don't Mess with Me" glare.

Throughout the original series, we get glimpses into Sheldon's childhood and what made him who he is today. But it wasn't until 2017 that fans finally got to partake in the entire origin story thanks to "Young Sheldon".

"Young Sheldon" started when Sheldon and his twin sister, Missy, were 9. With an equally charming cast of characters, we fell hard and fast for this series. My only disappointment was that although I could basically turn on my TV at any time of day to watch The Big Bang Theory, I had to watch and wait in real-time for weekly episodes of Young Sheldon to discover what would happen to Meemaw's little Moonpie.

I'm excited to tell you, the wait is over: as of September 27, all of us can now watch Young Sheldon 5 days a week! We watch on the CW 58 at 5 & 5:30 here in Nashville. Check your local listings to find out where to watch Young Sheldon 5 days a week in your area.

And as if that news was not enough to get you excited, how would you like to win thousands of dollars before the holidays? You can enter Valpak's Young Sheldon sweepstakes to have a chance to win $10,000!

Honestly, I can't believe Warner Bros. compensated me to share this information with you. I love when I get to share things I love PLUS give you all a chance to win big!

So tell me, have you watched Young Sheldon yet? What are your favorite family TV night snacks? I want to hear it all! And don't forget to turn on Young Sheldon to make your family laugh this week.