This post may contain affiliate links, which means we receive a small commission when you make a purchase at NO additional cost to you. Thank you for supporting our site in this way!
Here are my Top Tax Day free deals 2018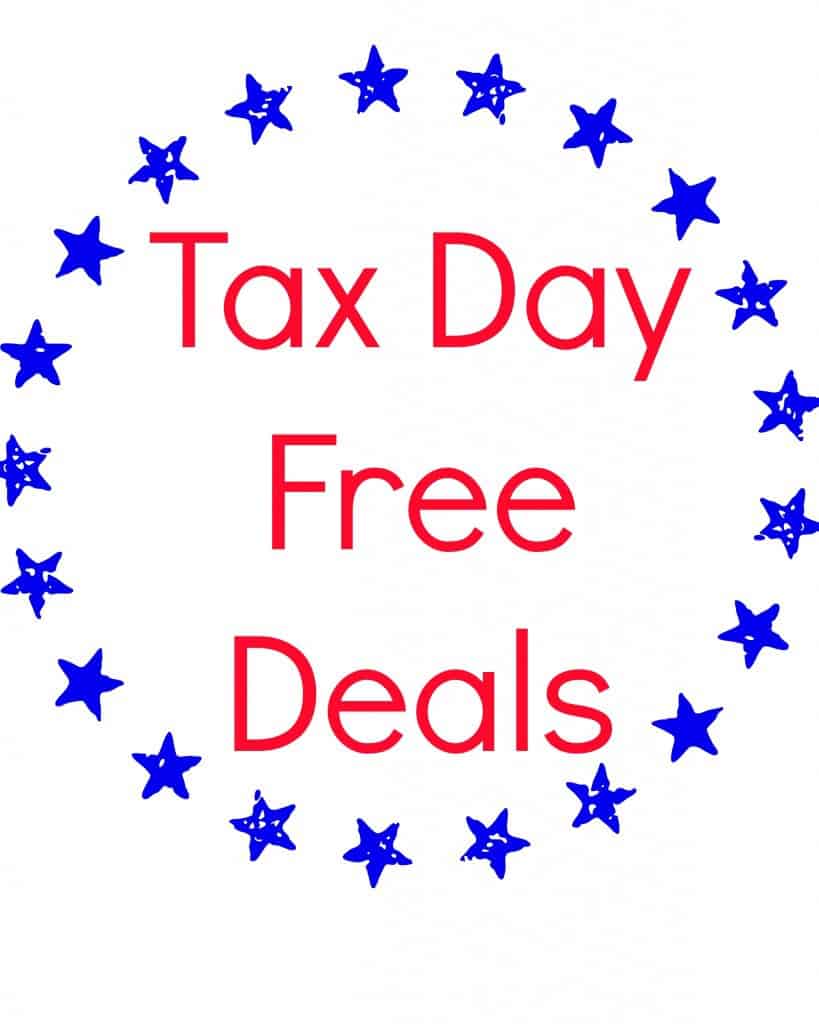 Tax day is right around the corner & I have a whole list of what you can get for free this Tuesday, April 17, 2018!

Some of these tax day free deals were from last year (and you'll see them marked as 'unverified'), but they seem to pop up year after year, so I'll keep verifying as we get closer to the date. Hopefully your taxes are done already, so you can just focus on taking advantage of these great deals:
Boston Market: Get a discounted meal (a half chicken individual meal with 2 sides, cornbread, a cookie, and a regular beverage) for $10.40 on April 17th.
Bruegger's Bagels:  The popular Big Bagel Bundle to its guests for a fun and thrifty $10.40. (That's a savings of almost $3.50 at most locations). Guests can redeem the Tax Day coupon at Bruegger's Bagels Facebook page. You can print it or show it in bakery on your smart phone.
Carmike Cinemas: Free refills for all popcorn bucket owners (unverified)
Cinnabon: Receive 2 free Cinnabon Bites from 6-8pm as part of their "Tax Day Bites" promotion (unverified)
California Tortilla: Get Free Chips & Queso April 17th, Just say "Chipping In". Participating locations only. (Thanks to Jen at BeFrugal for the tip)
Chilis: Happy hour on Tax Day: participating Chili's restaurants will be offering $5 Cuervo Blue Margarita.
Chuck E. Cheese: Buy ANY large pizza on Tax Day and get a FREE large cheese pizza.
Gold's Gym: To help celebrate National Stress Awareness day, Gold's Gym is offing a FREE 7-day VIP Membership pass to help you shake off your tax stress.
Great American Cookie: Recieve a free sugar cookie on Tax Day
Hard Rock Cafe: You can sing your favorite song and get a free Local Legendary Burger on Tax Day.
Hydro Massage:  Get a FREE massage from April 18th-22nd.  Just print the coupon and make your appointment.
Kona Ice: Get a free cup of shaved ice on Tax Day.  They will be parked outside of post offices, tax prep centers, and businesses all over.
Marble Slab Creamery: Get a scoop of their new yogurt FREE from 4-7pm on Tax Day.
Papa Murphys:  Papa Murphy's has a $10.40 deal. Either Large 1 topping pan pizza or Large Faves (cheese, pepperoni, sausage) (thanks for the tip on Facebook, Jill!) (unverified)
P. F. Chang's: Take 15% off dining in the restaurant or take out. (unverified)
Schlotzsky's: Get a free "The Original Sandwich" on Tax Day with the purchase of chips and a 32 oz. drink.
Staples: Get five pounds of free shredding with this coupon through April 21st.
Sonic Drive-In: SONIC Drive-in is offering 1/2 price cheeseburgers all day Tax Day.
If you still need to file your taxes, check with your local library to see if they have a free United Way volunteer to help you, or consider checking out Turbo Tax or TaxAct (which we used for YEARS to e-file for free!).
White Castle: Take 15% off any order through Tax Day. (unverified)
Whole Foods: Free drip coffee the morning of Tax Day. (unverified)
As always, check to make sure your local store is participating in these promotions before heading over there
FYI: There are just a few affiliate links sprinkled through this post. Honestly, I'm not sure why I put them in because very few of you click on them, but after all the hours I put into compiling this list, I thought I'd take the chance 😉 Thanks for the support!