This post may contain affiliate links, which means we may receive a small commission when you make a purchase at NO additional cost to you. Thank you for supporting our site in this way!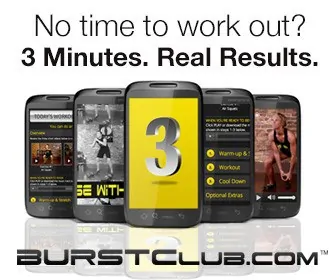 If you're like me, you're reading this eating your favorite holiday cookies while simultaneously wondering how you're going to lose the pounds you've packed on.
But seriously, it's about more than that: it's about our family finally getting healthy and staying healthy.
So I asked my friends Nathan & Jenni for help…
They've founded the insanely popular AND effective BURSTClub – and while I've always admired what they've done, I've never participated…until now.
Why BURSTClub?
1. 3 MINUTES
What's #1 reason people don't work out? Time. They provide the workout AND save you time.
2. BURN FAT FOR HOURS
Shorter BURST training workouts have been use by Olympic athletes for years because of the proven effectiveness.
3. NO GYM REQUIRED
Login from your laptop, desktop, tablet or smartphone and do your workout anywhere! No gym required.
I want to start this program ALONGSIDE YOU in the New Year, so I'm partnering with BURSTClub to bring you a FREE WEBINAR to kick start the plan.
JOIN US this Monday, December 28, 2015 at 8:30CST by REGISTERING HERE NOW.
Even if you're not sure if you can make it, CLICK HERE to register NOW and make sure you reserve your spot – that way you won't miss the SPECIAL PRICING and the BONUS FREEBIES I'm throwing in!
Register for the FREE webinar now —->
Where conventional exercise methods can take hours a day yet leave us frustrated with little to no results, there is a training system and secret that will get you the ultimate, 24-hour fat-burning response in just a few minutes …Ready to learn how?
Don't wait – REGISTER TODAY!
This is the ONLY time we'll be offering this free BURST Club webinar with this pricing and these freebies, so what are you waiting for? Isn't your health worth it? I know mine is!