This post may contain affiliate links, which means we may receive a small commission when you make a purchase at NO additional cost to you. Thank you for supporting our site in this way!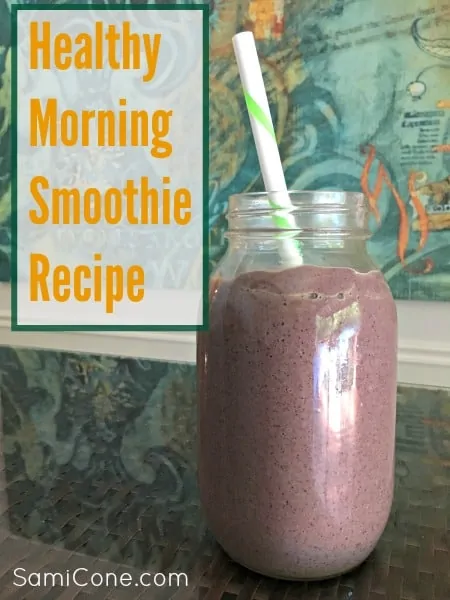 In my ongoing quest for better health, I'm always learning and trying to improve on my daily routine. But there are a few tried and true things I've found that I NEED to do in order to set the tone for the rest of my day:
* Devotions & Bible reading
* Water with aloe and lemon (or lime)
* Yoga breaths
* Healthy morning smoothie and supplements
Let's face it, mornings are busy not matter what age or stage of life you're in. But if I don't MAKE the time to do these things every morning, I notice it in my body, mind and spirit.
When it comes to nutrition, I find it especially important to have my morning smoothie. It not only helps regulate my system (you know what I mean…), but it's an easy way to get a ton of food and nutrition in my body in a way I probably wouldn't consume if I had to chew it all individually.
So before you have to ask, let me share my healthy morning smoothie recipe with you:
Healthy Morning Smoothie Recipe
Ingredients
* 2 cups coconut milk or coconut water
* Handful (approx 1 cup) of greens, like kale or spinach
* 2 Tbsp of fresh cooling herbs, like parsley or cilantro
* 6-10 raw, soaked nuts (almonds or cashews)
* 1/2 cup each of frozen organic berry medley, mango & wild blueberries
* 1 Tbsp chia or hemp seeds
* 1 scoop Garden of Life Raw Organic Meal
Directions
Place all of the above (in order) – except the Raw Organic Meal – into a high-speed blender (I finally broke down and bought a Vitamix – and I'm glad I did). While blending, open the lid and add the Raw Organic Meal gradually. Blend until Smooth. Yields about 4 cups.
***
As you can see, I dump a lot of my fridge, freezer and pantry into this smoothie. It's a HUGE breakfast and I sip it throughout the morning. I will also vary the nuts, fruit, herbs and veggies depending on what I get from the farmer's market that week, but it's important to keep the ratio about the same.
I've learned recently that the herbs are important, especially over the summer, because they are not only cooling to my core, but they are extremely cleansing as well.
Also, the Garden of Life Raw Organic Meal is the one protein powder I've found that not only meets my quality standards, but also provides the nutrients I need without the things I can't have: it contains 20g of organic plant protein while also being non-GMO, vegan-friendly and gluten-free.
My natural doctor recently recommended Vitacost as well to get my nutritional products and supplements. Not only will you get a great price on things like the Raw Meal mentioned above, but you also get $10 just for signing up! And if you share your referral link (like I'm doing here), you'll also get $10 for every friend that signs up…it's a WIN/WIN!
I hope this helps you think more about your morning routine. What are some of your favorite smoothie recipes?
Disclosure: Garden of Life provided me with the Raw Organic Meal I mentioned in the post above, but no expectation was made about how or when to share it. Also, if you click on the Vitacost link and sign up, I will get $10 of credit, but so will you!