This post may contain affiliate links, which means we may receive a small commission when you make a purchase at NO additional cost to you. Thank you for supporting our site in this way!
The best celery juice recipe might also be the easiest celery juice recipe of all. Truth be told, making celery juice isn't as much about the what as the how…
Best Celery Juice Recipe & Benefits
You may be thinking, "Sami, why do I need you to tell me how to make celery juice?"
The fact that you're reading this post tells me a few things:
You need help making it,
Want to know the benefits, or
Are wondering if it really works.
Let me give you a little background on why I even started juicing celery in the first place…
Medical Medium Celery Juice
The first place I came across the healing benefits of celery juice was in the book, Medical Medium. Actually, I learned about him through the cookbook "Clean Eats", which I learned from my Gwyneth Paltrow cookbooks.
Anthony Michael talks about the Epstein Barr Virus as the culprit of many of the autoimmune diseases we struggle with today. As someone who was diagnosed with Chronic Epstein Barr Virus in college, this shocked me. I'd never heard anyone else acknowledge CEBV like this!
That being said, I was willing to try just about anything he suggested. The fact that the answer was as simple as celery juice astounded me. Is celery juice the only key? Of course not. But Anthony is clear that celery has unique healing properties we've never tapped into until now.
While I want to acknowledge where I learned about celery juice, I also want to share some of my health background. Battling EBV, thyroid and immune system issues for as long as I have is what made me want to test this myself.
When To Drink Celery Juice
It's recommended that you drink celery juice first thing in the morning. Not just that, drink it on an empty stomach and wait 30 minutes before eating.
Truth be told, I've been drinking lemon water with aloe first thing in the morning for nearly two decades. I learned about juicing celery to help with my thyroid symptoms about the same time I learned about Intermittent Fasting.
If you're not familiar with Intermittent Fasting, you basically only eat within an 8 hour period. So if your first meal is 10 am, you don't eat after 6 pm. So what I've done is drink my lemon aloe water first thing in the morning after oil pulling. I then juice my celery around 10 am and eat my first meal around 11 am.
I'm not a doctor or a nutritionist, so that's just what works for me. You'll have to try it for a bit to find what time it works for you to drink celery juice.
It's also recommended that you drink your celery juice right away. If you do plan to store it, keep it in a mason jar in your fridge.
How to Make Celery Juice: My Secret
Before I share my celery juice recipe with you, I have a secret to tell you. The secret to making the best celery juice is two-fold:
Buy organic celery in bulk (we get ours from Costco)
Wash, cut & clean it ALL as soon as you get home
Look, the recipe itself isn't that earth-shattering. But the one thing that will hinder your celery juice detox is if you don't actually drink it!
I can't tell you how many times I've intended to juice celery first thing in the morning, but haven't. Why? Because time is short and if my celery isn't prepped, it won't happen.
Clean Celery in Bulk
To make the recommended 16oz (2 cups) of celery juice you're supposed to drink each day, you need two celery hearts. No, not two stalks of celery, two full bunches of celery.
When I buy organic celery at Costco, it typically comes with four bunches. If I do it right, I can typically get three days of juice out of this package.
As soon as I bring it home, I prep my celery:
First, I cut the tops and bottoms off each bunch of celery.
Stand all the celery vertically in a colander.
If you have an organic fruit and vegetable spray, use it now.
Thoroughly rinse all the celery. (You may need to do this in two batches).
DON'T SKIP THIS STEP. You will need to use a damp paper towel to wipe excess dirt off the celery. This can be tedious, but it's important.
Once celery is washed, place it in a gallon Ziplock back or airtight container with a damp paper towel to prevent it from drying out.
I'm not understating it when I say this is the key to making fresh celery juice every morning.
Best Celery Juice Recipe Details
Ok, are you ready to get to it? Now that you know the key to making the best celery juice, let's jump to the actual recipe details:

Ingredients
2 bunches of clean, organic celery
Instructions
Prep and clean celery via method above
Slowly push full stalks of cleaned celery through cold press juicer
Skim any foam off top of celery juice
Drink immediately
Notes
If storing in the refrigerator, only use glass mason jars. If you don't have a juicer, cut celery stalks into chunks and blend in high-speed mixer, then strain through cheesecloth or sieve before drinking.
If you don't have a
cold press juicer
, I recommend using a
Vitamix Blender
. Once you blend the celery in a high-powered blender, you'll need to strain it through a fine-mesh sieve or
cheesecloth
.
Celery Juice Benefits
According to Anthony Williams' blog, celery juice is the "savior" when it comes to chronic illness. The mineral salts in celery are said to be antibacterial and calm inflammation. He also claims celery has the ability to cleanse the thyroid of toxins and bolster production of the thyroid hormone T3.
Celery juice can also strengthen hydrochloric acid in your gut and balance your body's PH. One more thing: it effectively rebuilds the stomach's complex balance and supply of hydrochloric acid. Not to mention, it's great at helping to balance emotions.
Effectiveness of a Celery Juice Detox
I've now been drinking celery juice off and on for over a year. Because I haven't been consistent with my overall eating, I can't give you a miracle celery juice testimonial just yet. That being said, I have read many stories of people who have been able to reverse disease with the help of celery juice. I also know it's not a miracle cure-all.
Like anything, getting healthy requires a whole body approach. Even though I haven't changed everything in my diet, I believe adding this celery juice recipe has helped.
I'll continue with my celery juice detox and update you here as I notice any other differences in my health.
Have you tried celery juice yet? If not, what's stopping you?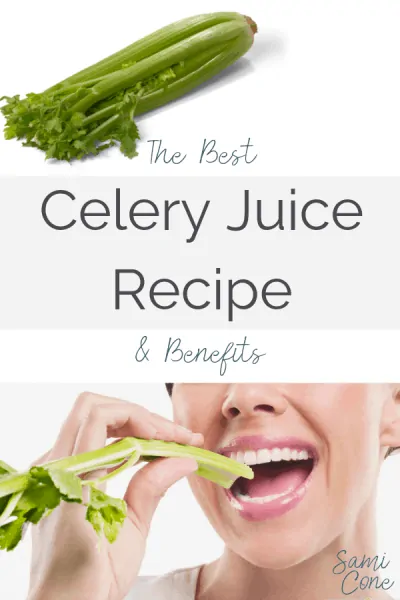 While I talk about health above, I am not a doctor and none of this should be taken as medical advice. Follow these guidelines at your own risk.