This post may contain affiliate links, which means we may receive a small commission when you make a purchase at NO additional cost to you. Thank you for supporting our site in this way!
Free Disney Transportation: Disney Deals Day 3
What most people don't realize is that when you book a Disney vacation and stay at a Disney resort, not only do you get free transportation between the resort and the theme parks and the other Disney property such as the water parks in downtown Disney, but you also get free shuttle service between Orlando Airport and your resort hotel, known as the Magical Express.
More often than not, we drive to Disney more than we fly there, but the kids absolutely love being able to take the Magical Express shuttle.
I can't describe the Magical Express any better than Disney can on their website, so here's the skinny for those of you who have never experienced this service first-hand:
"Complimentary airport transportation service, known as Disney's Magical Express Transportation, is complimentary roundtrip airport transportation and luggage delivery for Guests of select Walt Disney World Resort hotels.

Begin your vacation the moment you step off the plane. Bypass baggage claim and avoid the hassle of having to find transportation and drive, as Disney's Magical Express service transports you from Orlando International Airport to your Walt Disney World Resort hotel, and deliver your bags to your room."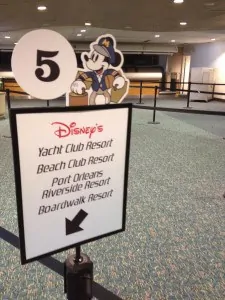 Did you catch that last part?
Not only do you get to completely bypass baggage claim, but they will actually deliver your bags DIRECTLY to your room for you! (So make sure to pack your swim suits in your carry-on if you want to jump directly in the pool upon arrival 😉
It takes about 30 minutes to get from the Orlando airport to Walt Disney World and they typically show a very cute and engaging video featuring your favorite Disney characters telling you how to make the most of your Disney vacation.
Another great feature of Disney's Magical Express is the Resort Airline Check-In feature before departing for the airport at the end of your stay. Again, from their website:
Guests flying domestically on a participating airline are automatically enrolled in the Resort Airline Check-In service when arriving through Disney's Magical Express. This service allows you to obtain your boarding pass and check your luggage at your Disney Resort hotel, bypassing airport check-in completely. If your flight is after 12:00 PM, your boarding pass will be delivered to your resort room on the morning of your departure.
One more transportation cost you need to factor in if you don't stay at a Disney Resort is the Theme Park parking fees. The fee changes based on the type of vehicle, but as of the time this post was written, it costs $15 for a car to park at each of the Disney theme parks.
So let's just assume you are staying at Disney World for three nights (and by the way, after all of our family travels, we have determined that unless you stay somewhere three nights, it doesn't feel like a true vacation). If you did not stay at a Disney Resort and just drove your own car, you would spend somewhere between $45-60 just on parking, depending on how many days you spent in the parks.
Keep in mind, if you drive yourself but still stay on Disney Property, you'll get a sign to put in your car so you don't have to pay any of the parking fees.
If you flew into the Orlando airport, but did not stay at a Disney property, then you would have to factor in the cost of an airport shuttle both ways, as well as taxis or other transportation between theme parks. While some nearby hotels will offer free shuttle service, it's typically just to the Magic Kingdom or Epcot, not all of the Disney properties.
So to recap:
Daily Disney Deal #3
Deal: Make use of Free Disney Transportation
Pro: Travel between Orlando Airport & Walt Disney World for free, as well as within the Walt Disney World Resort
Con: You don't have your own transportation to travel around the rest of Orlando
If you simply can't wait for each day, you can research my top Disney Deals & Discounts here.
Want a daily dose of Disney in your Twitter feed? Follow the new @DailyDisneyTip on Twitter today!
And be sure to enter my Little Mermaid Diamond Edition Combo Pack Giveaway!