This post may contain affiliate links, which means we may receive a small commission when you make a purchase at NO additional cost to you. Thank you for supporting our site in this way!
I finally found matching family Christmas pajamas on sale under $20! If you're looking for matching pajamas for your family this Christmas, act fast before these sell out.
Matching Family Christmas Pajamas Sale
I don't know about you, but it's hard to get my family to wear matching anything these days. By some miracle, I convinced my teenagers to wear matching Christmas PJ's this year.
The challenge is trying to find Christmas pajamas everyone can agree on that are both affordable and in stock.
Types of Family Pajama Sets
Before you get too deep into your pajama search, I recommend asking your family (or at least the teens and adults) what types of family pajamas they'd be open to wearing. Here are the most popular types of family pajama sets:
2-piece shirt & legging style
2-piece button front jacket and pant style
Union Jack 1-piece
Robe and slipper set
Nightshirt or gown
There are pros and cons to each, but ultimately it's up to your family and what y'all feel most comfortable in. (Realistically, it may be up to what styles are in stock in all the sizes your family needs!).
Coordinating Christmas Pajama Colors
The other big decision to make with coordinating Christmas pajamas has to do with color and design.
If you have younger kids, you may opt for a design like candy canes, Santa, or even more of a graphic style with a holiday phrase.
If your family has older kids or you prefer a more classic approach, chances are you'll like either a buffalo plaid or tartan plaid.
Keep in mind, you can always coordinate colors with your family. Not every single person has to match exactly.
Special Matching Family Pajamas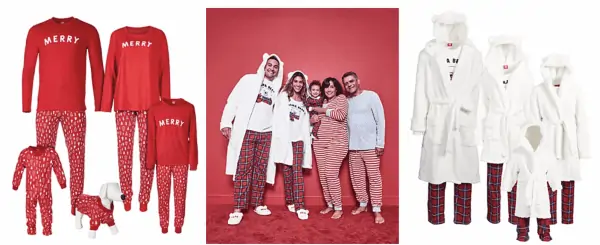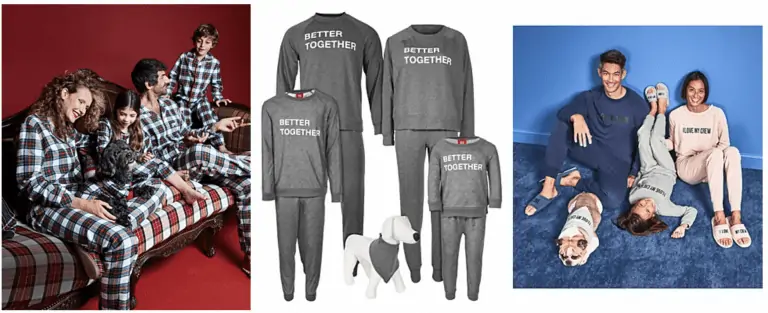 Above you see some of the favorite matching family pajama sets I found at Macy's under $20. Starting from the top left and moving clockwise:
Matching Merry Pajama Collection
Matching Stripe Pajama Collection
Matching Bear Robe & Slipper Collection
Matching Love My Crew PJ Collection
Matching Better Together Pajama Collection
Matching Mix It Tartan Family Pajama Set Collection, Created for Macy's
Almost everything pictured above is on Black Friday early access special for between $9.99-19.99. This means you could outfit a family of 4 for under $100, which is unheard of later in the season.
Popular Family Christmas Pajama Shops
I found the matching Christmas pajamas above at Macy's for under $20, but there are several other shops known for their family PJs. Here are a few to check out:
Have you found any other fun family pajamas for the holidays? I hope this helps you make great holiday memories on a budget!
You may also want to check out the matching flannels for him & her I found for under $20.