This post may contain affiliate links, which means we may receive a small commission when you make a purchase at NO additional cost to you. Thank you for supporting our site in this way!
Earth Day is just beyond us, but with summer just in front of us, it's still important to "Go Green". That's why I've compiled a few green cleaning tips in time for the summer season.
You might think that cleaning outside is naturally 'green', but there are a few important tips to keep in mind to be both earth and budget friendly!
1. Warm water does the trick
When I recently needed to clean off my patio furniture from it's winter slumber, I was amazed at the difference using warm water made. It will reduce the amount of cleaner you use and the amount of water you need.
2. Clean the grill when warm
Carry the 'warm' principle over to your grill. Of course, you never want to clean a hot grill, but cleaning the grill while it's still warm will make the job a lot easier and take less scrubbing.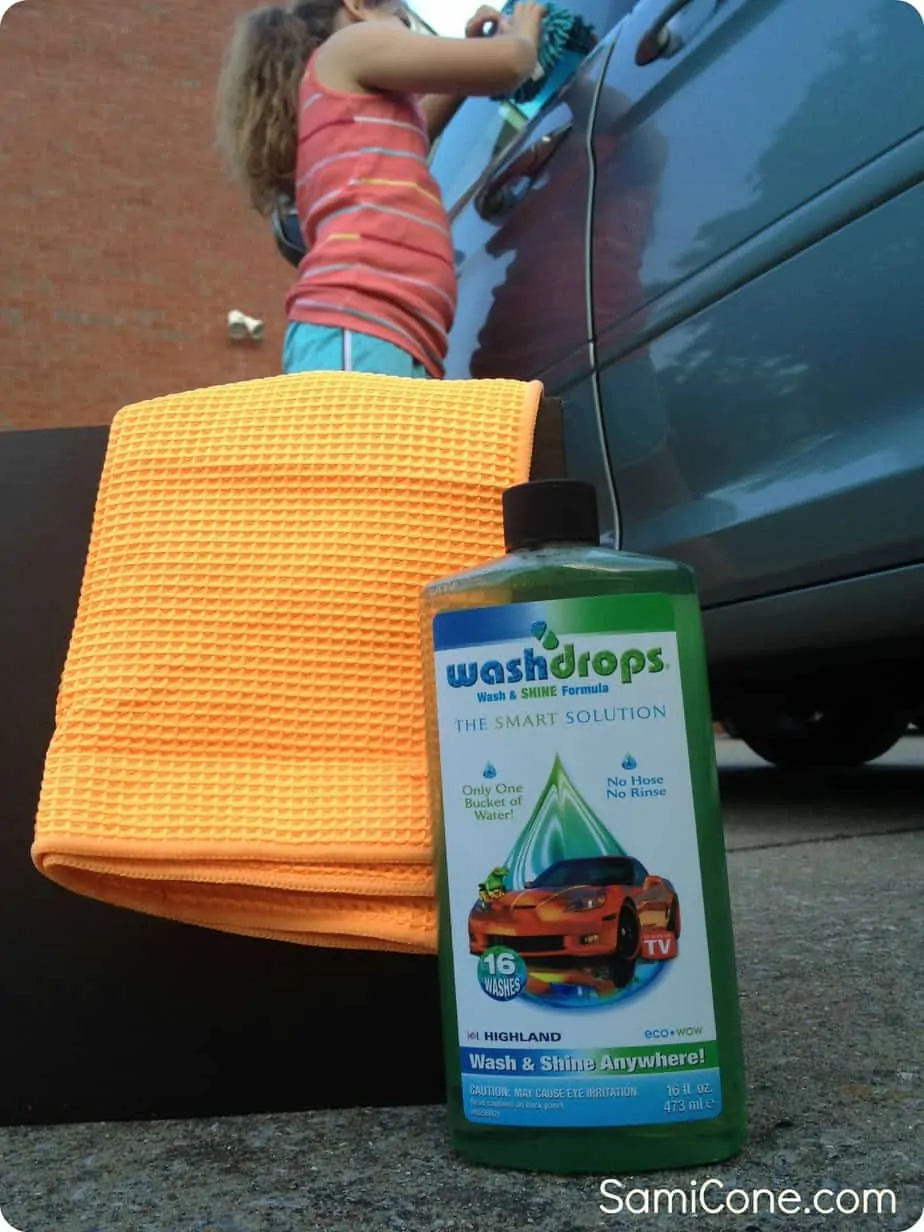 3. Use Less Water & Find Natural Cleaners
Of course, if you want to protect the environment, it only makes sense to use less water. For instance, use a product like Washdrops. Washdrops is a revolutionary new product that allows you to wash your car with just one bucket of water! No hose, NO rinsing, so you save gallons of water every time you wash your car! Not only does it help comply with the US Environment Protection Agency (EPA) Clean Water Act, but it is biodegradable, solvent-free, butyl free, phosphate free, and ammonia free. It's completely non-hazardous – you can even dispose of Washdrops on a lawn or flowerbed. It has tons of household uses as well – it is amazing on windows and makes stainless steel appliances sparkle!
I'm so excited I get to give away a Washdrops prize pack, valued at $50, so one of you can start your summer outdoor cleaning on a green note! Look at all in includes:

1) Washdrops 16 Washes & Shines 16 oz. bottle – Valued at $8.99
2) Washdrops 4 Washes & Shines 4 oz. bottle – Valued at $ 2.99
3) Washdrops single-use 1 oz. sample pouch – Valued at $ 1.00 (six samples)
3) Large Micro-Fiber Drying Towel – Valued at $ 12.99
4) One Microfiber 2 in 1 Chenille / Bug Scrubber Sponge – Valued at $5.99
5) Long Handle, Hub Cap brush – Valued at $7.99
6) Microfiber towels 3-pack – Valued at $5.99
7) Folding bucket (2.4 gallons capacity) – Valued at $5.99
Fun right? And earth-friendly to boot! Just enter below:
a Rafflecopter giveaway

Good luck! And don't forget to share your green outdoor cleaning tips below!
Disclosure: Since I've been looking for ways to clean in a safer, greener way, I was thrilled Washdrops offered me the chance to try their product and giveaway a prize pack for my readers. I was compensated for this post, but all the tips and opinions in this post are my own.