This post may contain affiliate links, which means we may receive a small commission when you make a purchase at NO additional cost to you. Thank you for supporting our site in this way!
Healing a fearful heart is not for the faint of heart.
Fear is not an uncommon emotion, especially in light of recent events in our nation in our world. But that doesn't mean we have to give in to fear.
Fear is a thief and cannot go with us into this next year or the next season of our lives.
If you're guilty of taking care of responsibilities, but not doing much to take care of yourself, you're going to want to keep reading…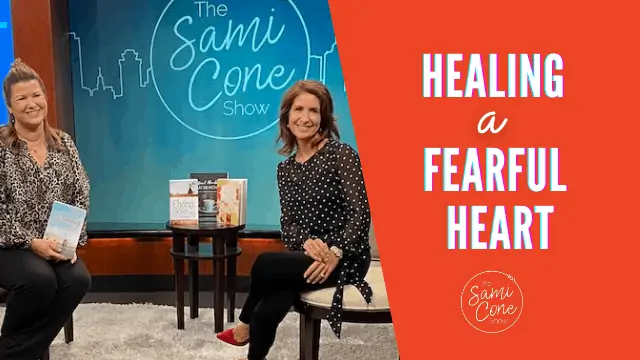 Healing a Fearful Heart
To kick off the January episode of The Sami Cone Show, I welcomed Denise Hildreth Jones. Denise is the author of many books, including one that deeply changed my life: Reclaiming Your Heart.
Denise is quick to remind us early on that while God desires you, loves you, uses us, He doesn't need us.
While I knew I would identify with Chapter 5 – the Performing Heart – I was not prepared for how much I had to deal with in the chapter on having a Fearful Heart. I think we would all agree fear is not good, but Denise explains WHY fear is such a dangerous emotion.
Fear is a thief and cannot go with you into the next season.

Denise Hildreth Jones
The Fearful Heart: Fear is a Thief
Ask yourself, "Am I running to something or away from something?
Disappointment, failure and broken trust leave us fearful. Our emotion of fear makes an agreement with the enemy of our souls, giving him access to our hearts. Any perceived risk can trigger fear.
Fighting from a place of fear never leaves room for God. When we shake hands with fear, it freezes us in place, unable to make decisions or handle uncomfortable situations. Even victories become tainted.
"You cannot change what you will no acknowledge is there."

Denise Hildreth Jones
During our interview, Denise reminded us that the thief is a master at projecting us into the future with pain. John 10:10 tells us that the thief comes to "steak, kill and destroy", and he starts with stealing something from your vision.
Reclaiming Your Heart Chapter Highlights
While I highly recommend buying a copy of Reclaiming Your Heart, I couldn't help highlighting some of Denise's words from the early chapters of the book that spoke deeply to me.
Chapter 1: Heart Check
Many of us are busy taking care of responsibilities, but not doing much to take care of ourselves. It's time to take back the abundant life that has been stolen from us and remove the "survivalist mindset".
NOTHING is of more value than your heart.
Grab your heart and don't let go – fight for it more than anything else! God will woo us to him or push us to him. "To resurrect my heart, I had to choose to recognize my sin, own it, and repent of it."
Chapter 2: Got Heart?
"Above all else, guard your heart." – Proverbs 4:23
The lawyer wanted to talk about rules; Jesus talked about relationships. Engaging the heart brings us into relationship with God. To live alive requires our hearts to be engaged.
"Wake up! Strengthen what remains…" – Revelation 3:1

Chapter 4: An Abundant Life Arsenal
Before Denise digs into the 8 "heart conditions" that make up the meat of "Reclaiming Your Heart", she details how to reclaim the abundant life stolen from us.
Her "Abundant Life Arsenal" is compsed of 4 R's: Recognition, Repentance, Reflection (on the Word), Relationship.
Watch my full interview with Denise on The Sami Cone Show:
Living with a Reclaimed Heart
Denise finished the book by describing how to live with a reclaimed heart. All the feelings and behaviors that shut down our hearts are essentially distractions. It's vital to rediscover what makes you come alive and do it as much as you can.
My own counselor challenged me with this same advice. When we live with shut down hearts for any amount of time, it's not uncommon to lose sight of the things that ignite us. Sometimes it involves, trying new things, visiting new places and asking ourselves tough questions do discover what we truly love.
---
Denise is also a contributor to Divorce Care. Whether you are considering divorce, have been divorced for years, or anything in between, Divorce Care is a wonderful and biblical support on the path to healing. I couldn't think of a better way to launch healing a fearful heart.
Learn more about Denise, her ministry and the resources she's created at ReclaimingHearts.org.