This post may contain affiliate links, which means we may receive a small commission when you make a purchase at NO additional cost to you. Thank you for supporting our site in this way!
With the New Year underway, some of your resolutions may have already come and gone. But with these simple tips to help you plan ahead, you can rest assured both you and your family will be on the same page moving forward this year.
How to Set Yourself (& Your Family) Up for Success This Year
1. Hold a Family Goal-Setting Meeting
Find a weekend afternoon or evening to gather altogether as a family somewhere comfy (make sure to grab fun snacks or go to Starbucks and treat everyone to a drink). Spend time reviewing the past year, talking about everything from favorite memories to words you'd use to describe the year.
Then, have everyone write down what they want to do more of in the new year, what they want your family to be known for and where they want to travel. Then take turns going around the table sharing your answers. Here are the questions I asked my family: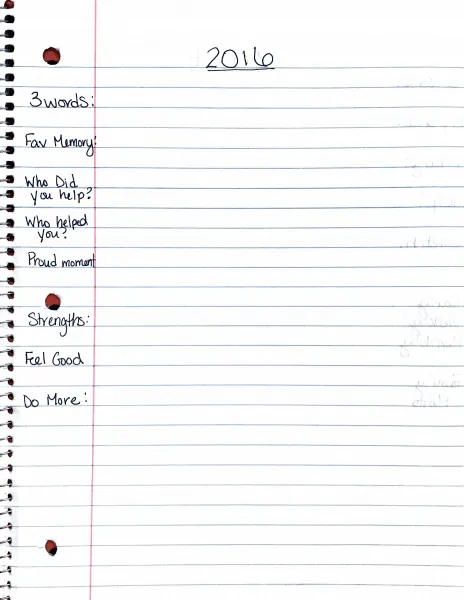 2. Map Out Your Entire Year
Look at the year as a whole with 12 monthly calendar sheets – place "non-negotiables" for every member of the family on the calendar in their family color, then place your weekly & monthly goals on the calendar as well that you discussed in step 1. You can also put "wish trips" and other questionables on the calendar in pencil.
3. Start a Budget
Don't be reactive in your finances, start at the beginning of the month by telling your money where it's going, not reactive by simply documenting where it's gone at the end of the month. Whether it's utilizing an app or simply keeping track of receipts in an accordion envelope with index cards, make sure the entire family knows and understands your system.
4. Take a Personal Day
Don't be fooled by the fact we just finished Winter "Break" – the truth is, it wasn't a break for many of us. It's worth it to take a day off of work and either hole yourself up at home or check yourself into a hotel just to focus on yourself and your goals (both personal & professional, family & financial) for the coming quarter. You'd be amazed at how much you get done when you stop answering emails and cleaning up around the house…and people will respect you for it!
5. Eliminate What You Haven't Used & Review All Recurring Fees/Subscriptions
Finally, the new year is a great time to look around and see what's simply cluttering up your life and schedule to keep you from seeing what's really important in your life. Is it clothes you haven't worn? A membership you haven't used? A class you haven't attended? Take time to get rid of these things and discover just how clear your mind and schedule can be!
This is also a great time to re-evaluate those monthly fees you tend to ignore so you're not caught off guard this year by a rise in rates, including everything from magazines to insurance. Plus, it's never a bad idea to shop around to make sure you're getting the most for your money.
Miss me on Talk of the Town? You can watch the show here:
You can also watch my 2017 segment here:Click to watch the video of the show.
Disclosure: Some of the links above are compensated affiliate links, which means if you click them and make a purchase, I will make a (very) small commission at no additional cost to you. In fact, you'd never know the difference in your online shopping experience. Your support in this way allows me to keep bringing you great deals and ideas to help your family. Thank you!