This post may contain affiliate links, which means we receive a small commission when you make a purchase at NO additional cost to you. Thank you for supporting our site in this way!
If you're looking for an Opryland Ice ticket discount deal to see "A Christmas Story" themed ICE! at Gaylord Opryland, you can count on me to bring you the latest and greatest ICE ticket deals so you can entertain your family at the best possible price for the limited time you can experience ICE at Gaylord.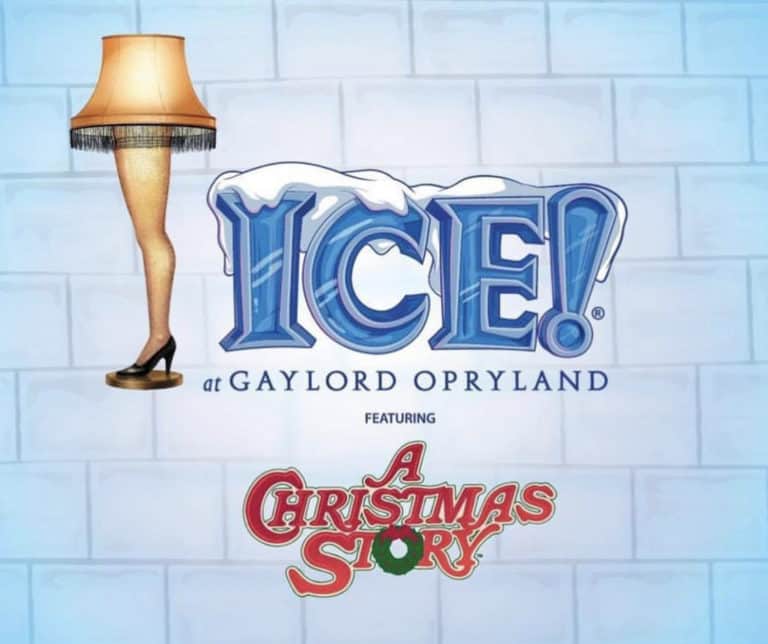 Opryland ICE Ticket Discounts:
These were the Opryland ICE tickets discounts I found last year and will continue to update them as they come up for this year.
* Save BIG with GROUPON right now – ICE! Tickets discounted up to 37% depending on when you want to go (and save an extra 20% off for a limited time with code SAVE3)
* Marriott Rewards members (free to join) can get 20% off Gaylord Opryland Christmas packages that include FREE ICE! TICKETS!
* Get $4 off ICE! coupons on specially marked Pepsi cans at participating Nashville-area retailers or if you are a Pepsi fan club member. You can also use PCAN16 to get the same $4 discount online!
* Several Nashville radio stations (including 92.7 & 95.5) are offering B2G2 tickets to both ICE! and "How the Grinch Stole Christmas". I've heard these stations may also do on-air giveaways as well.
* (This deal was true in 2016 – not sure if they are repeating if for this year)
11/12 is Nash Icon day and you can save $5 with this coupon:
If any more deals come up, I will post them as soon as I find them!
Opryland ICE! Early Bird Sale
There is an Early Bird Sale to announce the ICE! FLEX PASS. This is the best offer for ICE! Because it's hard to plan your dates in advance, this makes it easier to buy now but save 50%. This pass does not require you to reserve a specific date; visit on whatever date is convenient for you Sunday through Friday between Nov 8 to Dec 19.
Book by 9/30 with code ICEFLEXPASS.
The offer excludes Black Friday, November 29 and all Saturday. You are limited to 6 tickets per offer and not valid with other discounts.
ICE at Gaylord Opryland Details
The infamous Gaylord Opryland Country Christmas will start November 8, 2019 and runs through January 1, 2020. Here is a sneak peak of what you'll get to see at Opryland this year:
You can watch my family's experience of a previous year's "RudolpRed-Nosed Nosed Reindeer" ICE! experience here:
The Opryland ICE experience maintains 9 degree temperatures, so they provide you very fashionable big blue jackets during your journey through the frozen beauty, but I still recommend you bring your own gloves (and maybe even hats for little ones). We lasted about ten minutes this year, just to give you an idea.
Previous years' discounts:
* You could get coupons for ICE! at select organizations around Nashville:
-Participating K-Mart stores in Middle Tennessee offered $4 off ICE! at Gaylord Opryland.
-Participating Papa Murphy's and Wendy's locations offered coupons for $3 off ICE!
Here is what the Wendy's coupon looked like in past years:

If you're from out of town, you can also book ICE! tickets online or call 888-677-9872.
So there you have it – the best ticket deals and coupons for the ICE experience at Gaylord Opryland. If any more codes become available, you know you'll find them here first!
And if you're experiencing ICE! at Opryland, why not stay a little longer to attend a show? I've found a Cirque Dreams Holidaze discount code so you can take a family of 4 for just over $100.
ICE at Gaylord Palms in Orlando
Also, if you're traveling to Orlando and want to check out ICE! at Gaylord Palms, I have Gaylord Palms ICE discounts here. You can also keep up to date on Gaylord Opryland Country Christmas deals by clicking on the link.
Want an inside look at previous years' ICE! attraction? See pictures and video of my family inside ICE! here.