This post may contain affiliate links, which means we may receive a small commission when you make a purchase at NO additional cost to you. Thank you for supporting our site in this way!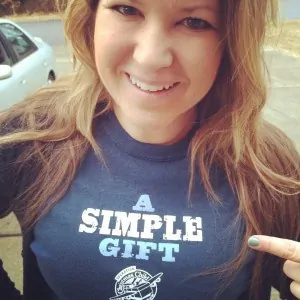 I'm writing this to you tonight from a plane on my way to Ecuador with Operation Christmas Child (#OCCEcuador).
Hopefully you caught my big announcement on Facebook & Twitter earlier this week, but if not, this may be surprising you like it did my mom when I called her on my way to the airport this morning! (I'm not much of a phone person, obviously…)
For the next four days, I'll be hand-delivering shoeboxes to the children of Ecuador that many of you have packed on behalf of Operation Christmas Child.
I'm blessed to have been asked to go on this #OCCEcuador distribution trip with some other media personalities and fellow blogger friend Mary from Homegrown Learners.
A few of you have wondered how I got the opportunity to take this trip, that I can only imagine will be a life-changing experience.
I wish I could tell you a secret formula, but I can't.
I can tell you that I've been a fan of the work Operation Christmas Child and Samaritan's Purse have been doing for quite some time now. I've also been participating as a packing family, just like everyone else who takes the time to put together a shoebox with their families during this time of year.
Last year, I participated in a voluntary campaign to help spread the word about Operation Christmas Child. I created quite the cute video (in my humble opinion) featuring my children showing off the top 5 items to pack in an Operation Christmas Child Shoebox.
So when I got the call from Operation Christmas Child, literally, a couple months ago asking me to be 1 of 2 bloggers on a shoebox distribution trip, they literally had to pick me up off the floor. I couldn't say yes fast enough and now I'm on my way…
One of the most exciting things is that I get to actually hand off a shoebox my kids packed to a child in Ecuador! You can follow the journey of the box from packing to delivery by following me on Twitter and the hashtag #FollowTheBox.
The best news for you is that even though I'm already in Ecuador, it's not too late to pack a shoebox! That's right, you can still pack a shoebox online and have it get into a child's hands in time for Christmas.
I'll be posting more after tomorrow and also be sure to tune in to the Family Friendly Morning Show with Doug & Jaci Velasquez on Tuesday morning for a LIVE call-in from me!