This post may contain affiliate links, which means we may receive a small commission when you make a purchase at NO additional cost to you. Thank you for supporting our site in this way!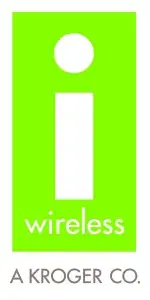 I mentioned yesterday that I'll be at the Savvy Blogging Summit in Colorado Springs this weekend and that Kroger iWireless helped me get here.
What? You didn't know that Kroger has a joint venture with a private label wireless provider that runs on the Sprint network and is only sold in Kroger and it's banner stores?? 😉 That's ok, neither did I until recently. But I'm sure glad I know now!
Phones are a funny thing. You think you like one, but then you don't and then you find yourself stuck in a 2 year contract with a plan you don't like. Well no more. With iWireless, there is never a contract, activation fee or termination fee.
Great, right?
But get this: what makes them truly unique is their Loyalty Program. When you use your Kroger Rewards Card to shop, you earn 20 free minutes for every $100 you spend!
I already hear the cynic in you: "What about if I'm already on the unlimited plan?" (which is only $60 a month, by the way, and a great deal as well). Easy. For every $100 in qualified purchases, you earn $1 towards your bill…and there's no limit? What's even better is that you can link 2 Kroger Rewards Card to one phone, so you can earn rewards twice as fast! Plus, you still keep earning your Fuel Rewards right alongside your wireless rewards…it's a Win-Win!
I went with the LG phone pictured above. I've had such a hard time finding a phone that I like to talk on as much as I like to 'work' on, and so far, this has been a great collaboration of both worlds for me. And now through September, there are 3 phones you can get for FREE when you buy an air time card in the store.
Trusted Network. No Contract. Dedicated Call Center. Free Phones….AND I can do it all at my local Kroger store. What's not to love?
I hope you guys take the time to check them out. Even if there's not a kiosk yet in your Kroger (or banner) store, you can still buy the airtime cards or just check out iWireless online.
I want to thank them, both for helping make this trip possible and introducing me to a product and service that I can really see making a difference in my daily life and budget!