This post may contain affiliate links, which means we may receive a small commission when you make a purchase at NO additional cost to you. Thank you for supporting our site in this way!
With so many missed celebrations over the past few months during the safer-at-home order, I decided to call on a CELEBRATION EXPERT to help us understand not only WHY it's so important to celebrate, but HOW to do exactly that in today's climate.
I welcomed The Certified Celebrator, Brittany Young, to The Sami Cone Show in July to help us understand just why it's so important to make up for those missed celebrations.
Why It's Important to Make Up for Missed Celebrations
Brittany started out our time together by sharing why it's so important to make up for missed celebrations.
We've all missed so many milestones with family and friends over the past months, such as reunions, birthday, anniversary, graduation, a fitness goal met or maybe even an "I beat cancer" milestone moment. With restaurants and resorts starting to gradually reopen, this is a great time to revisit those celebrations, of course, all while maintaining social distancing!
How to Celebrate Safely
Many of us have taken part in safe celebrations lately, such as a drive-by birthday parade. We've also celebrated birthdays and graduations via dinner parties over Zoom.
These are great options if you need to stay home due to your health or the health of those you love. However, we also discussed a great option to consider for your next celebration location…
Celebrating at Gaylord Opryland Resort
Gaylord Opryland Resort has reopened! The airy massive atriums and SoundWaves are the perfect family getaway with peace of mind (or even a Momcation, girls getaway or a couples' escape).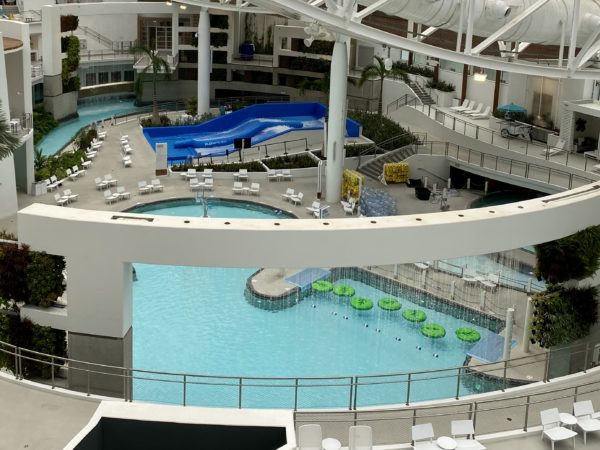 The Resort has instituted new protocols and elevated cleanliness standards for the health & safety of guests. SoundWaves outdoor & indoor attractions are open, with over 11 thrilling water slides, FlowRider, lazy and rapids river, toddler play areas, adult-exclusive areas.
SoundWaves Party Rooms
When you rent a party room at SoundWaves, it includes pizza, sodas, parking and all-day access to SoundWaves. You don't even have to spend the night at the Resort (though, why wouldn't you want to?).
Opryland SummerFest Re-Imagined for 2020
Also this summer, the resort's annual SummerFest event has been purposely redesigned to respect social distancing and our enhanced Commitment to Clean program. It's the all-in-one-place for family fun, including:
scavenger hunts
a selfie spot tour
sunrise yoga
hotel and garden tours
delta flatboat rides
atrium vibes live performances
family fun zones
and much more!
Opryland SoundWaves Special Offers
There are three special offers at SoundWaves right now that can save you up to 40% off:
Davidson County up to 40% off (code L9Z)
Tennessee Residents up to 25% off (code M16)
Out of State Summer Sale up to 15% off (code P91)
Visit SoundWavesGO.com or SoundWavesLocal.com to get more details and start planning your trip.
Watch the full segment from The Sami Cone Show on TV:
Read my full SoundWaves Review