This post may contain affiliate links, which means we may receive a small commission when you make a purchase at NO additional cost to you. Thank you for supporting our site in this way!
Since SoundWaves Nashville opened in 2019, Nashville locals have been hoping for day passes. Finally, Tennessee residents can purchase a SoundWaves Opryland day pass for a limited time!
SoundWaves Day Pass
That's right – at long last we can now get a SoundWaves Day Pass. Now don't get me wrong, I would take an overnight staycation at Opryland any day.
But Opryland has heard from locals loud and clear: we want to visit Opryland for the day. And now you can.
For a limited time starting July 27, 2020, Tennessee residents can get a SoundWaves Opryland day pass for just $49.99 per person. To my knowledge, this does not include tax and you can also purchase a $10 self-parking pass.
Visit SoundWaves for the Day: Date & Times Available
SoundWaves day passes are available during the following days and times:
Monday – Thursday
Noon – 8pm
As always, check with GaylordOprylandLocal.com to verify operating hours. Advance reservations are necessary to take advantage of this offer.
Details for Sound Waves Day Passes
There are several details to keep in mind before purchasing your Sound Waves day passes, most notably that you must show proof that you are a Tennessee resident and you cannot bring in outside food and drinks.
Pre-purchased ticket holders will receive admission wristbands at an exclusive outdoor admission gate; follow signage upon arrival.
Proof of Tennessee residency will be required for entrance.
Wristbands for SoundWaves are only valid for the purchased date during the 12:00pm-8:00pm operating hours.
In/Out passes will not be provided.
Wristbands for SoundWaves are non-refundable and cannot be transferred, exchanged or resold once purchased.
Lost or stolen wristbands cannot be refunded or replaced.
No outside Food & Beverage or coolers will be permitted.
Other restrictions may apply.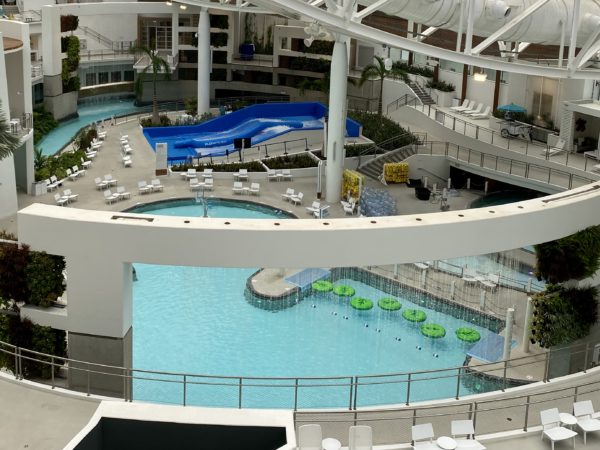 SoundWaves Day Pass Pricing
I've heard from both ends of the spectrum when the $49.99 day pass price was announced.
Some people feel the almost $50 price is high. But can I remind you that this is Nashville's only indoor/outdoor upscale resort water attraction? (Read my full SoundWaves review). Not only that, but let's compare SoundWaves to some of its competitors:
Nashville Shores: $32.99 + tax for an adult + $9.15 for parking when purchased in advance online
Dollywood's Splash Country: $49.95 + tax for an adult + parking (this price currently includes a free meal)
Splash Country is also offering a Sunday-Thursday special this summer for $29.95 + tax
Soaky Mountain Waterpark: This new waterpark just opened in East TN across from Wilderness at the Smokies. Adult day passes are $44.99 + tax & parking. They are currently offering a $39.99 + tax ticket for Sundays when you purchase online.
When you consider the cost of driving three hours (from Nashville) to East Tennessee to pay basically the same price for their waterparks, you can see the value. Plus, I learned early on that it is really tough to do a day trip (back and forth in one day) to the Pigeon Forge/Sevierville area without feeling completely exhausted afterwards.
Don't get me wrong, I love a good trip to Dollywood and all that Sevier County has to offer. But if you live in Nashville and are trying to compare single day prices, it's hard to ignore the gem that is SoundWaves right in our backyard.
All that SoundWaves has to Offer
If you've followed me at all, you know we get over to SoundWaves whenever we can. It's become a staple for our family celebrations too. Unline other outdoor water parks where weather can be a factor, SoundWaves has equally amazing indoor and outdoor attractions.
Just in case you aren't in the know, allow me to share an overview of all SoundWaves offer:
Soundwaves is a 4 acre, 3-level luxury indoor/outdoor water experience with dedicated recreation zones for adults, young children and families. It features:
Tube Slides
Body Slides
Family Raft Ride
Rapid & Lazy Rivers
Double FlowRider®
Wave Pool
Mat Racer
Multi-level Play Structures & Kids Pools
Dining Options
Adults-only pools & bar
Cabanas
Arcade
Rock Climbing Wall
Party Rooms
You can see why we always want to spend the night at Opryland – there's so much to see and do. But I also love that Opryland has now made SoundWaves more accessible to our community.
If you are looking to spend the night at Opryland and still save on a SoundWaves package, Book online now and enter your 3-digit promo code in the Special Rates section.  DAVIDSON COUNTY RESIDENT package rates start at $219 for a family of four – a 40% savings.  Use code L9Z. 
Visiting from Out of State?
Don't worry. Even out of state visitors save 15% on our SoundWaves Experience Package.  Offer valid select dates through 9/30/20. Use code P91
Reserve your SoundWaves day pass now at GaylordOprylandLocal.com.