This post may contain affiliate links, which means we may receive a small commission when you make a purchase at NO additional cost to you. Thank you for supporting our site in this way!
Those of you who have followed me for some time know that American Girl has found a new place in our family and I was privileged to offer an American Girl doll giveaway this fall for Caroline, the newest American Girl historical doll.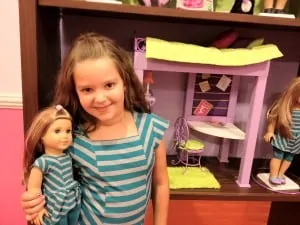 Because Kariss just got her first American Girl doll (McKenna) this summer, I wanted the giveaway to be especially for those who did not have an American Girl doll yet. I received some amazing stories about why you wanted to win an American Girl doll for that special little girl in your life and SO appreciated those of you who already had American Girl dolls for your little girls that graciously bowed out of that giveaway.
But now I have exciting news!
ANYONE can enter to win a "My American Girl" doll right now in time for Christmas!
That's right – anyone and everyone now has a chance to make one little girl's Christmas extra special.
If you haven't heard of the "My American Girl" dolls, it's a special doll you choose that most closely resembles the little girl she'll belong to. You can match everything from hair & eye color down to freckles and glasses!
You can also bring the new "My American Girl" dolls to life at InnerStarU.com.
Because I want to get this to you as quickly as possible, this will be a short giveaway. Just visit the "My American Girl" page, check out which doll you think your little girl would love and enter via ALL the methods below (some methods you can even do once a day!).
Enter before midnight on Sunday, the winner will be chosen on Monday and then you will have 48 hours to respond with your doll choice so we can try to have your doll to you before Christmas.
Good luck! I hope you all are as excited about this giveaway as much as I am!
If this giveaway has ended, you can enter my current giveaway here or check out all my American Girl Doll content here.
I want to thank American Girl for generously provided me with a "My American Girl" doll to both review and to giveaway. This post expresses all my own thoughts – I love being able to bring you giveaways like these!