This post may contain affiliate links, which means we may receive a small commission when you make a purchase at NO additional cost to you. Thank you for supporting our site in this way!
Have you heard about O'Charley's Free Pie Wednesday?
I have to admit, I've only eaten at O'Charley's a hand-full of times, but as soon as I found out that they carried French Silk pie…and that I could get it for free on Wednesdays, I became a woman on a mission.
I don't know why it's so hard to find French Silk pie in America, especially here in the South. I can frequently discover Fudge Pie, Chocolate Cream Pie, Chess Pie, even Chocolate Silk Pie…but I've yet to find French Silk Pie in Nashville…until now!
Now I'll admit, it's not exactly as I remember it (& there definitely isn't enough whip cream on top), but it sure satisfied my craving.
If you aren't one to normally eat at O'Charley's, don't go there just for the free pie. But if you are a fan, make sure you head over on Wednesdays to get your pie for free!
Of course, you don't have to get the French Silk pie; they have a variety to choose from, but I still say French Silk is the best.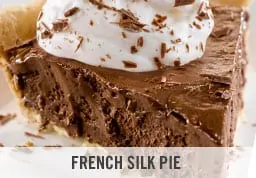 What's your favorite type of pie that you crave?