This post may contain affiliate links, which means we may receive a small commission when you make a purchase at NO additional cost to you. Thank you for supporting our site in this way!
If there has been a common theme to this summer, it's been that we haven't stayed in one place for too long, and this weekend will be no different! We're taking a road trip to Chicago in the Hyundai Genesis and are going to show you what it's like to experience a bit of luxury for less than you might think!
When I had the opportunity to return to Chicago this weekend for what turned out to be a somewhat impromptu Strauss family reunion, I realized I hadn't been back to my hometown in about 5 years. So much has changed, not to mention the fact that I have two school aged children now! So the things that I experienced when I left for college at the age of 16 probably would not be the same things I'd go back and experience today…
So not only did I want to give you a fun Chicago "Staycation" story, but I wanted to share some experiences that neither you or I might think possible or affordable on a budget, but just might surprise you 😉
The first of which is the Hyundai Genesis.
Now if you live here in Nashville, then you may very well have come out to visit me during the summer at one of my personal appearances at Hyundai of Cool Springs with 94FM with Fish. To be completely honest, I had never driven a Hyundai before meeting Frank, Sam and the rest of the Hyundai of Cool Springs family. But once I took a test drive, I became intrigued…
I knew they had the best warranty in the industry (5 year/60,000 mile bumper to bumper warranty & 10 year/100,000 mile Power-train warranty), but until I took a spin in their new Veloster, I never realized just how thoughtfully designed their vehicles are.
I became even further intrigued when I got to sit in their Hyundai Equus, to which my only response was, "This is a car you should be driven in, not drive yourself!" I was even more surprised that this luxury vehicle (known in fact for transporting many dignitaries in Asia) carried a price tag cheaper than most Lexus' I've seen.

But what's impressed me most about Hyundai of Cool Springs is the experience – they truly treat you like family. I've always said that I don't mind paying more to shop somewhere if I know my dollar and my time are being appreciated. But rarely do you find that level of service somewhere that you can also find incredible value!
So when I realized I'd be going to Chicago this weekend, I asked my new friends at Hyundai of Cool Springs if I could truly test and see if the Hyundai was right for my family.
The Hyundai Genesis is in a class with the Lexus E class, the Mercedes, and the 5 Series BMW…but with a price tag of up to $20,000 less! (The MSRP starts at $34,900).
After driving a mini-van for so many years, I honestly didn't think I could go on a road trip without one, but as soon as the kids saw it, their responses ranged from, "That's the coolest car I've ever seen!" to "I've always wanted a black car like this!"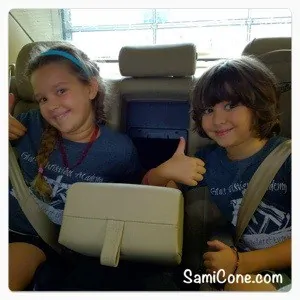 Who knew?
Obviously I'm not a car aficionado, but this is a NICE automobile. I was sold just driving home with the way it handled, accelerated and literally made me feel like I had the world at my fingertips (did I mention it's comes equipped with Bluetooth and XM radio?). But as a frugal mom, what really sets it apart from it's competitors is that it only requires regular fuel! This can save you hundreds of dollars a year over a comparable car that requires premium!
All that being said, I'm excited to see what this baby can do on the highway as we work our way up to Chicago. It's just me and the kids this trip, so we'll be visiting some other places I previously thought might have been out of our price range, but I've discovered some valuable tips that I'll be sharing with you along the way so that you can plan your own luxury getaway for less!
So if you're going to be in Chicago this weekend, keep your eye out for me at the Legoland Discovery center in Schaumburg, IL for their Star Wars Weekend (July 13-15), American Girl Place located in downtown Chicago's historic Water Tower Place for their American Girl Dinner and Chicago's First Lady® River Cruise on July 15, and more! (And you can bet I'll be getting my fill of some Italian Beef, Deep Dish Pizza and French Silk Pie while I'm there too!).
I'd love for you to come along the adventure with me this weekend by following the hashtag #HyundaiMom on Twitter.
See you on the road!