This post may contain affiliate links, which means we may receive a small commission when you make a purchase at NO additional cost to you. Thank you for supporting our site in this way!
Have you been looking for a cute and comfortable bootie for your busy holiday schedule? If so, I think I found the answer…
Comfortable Ankle Boots for Walking
If you know me, you know I love to travel and I'm constantly on the go. That means I do a LOT of walking, especially at some of my favorite destinations like Disney World and Opryland.
Speaking of, before we do our annual Christmas staycation at Opryland, I was searching for the most comfortable ankle boots for walking all day. After all, the resort has an impressive nine acres under glass, not to mention all the outdoor activities. 
In the past, I'd have to bring multiple pairs of shoes (or even flip-flops in the winter) because my feet would hurt after so much walking. But then I discovered the Siena boot from OrthoFeet.
Faux Fur Lined Booties
Not only are they comfortable, I know they'll keep me warm too. Plus, the slip-resistant sole will keep me walking confidently no matter what the weather throws my way.
These water-resistant women's boots have all the support of an orthotic with fashionable elements like this cute faux fur detail around the ankle. And don't worry about cold fingers trying to lace up wet laces. These boots have an inner zipper making it even easier to get in and out of your new winter boots.
But wait, there's more!
Women's Fashion Boots Meet Custom Orthotics
OrthoFeet allows you to customize the fit of your shoes in multiple ways. First of all, an adjustable velcro strap runs across the top of the foot, allowing you to tighten or loosen the fit. 
Second of all, in addition to the premium orthotic insoles in every shoe, they also provide Arch Boosters you use to enhance arch support.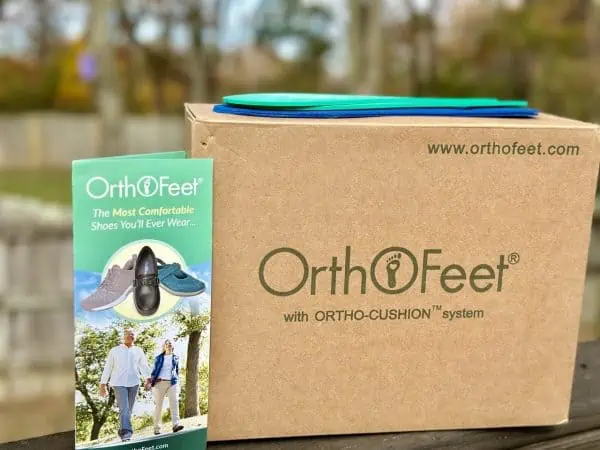 Free Orthotic Spacers
One more thing you need to know: they come with two sets of spacers, which allow you to adjust the space inside the shoe if they are too loose.
For example, the Siena boots included both 1/16" (Blue) and ⅛" (Green) spacers. So if the shoes feel too loose, or if your foot slips out of the shoe, start by removing the insoles that come in the shoe and then place the Blue spacers in the sole and then replace the insole on top of it.
If the shoes are still too loose, you can try the Green spacer instead of the Blue one. If they are STILL too loose, you can layer both the Blue and Green spacers under the insoles to achieve that custom fit and eliminate heel slippage.
Wide-Width Booties vs. Standard-Width Boots
I've also found them to be very true to size. They come in standard, wide, and extra wide widths, but I felt good in 8.5 Medium (B) because of the wide toe box (even though I prefer wide widths for my running shoes).
Even if you don't have travel plans, these water-resistant ankle boots are great for everything from raking leaves to cutting down your Christmas tree. I feel like I finally found something I can wear to do yardwork that protects me from the elements and can easily be cleaned.
OrthoFeet Siena Boots on Sale
You also get free shipping, free returns, AND a 60-day wear test. So go ahead, order a pair and see how comfortable your feet can feel in the midst of this busy holiday season!
Get your Siena Boots from OrthoFeet now!