This post may contain affiliate links, which means we may receive a small commission when you make a purchase at NO additional cost to you. Thank you for supporting our site in this way!
I fell in love…
I didn't mean to, it just happened.
It took us a long time to meet and when we finally did, it was in the middle of the night and I was so tired.
But it didn't matter.
Québec City, you captured my heart!
I was invited up to Québec City (Canada) by their tourism board for a weekend trip to cover the opening of the Holy Door in December 2015. Not only that, but I was able to bring my husband with me – a rarity on press trips like this. And I'm so glad I did.
Québec City is like a little slice of Europe, but right here in North America. In fact, it is the only fortified city north of Mexico, complete with cobblestone streets that beckon you to walk, shop and sip along them all day long. The ambiance was charming, welcoming, unique, historical and yes, romantic. And I'm not even going to start talking about the food yet…
While I fear I won't be able to do our two days there justice (yes, we ended up only being there for 48 hours after delayed flights!), I hope to pass on a glimpse to you so as to share why we can't wait to get back in hopes you'll feel the same way.
Quebec City Weekend Trip Highlights

Our first night in Québec City we stayed in a converted monastery. Yes, you heard me correctly – a monastery…like with real nuns and 400 year old archives.


Le Monastère des Augustines is a haven of heritage, culture and wellness located in the historic wings of the Hôtel-Dieu de Québec monastery, from which emerged the first hospital on the continent north of Mexico.


This once-in-a-lifetime experience was a gift, even though our stay was brief. Not only did I get to feel like I experienced a unique part of history, I reconnected with myself in a way I hadn't in a long time.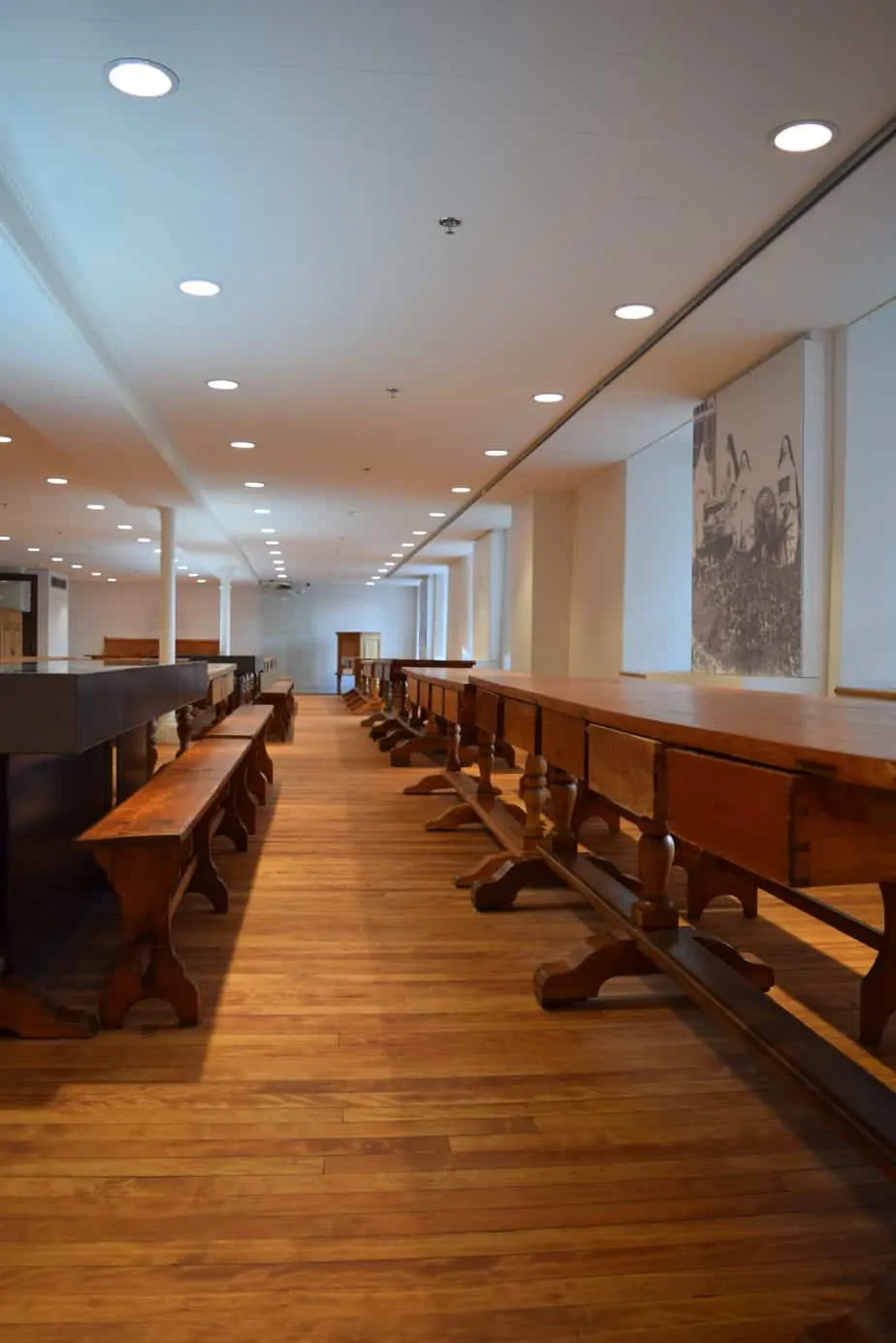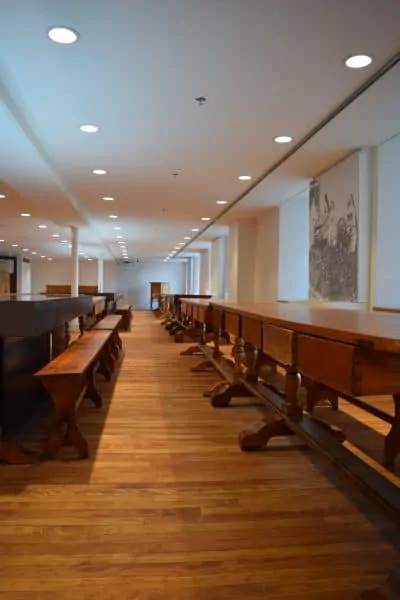 In addition to the updated accommodations and the museum, I most appreciated the focus on wellness throughout the monastery. The breakfast "buffet" reminded me of what I grew up eating when in the presence of my European family: a variety of fresh fruits, grains, yogurt and teas. More than just a meal, it was a morning ritual where they observed the practice of silence and put the focus back on harmony and spiritual sustenance.
After leaving the monastery, we were literally able to walk across the street to the top floor of the Hilton Québec for lunch atop the 23rd floor at the Le23 restaurant. Not only was it a gorgeously thoughtful and delicate meal, the panoramic view of Old Québec City was magnificent.
It was the perfect way to start our first full day in Quebec City because it truly gave us an overview of what we were about to see before driving around in the midst of the town. While our lunch was bright and delicious, I've heard nothing but raves about their Sunday brunch as well.
This silky pea soup with ribbon bacon was just one of the delicious dishes we sampled while there (and I'm still wondering why they don't seel bacon ribbons on the street in Québec City 😉

Growing up with a British mother, I fondly remember all the copper molds hanging in our kitchen. When I stepped into the Copper Art museum and boutique featuring the magnificent handiwork of Albert Gilles and family, I immediately was transported back to those childhood memories, but inspired on a grander scale.

The artwork originally started by the patriarch 90 years ago is now being carried on by five family members and two craftspeople. In fact, it is the only place where you will find copper embossing in North America.


In the shop, you will discover everything from religious creations to souvenirs of Québec. Of course, I couldn't walk away without a piece of the craftsmanship to keep close to my heart: a unique pendant that I'll always treasure.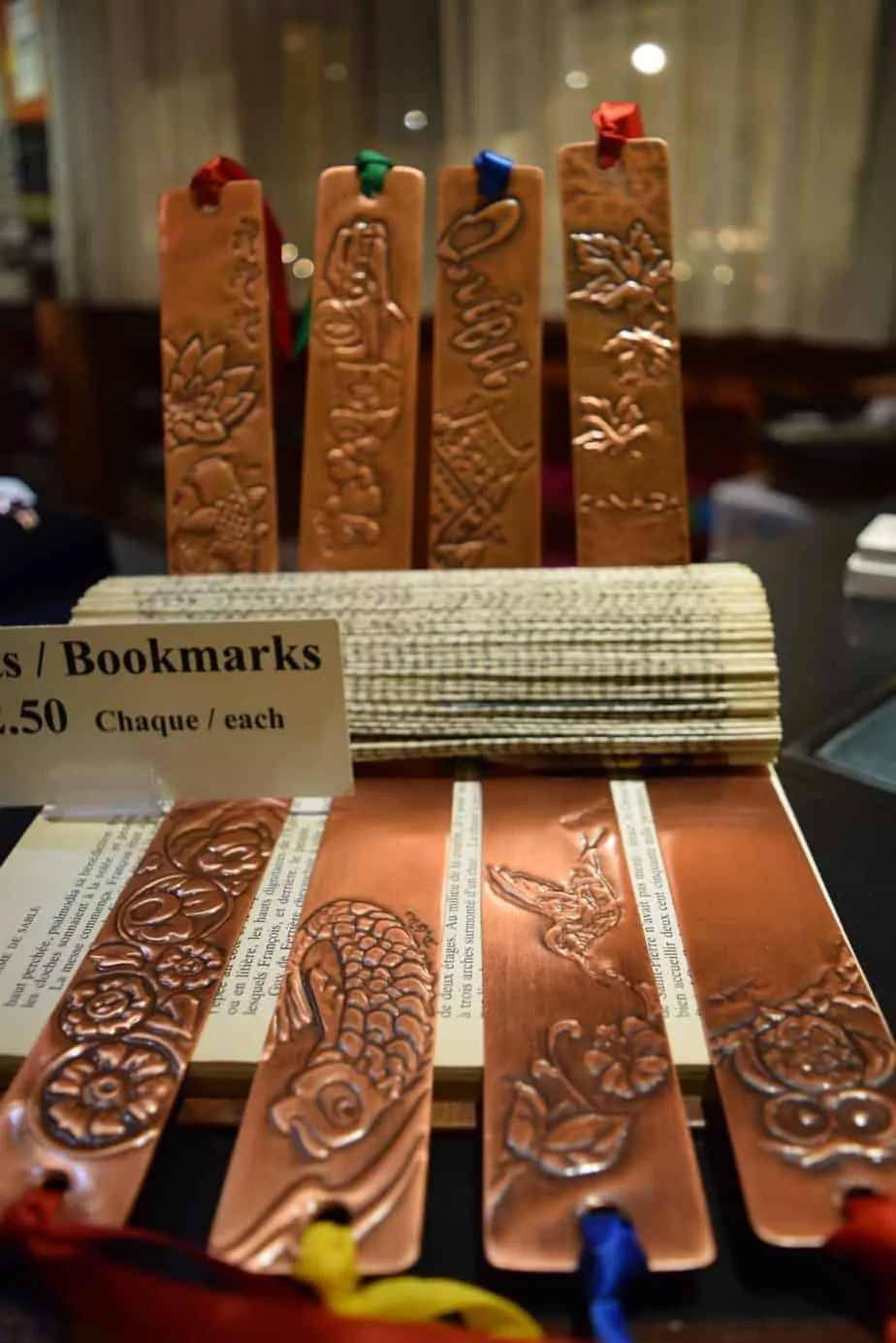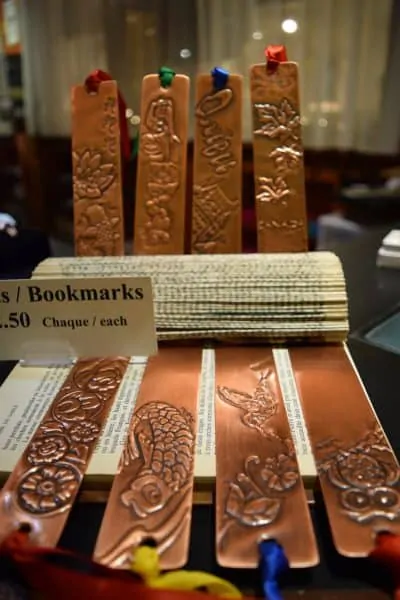 Notre-Dame de Québec Basilica-Cathedral
Finally, the reason we were asked to travel to Québec City in the first place was to visit the Notre-Dame de Québec Basilica-Cathedral to witness the opening of the Holy Door. This cathedral, located within Petit Champlain, has been standing on the same location since 1647 and designated a Canada National Historic Site given its architectural value.
When Pope Francis proclaimed 2015 a Holy Year, that meant the world's seven Holy Doors were to be reopened, including the one at Cathedral-Basilica of Notre-Dame de Québec. Let me tell you, regardless of whether or not you are a person of faith, the immense sense of history and significance washes over you the minute you are in its presence. But as a Christian, I was able to get a sense of the roots of my faith in a way I've never been able to through books, lectures or any location in the United States.
We not only got up close and personal with the Holy Door, we also sat in on the Holy Mass. Though I am a French speaker, I was not able to make out everything the priest said, but I was able to discern a few key phrases that truly spoke to me:
This is something very joyful for me- welcoming pilgrims at the door. I can do it all day long. Not as tourists, as those on a spiritual journey. All who come are persons of goodwill – exactly the way Jesus preached the good news- some very close to Jesus, others just curious.
The priest also explained the significance of the door in this way: "It is because Jesus said 'I am the door, which is symbolic because everyone has a door to cross in their own lives."
In fact, many of the sojourners walk through the Holy Door on behalf of others (80%), those that either cannot walk for themselves or cannot travel to the Holy Door. In total, 2,000 people passed through the Holy Door just in the few days we were there! But what truly set this Holy Door opening apart was the fact that the priest did not have people come through the door into the church, but asked visitors to go out the door into the world, because that is what Jesus truly calls us to do.
Remarkable.
Traveling to Québec City
The only negative you'll likely hear me speak about our trip is this: getting there was a nightmare.
It should come as no surprise that there were no direct flights from Nashville to Québec City, so we had to connect through Philly. Long story short, our flight out of Philly got diverted to Burlington, VT and the good people of the airlines found us a bus to complete the trip (only about 4 hours) instead of making us turn around and fly back to Philly for the night (where we would have had to wait until the next morning to fly out).
As you can imagine, this would have completely derailed our weekend plans. Of course, weather is much more of an issue when traveling during the winter months, but this is just one reason I suggest traveling for at least five days rather than only a weekend.
Québec City Food
I know, it's hard to believe I've waited until this long in the post to talk about the food in Québec City, but that's because it's worth the wait. Let's just say it this way: you'll never eat a croissant in Starbucks again. The European flair and finesse paired with the heart of Québec City artisans are evident in every bite you eat in this town. And don't even think of eating gluten-free here (though I'm sure it's possible) because the pastries and bread are to die for.
I'm not exaggerating when I tell you we ate creme brulee after every dinner (and I never liked creme brulee before eating it in Québec City!). But the most beautiful thing about Québec City food: while fine dining is delicious and easy to find, the cafes lining the cobblestone streets are just as delicious. This is the one and only time my husband has ever woken up earlier than me in our fifteen-year marriage and it's because he couldn't wait to try a new cafe each morning.
Québec City Fun Features
A few other unique qualities about Québec City worthy of mention:
* French is their primary language (I got in a lot of practice time), but almost everyone we encountered also spoke English
* "Catch Me if You Can" was filmed in Petit Champlain, the first commerce area in North America (and where we had dinner the second night)


* It's where you want to be for Christmas: CNN ranked Québec City among the world's top 10 destinations for celebrating the Holidays!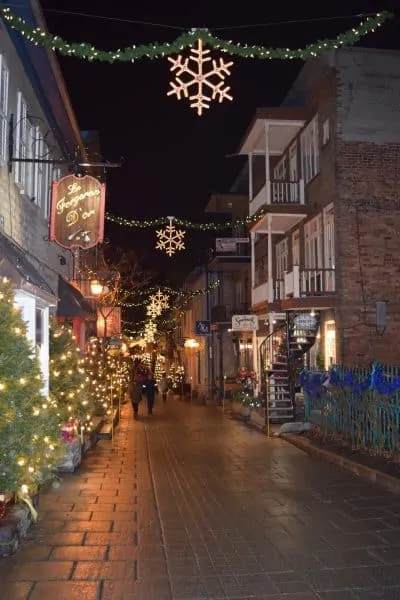 * It is one of only three walled cities in the world that is still inhabited
* It's the Most European city in North American (& the safest – there are literally no murders!)
After just 48 hours in Québec City, my husband and I were ready to buy a vacation home here (aka small apartment in Old Town). While we haven't been able to return with our kids yet, we cannot wait to make new memories with them in this charming town.
Disclosure: I want to thank the Québec City Tourism Bureau for hosting me and my husband on this trip of a lifetime. While we were treated to all the experiences I detailed above, all words and thoughts are my own.