This post may contain affiliate links, which means we may receive a small commission when you make a purchase at NO additional cost to you. Thank you for supporting our site in this way!
When your child wants to cook you breakfast in bed, the feeling of sweetness can quickly be overtaken with feelings of anxiety:
*Will they get syrup all over my white sheets?
*What will the kitchen look like when they're done?
*Will they really expect me to eat whatever they cook???
As it turned out on this particular day, my kiddos were just trying to get ME to wake up to cook THEM breakfast IN MY BED!
The nerve.
Still, it's hard to say no to these sweet faces, especially when they want to spend time with me on a Saturday morning. So while I cooked, I presented them with the option to watch the newest Mickey Mouse Clubhouse DVD title, Quest for the Crystal Mickey, that just released this May.
My kids are now 7 & 8 and while they still have a strong affinity for all things that have to do with Mr. Mouse himself, they've shied away from watching Mickey Mouse Clubhouse recently because they're getting "too old for that stuff". Still, I thought the Indiana Jones-like theme and character representation just might entice them…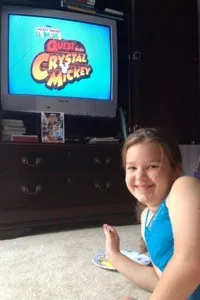 I was right!
Both kiddos not only sat through the entire episode, but LOVED it! Just goes to show, Mickey is a crowd pleaser for EVERY age group 🙂
Here, check out a clip for yourself:

Not only do I have some free printable Quest for the Crystal Mickey printables for you…

…but I also have a chance for you to win a copy of the Quest for the Crystal Mickey DVD for that Mickey fanatic in your life! Just enter via Rafflecopter below:
Congratulations to Austin B. for winning the giveaway!
a Rafflecopter giveaway

Good luck!
Thanks for visiting! Make sure to check out my other Giveaways while you're here.
Disclosure: Disney PR provided a copy of this DVD for me to watch with my kids, as well as a copy to giveaway to you, but did not provide any content for this post. All Disney love is absolutely, 100% mine!