This post may contain affiliate links, which means we may receive a small commission when you make a purchase at NO additional cost to you. Thank you for supporting our site in this way!
As a former professional athlete, I naturally wanted my kids to follow in my love of sport.
But at the same time, I didn't want to push them into a sport simply because I loved it.
So what did we do as parents? Two things:
1. We encouraged them to try a lot of different sports
2. We focused on encouraging them to be active more than we focused on them participating in just one sport.
This meant trying a lot of new sports to find one they liked – and with two kids who are VERY different, this is no small feat:
While my daughter is more free-spirited and enjoys moving without rules and regulations, like on a trampoline: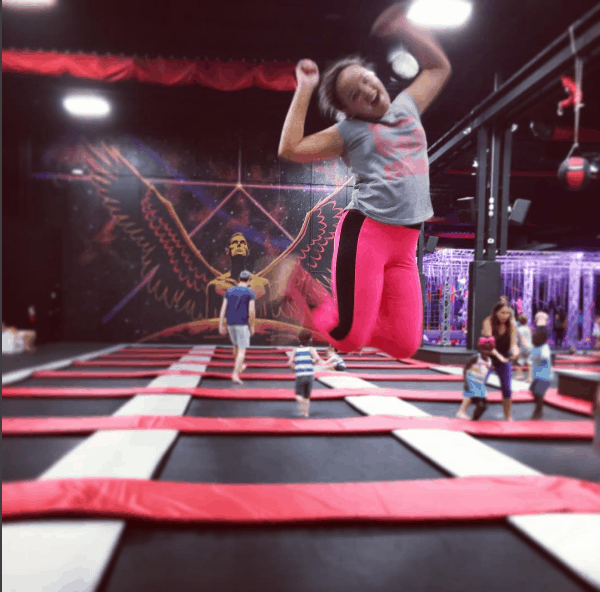 My son prefers perfecting his strokes on the tennis court with his coach:


Regardless of where your child falls in this spectrum, there's one thing no sport parent can deny: kids playing sports need the right gear…and they need it often!
Let's face it, our kids grow quickly, which means they need sports shoes and clothes that grow along with them. But that can get expensive, so I have a few tips for how to save on your kids' sports gear:
1. Look for last season's colors
Many of your favorite brands will bring back their most popular styles season after season, but simply tweak the color. When that happens, you can find a great deal on last season's shades.
2. Shop consignment sales
If your kids are trying a new sport and you're not sure it's going to stick, shop local consignment or garage sales to find gear at a fraction of the price.
3. Try on in store, Buy online
While I would agree that things like shoes are important to try on for the perfect fit, typically you're going to find a better deal online. This is my best tip, especially when you know exactly what athletic clothing, shoes and equipment your kids need.
I always head to Savings.com to find the latest promo codes and deals, but right now they have an especially good sale going on over at FootLocker.com.
My daughter outgrew her favorite hoodie from last fall, and since teal is her color of choice, I'll be picking up this Under Armour Fleece Hoodie from Foot Locker that's on sale for almost half off regular price!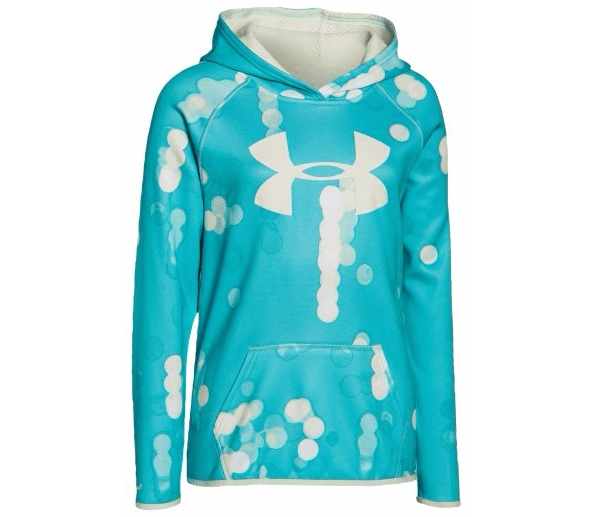 And now that my son is in junior high and getting more serious about competitive sports, it was suggested he get a real athletic shoe and not just a 'sneaker' from our favorite fashion brands. So we did just that and went and had him fitted at a local store that specializes in running shoes.
He tried on several popular brands, but in the end, we found that Asics fit his wider foot bed the best. What was over $100 in the store, we found for only $79.99 on FootLocker.com (and it happens to be one of their best rated as well!)
So how can you save even more on sports gear for your kids AND yourself? I'm glad you asked! For the next two days only, you can save an extra 20% off at FootLocker.com with the Foot Locker discount code below.
So what are you waiting for? Go grab those deals while you can…and before your child changes their mind again about what sport they want to play this Fall 🙂 .
Foot Looker Discount Code Details:
Where to Shop: FootLocker.com
What You'll Save: 20% Off Orders of $99+ at Foot Locker
Code to Use: LKS16923
When to Shop: September 11-12, 2016
Some exclusions apply.
Disclosure: This post was sponsored by Savings.com. When I heard about the opportunity to share about how my family saves money AND share a great opportunity to save with you, I welcomed it. All opinions in this post are my own. When you click the link to shop at FootLocker.com through this post, I will make a small commission at NO additional cost to you.