This post may contain affiliate links, which means we may receive a small commission when you make a purchase at NO additional cost to you. Thank you for supporting our site in this way!

If you heard me share some of my favorite "Save" vs. "Splurge" items on Talk of the Town on August 15, 2012, but didn't catch all the tips…or just want to learn more…here you go!
Watch the video from today's Save vs. Splurge segment:

As much as I love to save money, nothing frustrates me more than when I buy something at a steal and then have to replace it a week later because it breaks or wears out! That being said, here are a few things that's worth the extra money up front so it has a longer life in your budget:
FASHION
Invest in a few key pieces that will outlive the trends. Things like a great, light trench coat that can double as a blazer, a cardigan that can pack easily and double as a shirt…

…or a fun purse that doubles as a laptop bag and transitions from day to night are perfect to spend a little more on and hang onto in your closet for a long time.

What I love even more is a store like Banana Republic that offers high quality clothes at a great value. Compared to most retailers, you can truly get a great deal any day of the week, but considering all the amazing sales & coupon codes they offer, there's no excuse for not getting quality items at an affordable price.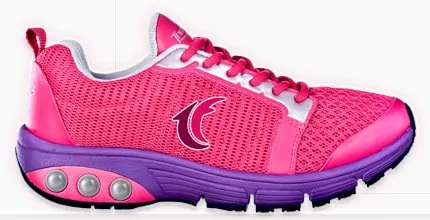 Another fashion splurge is a great pair of shoes. If you're on your feet all day (especially busy moms), you know your feet affect how your entire body feels. My new discovery is Therafit Shoes. You can't even buy them in stores yet, but I love both the colors and the technology that lets you adjust your support yourself based on what you're doing at the time! Whether it's more support when you're going for a run or a little less when you're at the mall, they've created technology so individuals can create their own comfort level.
—Other fashion splurges: great fitting pair of jeans
—-Saves: trendy tops and accessories
BACK TO SCHOOL
Invest in a good backpack. It doesn't matter how much they love the latest cartoon character, the bag will most likely break and their tastes will change. We just bought a character backpack from one of the "buy a backpack, get a lunch bag free" sales and it broke on the first day of school! Get something with a good lifetime warranty and great customer service, like Lands End backpacks.
I immediately fell in love with the tagline for their ClassMate Backpacks: your "most durable value for back to school". I also had to order their new line that was designed for kids, by kids. The Dash backpacks have a bottom section to keep smelly shoes and dirty clothes separate from the main compartment and the MADBOX lunch box has a velcro freezer compartment that can keep your cold foods separated from those that don't need to be refrigerated. In the mind of this mom, they've thought of it all.

I also found out that Lands End makes "Iron Knee" pants…what parent doesn't want those? I can't tell you how many pairs of khaki school pants we went through last year, so I'm excited to give these a test run! Lands End was the first company to make two-day shipping standard without a surcharge anywhere in the continental U.S, so they recognize that when you need something (especially for school), they're going to get it to you ASAP, and not penalize you for it!
—-other splurges: reliable computer (after mine just crashed and lost all our family memories, it's made me see the value of not buying the cheapest computer off the shelf)
—-saves: water bottles (they get lost anyway and should be replaced often), school uniforms (get hand me downs or shop consignment sales, like the Little Sprouts Sale in Cool Springs this weekend.)
TOYS
Don't buy a lot of little toys, consider having grandparents and relatives combining to make a larger purchase that every kid in the family can enjoy (like a Trampoline and Enclosure Set
or Wii
that also plays movies/streams internet) or a toy that will last beyond this birthday (like an American Girl doll) that also has accessories you can add on to each holiday.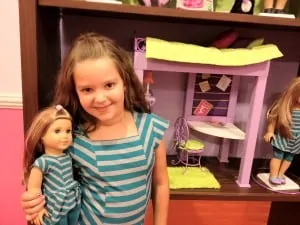 —other splurges: Wooden toys that can be passed down, camping gear or something to be used as a family
—saves: plastic dolls, things they outgrow/have to 'upgrade' quickly (like bikes)
HOME
Find one piece of furniture you love to spend your money on, then work your room around it – a funky chair or a comfy couch.
—saves: You can always find great decorative pieces at yard sales, good will or even Craig's List!
What are some of your favorite splurge items?
To find out more information on how to book a workshop or speaking event, contact me.
Some links in this post are affiliate links, but only for products I already love and I think you will too!