This post may contain affiliate links, which means we may receive a small commission when you make a purchase at NO additional cost to you. Thank you for supporting our site in this way!

Getting kids off on the right foot in the morning can be a challenge, much less giving them a GREAT start that involves both shoes on the correct feet, completed homework in their backpack and a breakfast that will keep them fueled throughout their day at school.
In over a decade of being a mom, there's one tip I've found to set myself up for morning success: Get started the night before.
After cleaning up from dinner, we set plates & vitamins out, put everything in the kids' lunchboxes that's non-perishable, and make sure all school papers are packed and signed if need be.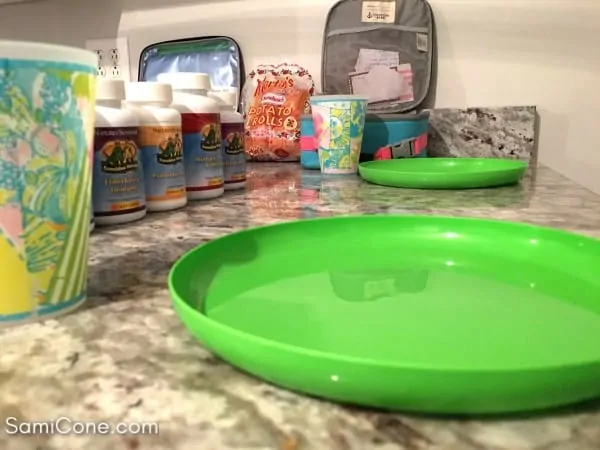 But when it comes to creating a quick and delicious breakfast for my kids' before they go to school, the key lies in what I do after they go to bed.
My kids' love breakfast in general, but in particular, they love breakfast sandwiches. And why wouldn't they? Breakfast sandwiches combine some of my kids' favorite foods into one portable and convenient meal.
But trying to pull off a fresh breakfast sandwich during the hustle and bustle of busy school mornings can be a recipe for disaster.
For awhile we tried buying frozen breakfast sandwiches, but when I looked at all the individual frozen components, I realized I could make a "fresh" version a lot better, a lot healthier and a lot faster with just a little prep time one night a week.
So how does one create this miraculous school-day breakfast sandwich? I'm glad you asked. It really comes down to two components:
– A scrambled egg, sausage and cheese mixture I whip up in a large batch and freeze in individual squares
– Martin's Sandwich Potato Rolls
Martin's Sandwich Potato Rolls are the perfect size to be portable, so even when we're rushing to get out the door, I know the kids can grab them on the go and enjoy them in the car on the way to school. Besides being portable, they're soft and delicious!
So let's get to it!
School Day Breakfast Sandwich
Ingredients:
– Eggs (1 per child per day = 10 for a week's worth of sandwiches in my house)
– 1/2 pound sausage (you can use pork, chicken or whatever bulk sausage your family prefers)
– 1/2 cup shredded sharp cheddar cheese (the sharp cheddar stands up to the sausage the best)
– Dash of hot sauce (optional)
– 1 package of Martin's Sandwich Potato Rolls
– 1/2 tsp each of salt & pepper
Directions:
1. Crack the eggs in a large bowl and whisk.

2. Add the hot sauce, salt, pepper and a splash of water
3. Brown and scramble the sausage over medium-high heat in a large sauce pan

4. Once the sausage is cooked, pour the egg mixture over the sausage in the same pan
5. Incorporate quickly so as not to overcook. Just before the eggs are fully cooked, sprinkle in the shredded cheese and incorporate.

6. Once combined, spread out on a sheet pan and cut into 2 inch squares

7. Freeze individual squares and then store in airtight freezer bag

8. Each morning, pull out the desired number of egg squares and re-heat in microwave for 20-30 seconds or in a pan on the stove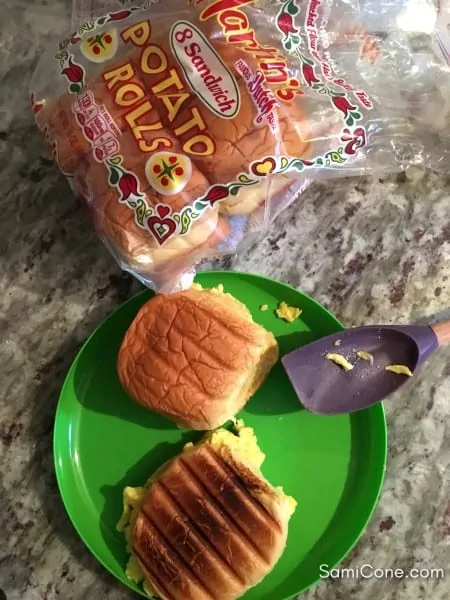 9. Once heated, serve in a Martin's Sandwich Potato Roll. (You may also toast the Potato Roll first OR consider placing the entire breakfast sandwich inside a panini press).
10. Watch smiles come over your kids' faces!
Now that you know how to make the perfectly portable school day breakfast sandwich, I have just one warning: while making your kids' their morning breakfast sandwiches, they may ask you to toss a Martin's Potato Roll in their lunch box as well 😃 My daughter even loves grabbing one as a quick after school snack before starting her homework.
In fact, my kids asked if I could always blog for Martin's Potato Rolls so we could get a lifetime supply – that's how much they like them. My husband was quick to say that he loves these breakfast sandwiches most when on Martin's Sandwich Potato Rolls.
What about you – are you #ReadyToRoll? I'd love to hear about your go-to school morning breakfast dish. Just leave a comment below and share what you and your kids love to make and eat to help you get your school day off to a great start!
Disclosure: I was compensated for writing this post, but the recipe and all ideas represented are my own. I asked to be a part of this campaign because of how much my family loves Martin's Potato Rolls and I hope your family will too!