This post may contain affiliate links, which means we may receive a small commission when you make a purchase at NO additional cost to you. Thank you for supporting our site in this way!
After my first trip to the SiSpa at the Palm Beach Marriott Singer Island Beach Resort & Spa, I felt compelled to share my incredible experience. From the skill of my therapist to the heated marble tables, there are several details that set it apart from any other spa I've visited. And if after reading my SiSpa Singer Island review you want to try it for yourself, I'll show you how to save on your spa day.
SiSpa Singer Island Review
If I'm going to be totally candid, I have the same reservations about resort spas as I do about resort restaurants. People often want to splurge on a massage or manicure while on vacation and will opt for the closest option, which means the service doesn't always need to be the best. After receiving one of the SiSpa signature services, I can say without reservation that I'd return to visit Darlene, even if I wasn't staying at the resort.
Why I Chose the SiSpa: The Ocean Treasures Massage
Named one of Condé Nast Traveler's Top 100 U.S. Resort Spas, SiSpa has 8,500 square feet of world-class wellness and pampering inspired by the natural beauty and healing powers of the ocean.
Therapeutic treatments can be enhanced with aromatherapy, warm stone, hand/foot ritual, scalp treatment, and scrub options. This is exactly why I chose the Ocean Treasures massage. The Ocean Treasures massage comes in a 50 and 80-minute option and allows you to create a custom blend of techniques. I crafted my own special mixture of deep, stone and aroma therapies.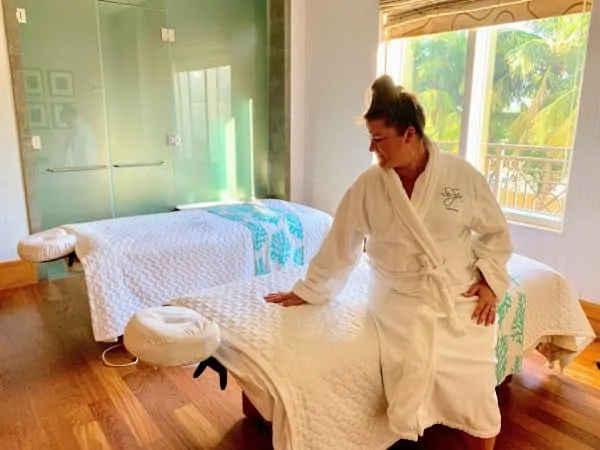 The SiSpa Therapist I'd Travel Cross-Country For
What I couldn't have known on my first visit was what an angel my therapist, Darlene, would turn out to be. As a former tennis pro, I have knots in my shoulders and lower back that I don't think I'll ever fully work out.
While I typically choose deep tissue massages, some sunburn prevented me from doing so on this visit (another tip – get your massage on your first day of vacation so you can fully relax and don't have to worry about tender skin).
2 things stood out to me about Darlene:
While I mentioned my "problem spots" to Darlene before we began, I didn't have to coach her step by step of where to go and how to help once she got there. She skillfully worked on those areas while still allowing me to relax.
I didn't feel beat up the day after. Because I ask for therapists to dig deeper on those spots, I often hurt pretty badly the next day and just chalk it up to being part of the price my body has to pay. Not so this time around. Not only did I feel the tension leave my body, it stayed that way for the duration of our trip.
SiSpa Features
What people often miss out on with their spa experiences is the exclusive access to the other spa features. The SiSpa features include:
Eight treatment rooms with heated marble beds
Private outdoor Jacuzzi
Men's and women's locker rooms and steam/shower areas with 12-head signature showers

Men's and women's relaxation areas stocked with a hot tea bar, antioxidant water and fruit selection
Separate manicure and pedicure area
Spa patio with private co-ed Jacuzzi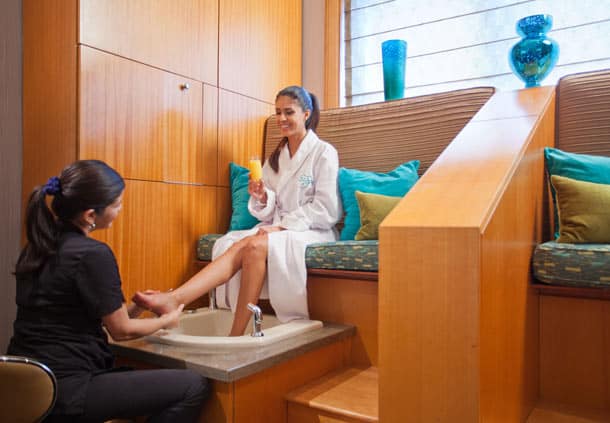 Because I opted for the first appointment of the day (I like to take advantage of the therapists being fresh!), I stayed after my massage to enjoy the relaxation room, heated marble beds, steam room, and multi-head shower. Because I didn't want my family to think I completely forgot about them, I opted not to spend time in the private Jacuzzi.
Don't Forget the Fitness Center
Adjacent to the spa is the resort's fitness center, complete with cardio equipment, free weights, medicine balls, and stability balls. Remember, even non-resort guests can visit the SiSpa and can access it from a separate exterior resort entrance as well. Trust me on this, it's worth skipping breakfast or another trip to Starbucks to fit this into your morning itinerary.
And don't worry if you're not staying at the Palm Beach Marriott Singer Island Beach Resort & Spa; you can get your valet parking validated when you visit the SiSpa. Considering private beach access is also included in your spa visit, this is a great deal! Speaking of deals…
SiSpa Groupon
At the outset of my SiSpa review, I told you I'd help you save big if my review convinced you to experience this bliss for yourself. Remember, being frugal doesn't mean forsaking luxury. It simply means being smarter about your money so you don't have to sacrifice experiences like this.
Right now, you can buy a SiSpa Groupon and save over half-off your choice of four different experiences:
50-Minute Si Signature Massage with Champagne, Access to Amenities, and Hot Stone Enhancement
50-Minute Glow Anti-Aging Facial with Champagne and Access to Amenities
50-Minute Island Experience Mani-Pedi with Champagne and Access to Amenities (the mani-pedi includes a scrub with relaxing reflexology movements for exfoliation; Glycolic foot peel; foot and hand mask wrapped in warm towels, rehydration massage with hot stones)
Choice of Two 50-Minute Services (Si Massage, Glow Anti-Aging Facial, or Island Experience Mani-Pedi) with Champagne and Access to Amenities
The first three options were $117 as of the writing of this article and the last option was only $235. (Make sure to read the fine print on the Groupon page before purchasing as there may be additional fees and requirements).
My SiSpa Singer Island Review Summary
Whether you live in Palm Beach County or are planning a South Florida vacation, make sure you set aside a day to pamper yourself at the Palm Beach Marriott Singer Island SiSpa. For quick reference, here are the links you need all in one place:
Have any other questions about visiting the SiSpa on Singer Island? Leave a comment below and I'll answer to the best of my ability.
Disclosure: The Palm Beach Marriott Singer Island & Beach Resort provided the Ocean Treasures Massage for me to experience. I was not expected to write a review, yet I couldn't help but share this experience with you all. I can't wait to go back to the SiSpa the next time we're on Singer Island!