This post may contain affiliate links, which means we may receive a small commission when you make a purchase at NO additional cost to you. Thank you for supporting our site in this way!
Are you looking for the perfect summer grilling recipe to take advantage of all the beautiful summer produce in stores right now? You're in luck because I'm sharing the specifics of my Grilled Citrus Chicken Kabobs with Pineapple Cucumber Salsa recipe I presented live on Talk of the Town.
But some of you may be wondering why I'm creating a recipe for the grill in August…well let me tell you, it's not to late to make the most of summer! And that's especially true when it comes to taking advantage of all the summer produce that is still bountiful and utilizing the grill to cook on. Not only is it quick and easy, it's a healthier cooking method and brings out the best of your meat and produce.
Of course, eating seasonally is also beneficial for your budget as well.
Let's face it, with temps at the hottest they've been all year, the calendar may say school is back in session, but you and I both know that there is still plenty of time for a backyard barbecue.
When it comes to great food at great prices, I trust my friends at ALDI to deliver on both, so I asked them for some help in putting together not only this recipe, but some tips to really help you make the most of the summer before it ends.
Whether you're firing up the grill for a party or looking for meal inspiration on a weeknight, ALDI is the place to shop for guaranteed quality and freshness. What I truly appreciate are there great prices on organic and high quality products, like their "Never Any!" brand. Never Any! means exactly what it says. This line of fresh meat never contains antibiotics, added hormones or animal by-products.

But ALDI has so much more than fresh meat; they are a great stop for all of your summer essentials like fresh produce and organics, dairy, gluten-free foods, USDA choice beef and bakery items. Healthy shopping doesn't have to be expensive because at ALDI, shoppers get a variety of premium groceries up to 50* percent less than traditional grocers, without having to worry with coupons.
Looking for organic? ALDI has shoppers covered from fruits and veggies to many of the foods in their SimplyNature line. Customers can just look for the USDA organic label.
If you've never shopped at ALDI before, you may notice they have a different style when it comes to grocery shopping, which is why it is one of the fastest growing retailers in the US. By the end of 2018, there will be nearly 2,000 ALDI stores from coast to coast bringing shoppers premium, high-quality groceries at low prices. So keep an eye out for one in your area if there isn't one just yet.
ALDI shoppers get premium quality groceries at everyday low prices, making healthy living simple and affordable. In fact, shoppers have found that switching from national brands to ALDI exclusive brands can save them money on more than 1,300 of the most commonly purchased grocery items.
So have I tempted your tastebuds enough? Without further adieu, let me show you how I combined some of my favorite ALDI ingredients to create a summer grilling recipe I know will become a family favorite for you too!
Grilled Citrus Chicken Kabobs with Pineapple Cucumber Salsa Recipe
Grilled Citrus Chicken Kabobs Ingredients:
– For Marinade:
* 1 orange, zested (+ juice)
* 1 lemon, zested (+ juice)
* 1 lime, zested
* 1 T SimplyNature Organic Wildflower Honey
* 1 T oil (vegetable or olive)
* 1/4 cup white wine vinegar
* 1 t Stonemill Essentials Iodized Salt
* 1 t Stonemill Essentials Ground Black Pepper
Dash of hot sauce (optional)
– For Kabobs:
2 Kirkwood Never Any! Fresh boneless skinless chicken breasts, trimmed and cut in half
1 pineapple, cored and chunked
Grilled Citrus Chicken Kabobs Directions:
1. Put all marinade ingredients in plastic bag, including juice from half the zested orange and lemon (save the lime for the salsa).
2. Cut chicken into 1 inch pieces and put into bag with marinade. Place chicken in fridge for 30-60 minutes.

3. Take the chicken & pineapple (also cut into 1 inch pieces) and alternately thread onto skewers (if using wood skewers, make sure to soak first)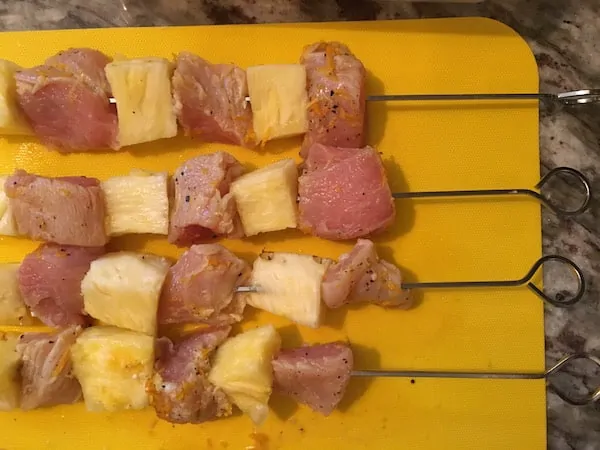 4. Grill approximately 8 minutes on each side or until chicken reaches internal temp of 160 degrees
Pineapple Cucumber Salsa ingredients:
* 1 cucumber, diced
* 1 C diced pineapple
* 1/2 C chopped cilantro
* 1/2 C red onion, diced
* 1 jalepeno, seeded and diced
* 1 T SimplyNature Organic Wildflower Honey
* juice from lime above
* salt & pepper to taste
Combine all above ingredients in bowl and allow to sit in fridge for at least 1 hour before serving. Serve alongside Grilled Citrus Chicken Kabobs.
***
The recipe above is adapted from Aldi's Grilled Chicken and Pineapple Skewers with Lemon Cucumber Salsa. This is just one among dozens of incredible Summer grilling recipes from the ALDI Test Kitchen. Discover even more summer recipes on the ALDI website at www.ALDI.us.
Click to watch my video from Talk of the Town.
Disclosure: I partnered with ALDI to bring you this amazing post on how to make the most of your summer before it's gone. As mentioned above, the recipe I created was based on their recipes and fashioned using gift cards they provided to purchase the ingredients. All opinions are my own. I knew you would appreciate this information and delicious recipe. 
*Based upon a price comparison of comparable products sold at leading national retail grocery stores.