This post may contain affiliate links, which means we may receive a small commission when you make a purchase at NO additional cost to you. Thank you for supporting our site in this way!
Ever dreamed of having the perfect Thanksgiving Dinner bite? Then you NEED to try my Little Pilgrim recipe!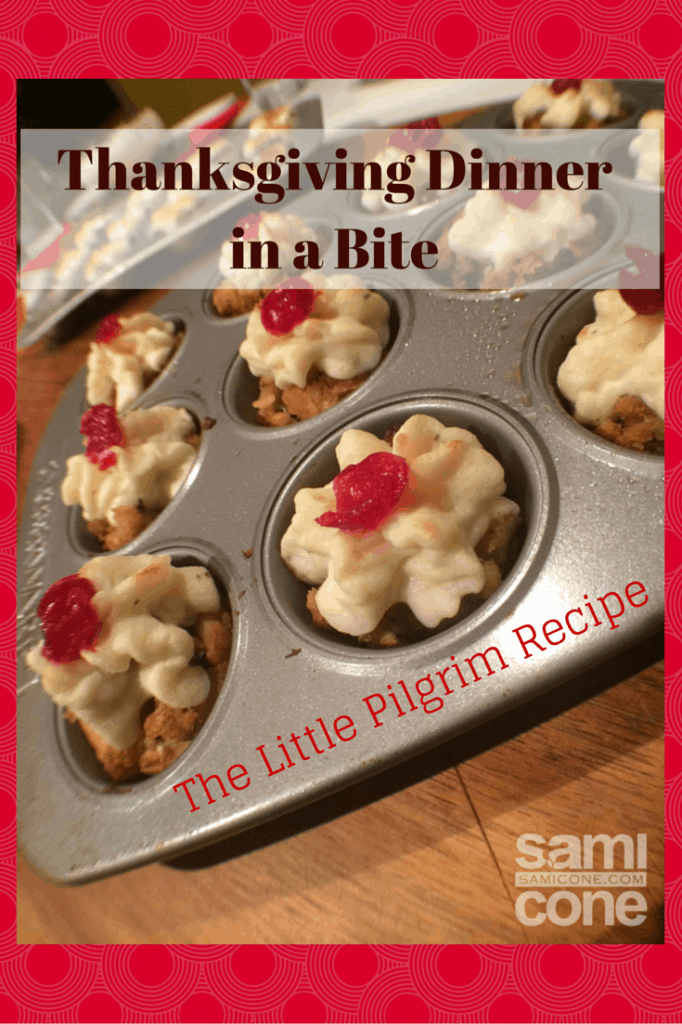 This Thanksgiving Dinner in a bite combines everything you love about Thanksgiving dinner – turkey, stuffing, mashed potatoes, cranberry sauce and even crescent rolls – and combines them all in one, perfect bite!
Thanksgiving Dinner Bite: Little Pilgrim Recipe
Ingredients:
1/8′ thick Deli Turkey steak, cut into small cubes
1 box Stuffing
1 tub prepared Mashed Potatoes
1 tube crescent rolls
(Cranberry Orange Relish for garnish)
Directions:
Preheat oven to 375 degrees
Spray mini muffin tins with non-stick spray.
Roll out crescent rolls into one solid rectangle and cut circles of dough using a shot glass or top of a gallon milk jug.
Place crescent circle in the bottom of each mini-muffin tin, poke with fork, then bake at 375 degrees for 3 minutes.
Remove from oven and on top of each crescent circle place a turkey square & 1/2 tsp of stuffing.
Using a frosting press or pastry bag, pipe in 1/2 tsp of mashed potatoes on top.
Place under broiler for 5 minutes.
Remove from oven and top with small dollop of cranberry relish, if desired.
Get my full Bite-Size Thanksgiving Dinner menu!