This post may contain affiliate links, which means we may receive a small commission when you make a purchase at NO additional cost to you. Thank you for supporting our site in this way!
Join me and some of my fellow Tommy Nelson Mommies (Lisa & Angie) as we co-host a Tommy Nelson Twitter party all about kids summer reading tonight!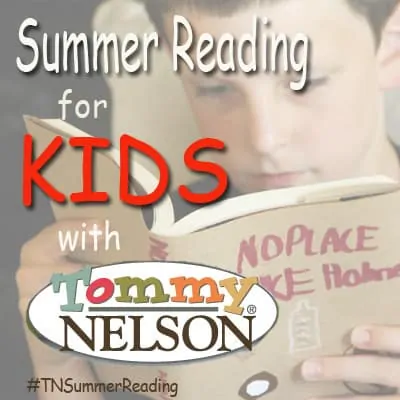 Not only will we be chatting about all things having to do with kids reading over the summer (including tips to encourage summer reading, what books your kids will love and whether or not you reward summer reading), but we'll also be giving away some fabulous Tommy Nelson books to beef up your kids' summer reading list!
To join our Tommy Nelson Twitter party tonight (June 6, 2013 at 8pm CST/9pm EST), just follow our hosts (@TheSamiCone, @MyFourMonkeys & @PenningtonPoint) along with @ThomasNelson & @TommyNelson on Twitter. Then just jump in the conversation with hashtag #TNSummerReading and get ready to share your tips and learn a thing or two from everyone else!
UPDATE: This was possibly the most valuable Twitter Party I've been a part of, much less had the pleasure of co-hosting!
We shared and received a TON of great information about kids and summer reading at our Tommy Nelson Twitter Party, including information on book swaps between mom friends, summer reading incentives, local & online reading programs and a lot more!
But perhaps the most exciting thing about the evening was that we trended nationally!

Isn't that exciting?
You guys were so great during the party that it made me realize we need to do two things:
1. The Tommy Nelson team needs to come up with a summer reading program of our own
2. We need to do this Twitter Party again!
Soooooo, if you have any great ideas regarding either of these two points – please share them with me in the comments below.
If you represent a brand or organization who's interested in learning more about what hosting a Twitter party can do for your business, please contact me at sami (at) samicone (dot) com.