This post may contain affiliate links, which means we may receive a small commission when you make a purchase at NO additional cost to you. Thank you for supporting our site in this way!
Are you looking for a new way to keep in touch with friends and family, especially with the holidays coming up? Allow me to introduce you to Facebook Portal: smart video calling with Portal products to fit every family!
Facebook Portal Video Calling Devices
Portal from Facebook has a variety of Portal products to help them stay in touch with their friends & family. If you can't be in the same room as friends and family, you can now feel like you're there with Portal. You can make video calls with Messenger and WhatsApp on their smartphones and tablets, even if friends don't have Portal.
Portal Products Comparison Guide
There are four Facebook Portal products to choose from:
Each Facebook Portal comes with its own pros and cons, which is why I appreciate this side-by-side comparison guide. Instead of me telling you which Portal I think is best, let's take a different approach…
The Portal Device I Wouldn't Choose
I admit, I didn't have an easy time deciding between the different Facebook Portal devices. After all, my inclination is to consider budget first. But when you compare each Portal product side by side, I realized you have to weigh all the components carefully based on your family's tech threshold and communication needs.
Taking that into account, I can tell you which Facebook Portal I WOULDN'T choose: the original Facebook Portal. That may seem like a strange way to approach my choice, but allow me to explain.
The Original Facebook Portal
From what I can tell, the only difference between the Portal and Portal Mini is about 2 inches in the display (10″ vs. 8″, respectively). With the Portal Mini coming in at $129 and the Portal costing $179, I don't think those two inches are worth the extra $50.
Portal TV
If a bigger screen is important to you, I'd opt for the Portal TV, which allows your video calls to be as big as your TV. At $149, it's also cheaper than the Portal. There are only two downsides in my opinion:
1. It stays with your TV and can't move around the house like the Portals with a display.
2. It's not available right now. However, you can Pre-Order it. You'll also need an HDMI cable, which you can order for an extra $10.
The Ultimate Portal: Portal+
If you want to go for the gusto, choose the Portal+. In addition to the larger HD display (15.6″), the screen actually rotates! Portal's Smart Camera automatically adjusts to stay with the action, whether you're moving around the kitchen or chasing the kids through the living room.
And it's not just for video calls. In addition to Alexa being built-in, you can listen to music, check your front door, display your favorite photos, share a story with AR effects and more. The $279 price tag isn't cheap, but it certainly has all the bells and whistles you'd expect in the top model.
If you do want to save money, it looks like you can save an additional $50 if you buy 2 Portal products.
Facebook Portal Giveaway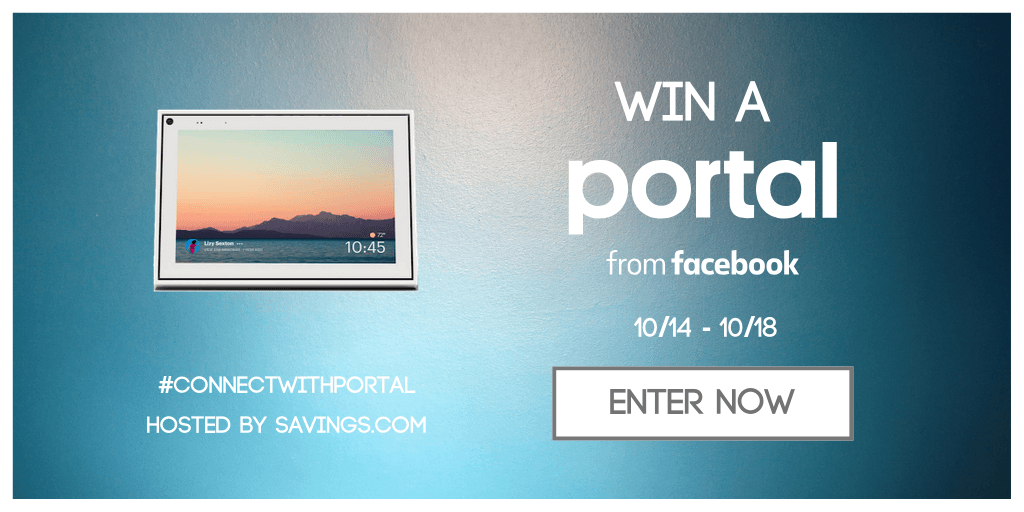 Ready to own a Facebook Portal of your very own? Or perhaps you know the perfect friend or relative to gift the Portal to? Then why not enter this Facebook Portal giveaway?
Three (3) winners will receive a 10″ Portal from Facebook, valued at $179.00 each. (Which is perfect since I said that's not the one I would buy :). All you have to do to enter is head to the Portal merchant page on Savings.com and submit your email address on the form on the page.
The Facebook Portal Giveaway ends on Friday, October 18th at 11:59 PM PT. The winners will be chosen through a lottery drawing and notified on Monday, October 21st via the email address they used to enter. See complete Official Rules for entry instructions, full prize descriptions, restrictions and other important details.
This post is sponsored by Savings.com. I can't wait to see if one of you wins!