This post may contain affiliate links, which means we may receive a small commission when you make a purchase at NO additional cost to you. Thank you for supporting our site in this way!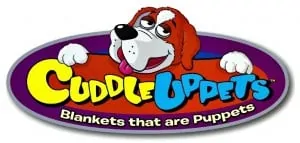 "Cuddle CuddleUppets, blankets that are puppets!"
If you're a parent, there's no doubt you've caught your kids singing this catchy jingle (and most likely gotten it stuck in your head!). But you might not know exactly what CuddleUppets are or why your kids needed one. Now, not only will you know, but you can win one for your kids in the Christmas CuddleUppets giveaway!
Not only are CuddleUppets a Dr. Toy Best Product 2012 award winner but they've also been awarded the Parent Tested, Parent Approved (PTPA) Seal of Approval. "CuddleUppets are the perfect travel companion for any little one. A puppet, a blanket and a friend all rolled into one," said Sharon Vinderline of Parent Tested Parent Approved.
I also loved what Kim Orlando, founder of TravelingMom.com had to say about CuddleUppets:
"CuddleUppets are the perfect triple-duty must-pack kid accessory. It's a triple play for kids: a puppet, a blanket and a friend. It's priced right and kids can use their imagination to play with it. I can wash it when they're done and, best of all, the kids don't mind carrying it themselves."
I have to admit, I didn't want to like these things. I didn't think our kids needed one more thing to clutter up their bed, but we were traveling at the time when we came across them, so I fell victim to their pouty lips and cute-kid pleas.
I'm glad I did.
They truly have been a great travel companion, whether in the car or on a plane. Plus, they've just been great snuggle buddies for around the house too!
There are 8 varieties to choose from: Pink Poodle, Purple Monkey, Yellow Puppy, Green Crocodile, Blue Elephant Brown Bear, Pink Ladybug and Magic Unicorn. We have the monkey and the bear, but I think the new unicorn may be in our future as well…and at only $19.99 the price is right!
The best part is that I get to give away 20 CuddleUppets to YOU – my favorite friends!
Just enter via the Rafflecopter widget below by letting me know which CuddleUppet you'd choose for your little one!
Your travels with kids will never be the same 😉