This post may contain affiliate links, which means we may receive a small commission when you make a purchase at NO additional cost to you. Thank you for supporting our site in this way!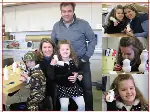 The Winkflash Flat Rate Photo Book Sale is back for January 2012!
UPDATE: The sale has been extended through January 16, 2012!!! Woo Hoo!
I was literally just saying yesterday, "I wonder when the next Winkflash Flat Rate Sale will be?" I wish everything I thought came into existence that fast!
Now through January 9, 2012, you can get a photo book with up to 100 pages for what you'd normally pay for 20 (as low as $16.95). Just use the code ALLBOOKS to take advantage of this great deal!
The price depends on what size book and cover you choose, but this remains the best photo book deal I've ever found!