This post may contain affiliate links, which means we may receive a small commission when you make a purchase at NO additional cost to you. Thank you for supporting our site in this way!
The Abigail Draper Girl fashion line is now available at Opryland! Iconic items from this lifestyle brand designed by two teenaged sisters designed to give voice, confidence and power to women of all ages can now be found at the resort, and I was with the founders for the arrival of the first shipment.
Abigail Draper Girl Fashion Line
Developed in 2019 by two Nashville sisters, Abby James & Draper Witherspoon, Abigail Draper Girl has already made its mark on the fashion scene. Characterized by their comfortable and stylish pieces, along with a powerful message, the brand encourages girls to be kind while speaking up for themselves.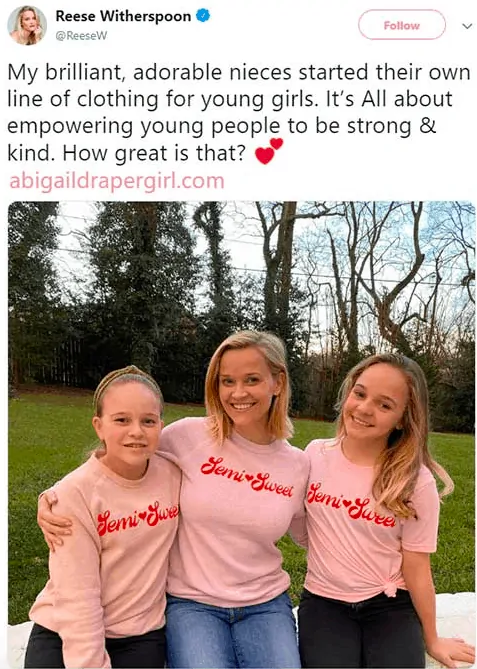 And if their names sound familiar, that's no coincidence. Abby James & Draper are following in the fashion footsteps of their aunt, Reese Witherspoon, who also has a fashion brand here in the 12 South district of Nashville, Draper James.
Semi-Sweet Now at Opryland
I had the honor of being with AJ & Draper at Opryland when their first shipment was delivered to the Magnolia Necessities shop. For the girls, who have been vacationing at Opryland since they were little, the moment was surreal.
Semi Sweet is the first line Abigail Draper created with hopes of empowering young girls. You'll want to take notice of the hand-drawn heart created by Draper herself that has become a staple of the line.
"As girls, we are taught to be sweet and kind, but at Abigail Draper we want girls to be fierce, and use their voice to stand up for themselves and what they believe in. We like to say girls are semi-sweet."

Abigail Draper Girl
While I love all the pieces the girls created, my personal favorites are the hoodie with the above-mentioned heart and the trucker hat.
Whether you forget a sweatshirt on your Opryland vacation or want a hat to keep the sun out of your eyes at SoundWaves, you can find the most popular Abigail Draper Girl pieces inside of Opryland now.
Opryland a Favorite Staycation Spot of the Sisters
Gaylord Opryland is one of the sisters' favorite spots to visit. In fact, they were kid reporters at the resort last Christmas. After visiting SoundWaves right after it opened in 2019, they couldn't wait to get back to try out the outdoor rides at SoundWaves.
I think it's safe to say, they had a blast when they finally got to enjoy everything from the water slides to the cabanas. I know my daughter and her friends loved celebrating her sweet 16 at Opryland this summer – it's the perfect place for all ages to gather for any kind of celebration!
Opryland Tennessee Resident Deals
For the first time, Opryland is now offering SoundWaves day passes for Tennessee residents for a limited time. Prices start at $49.99 + tax per person. Reservations are required at GaylordOprylandLocal.com.
Of course, there are also great deals to be found if you want to book your own Opryland vacation or staycation. Use code L9Z to save up to 40% off your SoundWaves experience package right now. (Discount is based on your residency status – proof of residency required at check-in).
Watch our segment from The Sami Cone Show below: