This post may contain affiliate links, which means we may receive a small commission when you make a purchase at NO additional cost to you. Thank you for supporting our site in this way!
What does every teenage girl want for her birthday? A Sweet 16 hotel party of course! And when you live in Nashville, there's no better resort to host a birthday weekend with friends than Opryland.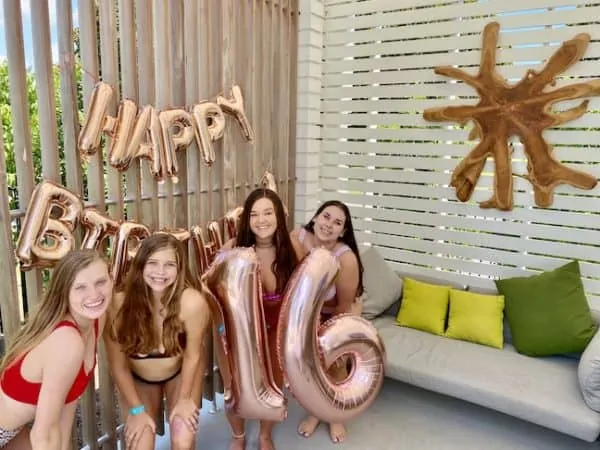 Sweet 16 Hotel Sleepover Party
When I realized my daughter would be turning 16 years old in the middle of a pandemic, I knew we had to reevaluate our party plans.
We'd seen many of her friends celebrate their 16th birthday with a drive-by party. But because we live on a busy street, that wouldn't work. We also knew many parents would not be comfortable with a large party. With all that in mind, the answer soon became clear: a Sweet 16 hotel party at Opryland!
Planning a Sweet 16
Planning a Sweet 16 is no small task! Many girls dream of what their Sweet 16 party will look like from the time they hit double digits. Even though the circumstances of our party changed, there were still several key steps that had to be considered. Here are my essentials:
My Sweet 16 Planning Checklist
Pick a Date: Not only do you want to make sure your child's favorite friends (& family) are free, make sure your party date doesn't coincide with any other major events (or – GASP – another friend's party!)
Set a Budget: The thing I love about a hotel sleepover party (other than not having to clean your house before and after) is that your entertainment is typically contained in the hotel and you know what you're paying upfront.
Invite Friends: Since you'll be spending the night together in the hotel, you'll want to choose 1-3 friends that you are confident will all feel comfortable sharing a room together (and with you).
Book the Hotel: Once you know when, how much and who, you need to pick where to have your party! For us, this was a no-brainer: my girl wanted to live her best cabana life at SoundWaves. I always recommend finding a hotel with a pool (bonus points for an indoor pool so it doesn't matter if it's a winter party or a stormy summer day).
Think about Food: If you're not careful, food for teenagers can cost more than the hotel. I recommend bringing breakfast items with you (since they'll wake up late anyway), plan on at least one nice meal in the hotel and consider ordering in one night so they can enjoy being in the hotel room together. And don't forget the snacks! (More on this below).
Decor is Key: There are only so many ways you can decorate a hotel room. I recommended bringing decorations from home, including streamers, banners, and balloons you can fill with air instead of helium. If you want to splurge, consider enlisting the help of a local florist or balloon designer to make a delivery.
Plan Loosely: Yes, you heard me correctly. You can plan, plan and then plan again, but chances are the birthday girl and her friends are going to want to swim, Snap, TikTok, talk, laugh and basically just be together. You can have the best intentions, but don't be disappointed if none of your plans come to pass. It's OK.
I can already hear what some of you are thinking, "Where are the invitations? Party Favors? Elaborate 3-tier cake and car presentation?" If you're reading this blog, than you likely already know I'm not that mom.
We prefer experiences over stuff, tell our kids we'll match whatever they save for a car and, to be honest, I'd rather send a handwritten thank you note after an event than a pre-printed invitation before. Hang with me on this premise; I promise the birthday girl will appreciate it.
A SoundWaves Sweet 16
For K's sweet 16, we opted for a two night stay at Opryland. We wanted it to feel like a true getaway.
Because her birthday was on a Sunday, we checked in on Saturday afternoon and stayed through Monday afternoon. Although the weekends can be busier at SoundWaves, there are also things we wanted to take advantage of at Opryland that are available during weekends (like the spa – more on that below).
As for guests, each of our kids brought one friend from school for one night. We also had two of her best friends (like cousins) who flew in from out of town to celebrate and spend the entire weekend with us.
Opryland Parlor Suite
Because of our group size and the mix of boys and girls, we were fortunate to get to stay in a parlor suite overlooking the Cascades Atrium.
You can request either one or two adjoining bedrooms to the parlor. In our case, we chose two: one with a king-size bed and the other with two queen beds.
The girls stayed in the room with the queen beds, the boys each had their own place to sleep in the parlor and I had the king suite… because I'm the mom 🙂
The parlor not only served as our gathering/eating/snacking/TV-watching area, but it also features a queen Murphy bed (that our kids typically fight over) as well as a large couch with a pull-out bed. Oh, and yes, even though we were smack dab in the middle of 90+ degree Tennessee summer days, that fireplace never went off (don't worry, you can enjoy the look without the heat).
The large dining room table situated by the floor-to-ceiling windows is where I laid out bowls of snacks during the day and breakfast items, like muffins and fruit, each morning.
Celebrating a Birthday at SoundWaves
Even though SoundWaves announced they are offering day passes for Tennessee residents for a limited time, I still recommend spending the night at Opryland. To be honest, there isn't a huge difference in cost and when you book a SoundWaves package, you not only have the convenience of a room at the resort, but you can technically get into SoundWaves for two days.
That's right, you can arrive early the day you check-in and have the hotel keep your bags until your room is ready. On the day you check-out, you can either get to SoundWaves when it opens for a couple hours OR you can once again leave your bags with the hotel and stay in the water attraction a little longer.
The beauty of a SoundWaves birthday is there truly isn't anything you have to think about: all the fun is right before your eyes. With 4 acres of water attractions, both inside and outside, you don't have to look far to find something for everyone.
Sweet 16 Air-Filled Balloons
Since I know I'll get asked, I wanted to share where I got the balloons I decorated our room and cabana with. I figured it would be hard to walk through the hotel with helium balloons. Plus, I couldn't bring them into SoundWaves.
Instead, I opted to order these rose gold Sweet 16 birthday balloons ahead of time on Amazon and bring them with me in my suitcase. This also added to the element of surprise. And because I knew I'd be getting up WAY earlier than the teens, I was able to decorate the parlor before K woke up without anyone knowing.
What You Cannot Bring Into SoundWaves
Speaking of balloons, here are a few things you cannot bring into at SoundWaves, especially when it comes to celebrating a Sweet 16 (or any celebration for that matter). You cannot bring in:
outside food & drinks (other than baby necessities)
coolers
helium balloons
cakes or cupcakes
anything glass
inflatable toys or balls
If you prefer to rent a SoundWaves party room for your celebration, you'll receive:
2+ pizzas (based on party size)
All-day access wristbands to SoundWaves
4-10 self-parking passes
3 hours guaranteed private party room access, including plates, cups & utensils
non-alcoholic beverages
party room attendant
Access to a 55-inch TV with input for static images (guest must bring their own HDMI cable to connect to TV)
Keep in mind, the party room is not the same thing as a cabana, and vice-versa. Up until the day pass announcement, renting a party room was the only way to access SoundWaves without purchasing an overnight SoundWaves Experience package.
What SoundWaves Provides for Free
You may be surprised to find that you don't have to bring as much with you to SoundWaves as you might think. SoundWaves provides each guest with:
beach towels
life jackets (Coast Guard approved, available on a first-come, first-serve basis)
Inner tubes (for select rides and rivers)
Lounge chairs/beach chairs
Free Opryland SummerFest Activities for Teens
We were fortunate that K's birthday happened during SummerFest at Opryland. I highlighted some of the many free Opryland SummerFest activities in a recent segment on The Sami Cone Show.
To be honest, I thought some of the activities would skew too young for our group of teens, but for the most part, I was wrong! While I couldn't get them to participate in the AR Wildlife Animal Encounter, they couldn't wait to take a Delta Flatboat ride.
The teens also enjoyed the Atrium Vibes concerts and selfie spots. And much to my surprise, they actually wanted to join in on the family movie time (I think the huge green beanbags sealed the deal).
The Delta Atrium is really the place teens want to be in Opryland. In addition to having some of our favorite restaurants (including the delicious and affordable pizza from Paisano's), it's where you'll find the majority of SummerFest's activities. Plus, there are so many Instagram-worthy spots for pictures!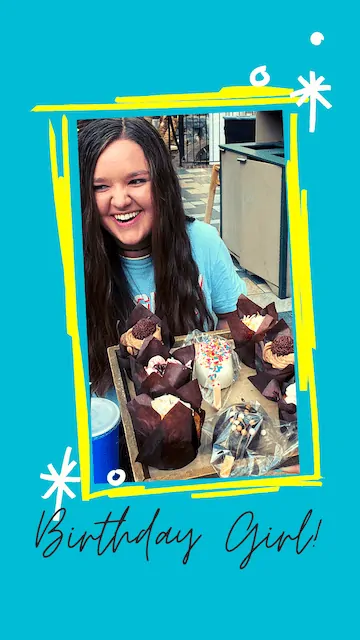 Don't Forget to Schedule Spa Time
One of the most important things I learned during this Sweet 16 hotel party was to schedule spa time for myself.
While I thought I'd actually have a lot of time to myself at SoundWaves during the day or while the kids were watching a movie at night, the truth is I spent more time with them than I anticipated. Let's face it, who can sit when there's so much fun to be had in the 4 acres of water attractions? And when your teenagers and their friends invite you to watch something with them, you do it!
That being said, I quickly wore myself out, which is why I'm so thankful I scheduled a massage mid-way through the trip. The Relache Spa is currently open Friday – Sunday and is implementing all the appropriate safety measures.
The deep tissue massage was incredibly relaxing. And while I thought the masseuse having gloves on the entire time would bother me, I quickly forgot as I drifted off into a relaxed state.
You'll find a wide array of offerings still being offered, though some of the amenities (like the steam room) have temporarily been suspended.
Don't Forget the Shopping
Opryland makes it easy to never leave during your stay because of everything they offer under one roof, including an eclectic mix of unique shopping opportunities. But let's not forget that Opry Mills Mall is within walking distance of the resort (Opryland also offers a free shuttle).
On our final day, we stayed at SoundWaves until about 3pm and then headed over to Opry Mills for a little bit of shopping before heading home. I also let my girl get her cartilage pierced at Claire's, something she's been wanting to do for over a year. It was super special to be able to have her friends there with her for it!
Opry Mills also has a great food court, making it the perfect option if you're trying to please a lot of different taste buds.
Our Opryland Birthday Weekend in Review
To sum up, Opryland's tagline of "Safe Summer Fun is Closer Than You Think" couldn't have been more true. We felt safe our entire stay and appreciated all the efforts being taken to keep things clean.
So whether you're looking to have your own Sweet 16 hotel party or are simply looking for a girlfriends' getaway or momcation, I highly suggest looking into booking your celebration at Opryland.