This post may contain affiliate links, which means we may receive a small commission when you make a purchase at NO additional cost to you. Thank you for supporting our site in this way!
I'm a HUGE fan of ABLE fashion, as much for their style and quality as I am for their ethical practices. I know they can cost a little more, which is why I wanted to bring you an ABLE clothing discount code, as well as some of their 2023 fashion trends I'm most excited about!
ABLE Clothing Discount Code
Save 15% off your ABLE purchase when you shop through my referral link!
Keep in mind, even though you might pay a little more for ABLE clothes, bags, shoes & jewelry, they stand behind their work. If anything ever happens to your items, they will either replace them or pay to have them repaired.
Case in point, I've had a handle on a bag repaired and a zipper replaced. They've also offered to replace the tote with a brand new one, but I loved the color of mine and they stopped making it.
ABLE Discount Code Details
Where to Shop: LiveFashionable.com
What you'll Save: 15% off ABLE purchases
Code to Use: SAMI15
When: Ongoing
ABLE SITEWIDE SALE
For a limited time, save 20% off SITEWIDE at ABLE online. Honestly, I don't know if we'll see a sale this good again this year!
If you want to save even more online, check this out:
Save 25% off orders of $100 or more
Save 30% off orders of $200 or more
Use code SAVEMORE to take advantage of the current ABLE sale.
I haven't verified yet, but I believe you can also use my SAMI15 code on top of those savings!
ABLE Spring 2022 Fashion Trends
As always, ABLE is ahead of the trends. I picked a few of my favorite items to feature on The Sami Cone Show that align with the hottest fashion trends:
Utility Jackets
ET online says a lightweight utility jacket is one of the best spring jackets to sport for 2022. It's also a great transition piece for in-between seasons. According to JoLynne Shane, A utility jacket is great for casual wear when you don't need rain protection, and it can be outerwear or part of your outfit.
The Franklin Utility Jacket features a hidden zipper closure with snaps at the front placket. This military-inspired jacket has 4 pockets and an adjustable drawstring. Obviously, it makes a great jacket, but I've also styled my outfits around it as a focal point.
Matching Sets
ABLE has created the perfect way to look fashionable and comfortable with their Cynthia Zip Front Sweatshirt + Louisa Sweatpants.
The sweatshirt shows off a ribbed mock neck, side slits, and french terry with rib trim. Made in India, it's 100% cotton and is helping women transform their communities. Oh, and did I mention it's also curve-friendly and bust-friendly and goes up to size 3X?
Wide Leg Jeans
Can we all say hallelujah that skinny jeans seem to be a thing of the past?
The ABLE Leah Sailor Jeans have front and back patch pockets that are so cute. I appreciate that it also sits flat on my tummy because of the high-waisted style and zipper fly.
I will say these wide-leg jeans come quite long as they are meant to be worn with a heel (31″ inseam), but you could easily hem or crop them.
Baby Doll Dresses
I can't tell you how many tiered dresses I've seen pop up this spring. And I've seen all lengths, from midi to mini.
Mark my words, the ABLE Sandra Swing Dress is going to be your favorite packable piece for the next 9 months. It's loose fit, v-neck, and made from comfy 47% Supima Cotton/47% Modal/6% spandex (cotton-jersey feel). With fixed cuffed sleeves and side seam pockets, this dress is curve-friendly, bump-friendly, bust friendly, and tummy-friendly.
Block Heels
I love the Jones Heel! Block heels are back and they scream trendy while also providing a more stable high-heeled slip-on shoe. The leather stacked heel measures 3.2 inches high and also has a 4mm green foam padded insole for extra comfort.
I especially love the Raffia Textile on the exterior with the leather lining.
Crossbody Bags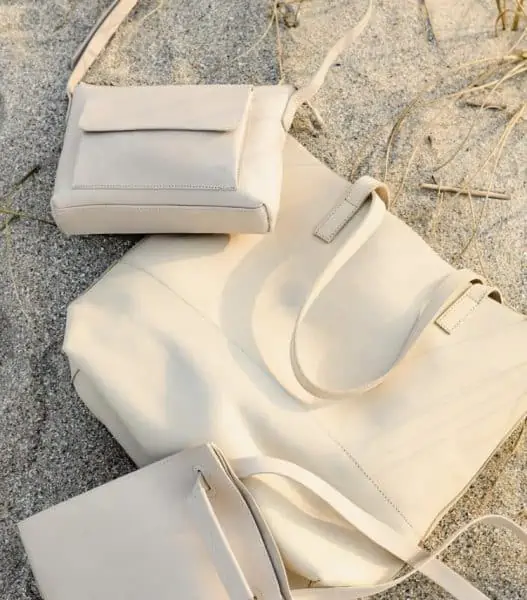 InStyle says crossbody bags are a must-have this season. In my opinion, they never go out of style and they're perfect for traveling.
I'm not sure if you noticed, but the new ABLE Chana Crossbody bag has no hardware! It features pull-through straps (for versatility) and is handcrafted in Brazil. It measures 9 ½" H x 8" W x 2 ½" D with an unlined interior, interior slip pocket, and reinforced handle.
Remember, all ABLE bags are sustainably made from 100% genuine leather.
ABLE Jewelry
There were three jewelry pieces I couldn't wait to show you this season:
Apollo Threader Earrings: I'm not kidding when I say everyone who has seen these falls in love with them. They literally thread through your ear and dangle on both sides!
Caesar Stud Earrings: If you're looking for unique ear candy, especially for a second or third piercing, look no further than these beauties.
Ivy Ring: Delicate and detailed, the Ivy ring is the perfect addition to your ring stack.
A couple of things you should know about ABLE jewelry. Not only is it handmade right here in Nashville, TN, it is personally hammered, soldered, assembled, and packaged by many women who have overcome extraordinary circumstances in their lives.
It's worth checking out my ABLE Summer capsule wardrobe as well, focusing on my favorite dresses.
ABLE Fashion Mission
ABLE also partners with local organizations (like Nashville Rescue Mission, Thistle Farms, and Renewal House) to hire women who often lack opportunity due to their past circumstances and teach them the skills needed to make jewelry. Most of their jewelers come in without knowing how to make jewelry at all and ABLE pays them to learn.
Not only are they paid a living wage and experience the benefits ABLE offers (like a flexible work schedule, the option for 100% paid healthcare, ownership in the company, full maternity leave, infertility and adoption assistance, and more), the community in the jewelry studio is truly like a family.
These women are able to write new stories for themselves and their families because of their work at ABLE – because of the support of you and me, their customers.
If you can't visit their headquarters in the Nations neighborhood of West Nashville, I highly encourage you to support their mission and shop online.