This post may contain affiliate links, which means we may receive a small commission when you make a purchase at NO additional cost to you. Thank you for supporting our site in this way!
It's rare to find an ABLE coupon code on top of an incredible sale, but that's exactly what I have for you! Use this ABLE discount code with their Impact Sale. Anyone can save up to 70% off on ABLE clothing, bags, shoes, jewelry, and more. Plus save an extra 15% off ABLE online with my unique live fashionable coupon code below.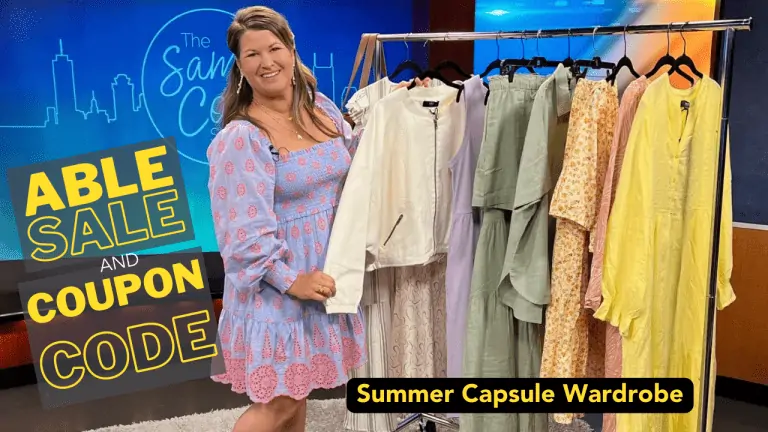 ABLE Discount Code 2023 Details
I've always loved the ABLE brand for what they stand for and what they create. But when we can save money on what we love while supporting the makers behind the brand, that's even better. Here are the discount code details:
Where to Shop: AbleClothing.com
When: 2023
Savings: An additional 15% off
Online Discount Code to Use: SAMI15
Even once the "Your Impact" Summer Sale at ABLE clothing has ended, you can still use the coupon code for 15% off.
Other Ways to Save at ABLE Online
You'll find many other ways to save when you shop at ABLE online and here in Nashville. Remember, saving money includes your total cost beyond the point of purchase. Here are the highlights:
Free Shipping for ABLE Rewards members
Lifetime guarantee: Yes, if anything goes wrong for any reason, ABLE will repair or replace your item.
Free Returns up to 30 days after your order ships
Size Swap: if your size or circumstances change, ABLE will swap sizes in their clothing for you! (one exchange per customer)
Why to Sign Up for ABLE Rewards
Not only is it free to sign up for ABLE rewards, you get a TON of free benefits:
Free Shipping at ABLE online
Earn Impact Rewards on every ABLE purchase ($1 off your next purchase for every Impact dollar earned)
Birthday Bonus
Early access gifts and surprises based on your Rewards level
Sign Up for ABLE Rewards NOW
My ABLE Summer Wardrobe Recommendations
With so many great options at ABLE, it can be tough to know what to buy and what size to order. I featured my favorite Summer selections on The Sami Cone Show.
Take a look at my top picks and how they fit in this video:
Favorite ABLE Clothing Items & How They Fit
Find direct affiliate links to all the items I featured on my show below, along with the size I wore and what size I would buy instead.
As you'll see, almost everything I tried on in the video is an XL. I'm 5'6″ tall and a pretty true size 14. Keep in mind I'm smaller on top and have a butt 🙂
ABLE Dresses
Molly Smocked Ruffle Midi Dress – creme abstract print – XL (could go a size down)
Rosie Midi Dress – lilac – XL (super comfy, but the one I would leave out of your cart if I had to choose)
Tyler Strappy Maxi Dress -sage – XL (a little snug in the bust)
Jane Maxi Dress – yellow – XL (runs big – need a L)
Joyce Smocked Midi Dress – blush linework floral – XL
Caralyn Dress – XL – one of my favorites and true to size
ABLE Separates
Harper Tiered Maxi Skirt – Watercolor floral – XL (A little snug in hips)
Erna Smocked Blouse – floral – XL
Jordan Easy Short – sage – XL
Jordan Short Sleeve Easy Button-Down – sage – XL (need a L – runs big)
ABLE Shoes on Sale
I will admit, I have a love/hate relationship with ABLE shoes. I LOVE their booties. I've also come to enjoy their sandals. I have a touch-and-go relationship with sneakers.
I typically wear an 8.5 shoe, but I always size up to a size 9 in their sneakers and booties; both can run narrow.
Whitney Sandal – white with gold buckle detail (think of it as a modern Birkenstock)
Emmy Sneaker – leopard
Nera Sneaker — bone/camel
ABLE Rachel Utility Bag
This is the one ABLE bag I knew I had to have for the summer. It's big enough to carry my computer with a ton of pockets and sections that are easily accessible. It has straps to put on your shoulder but comes with a longer strap to convert it to a crossbody.
I started with the rich whiskey color, but exchanged it for the mauve. It's a lovely neutral with a pink undertone.
ABLE Jackets
There are two ABLE jackets I recommend having on had for summer:
Bourke Crop Bomber Jacket – XL (really big – could use a M)
Long Merly Jean Jacket – it's up to you how baggy you want this to be, but I wear a L