This post may contain affiliate links, which means we may receive a small commission when you make a purchase at NO additional cost to you. Thank you for supporting our site in this way!
The new American Girl Nashville store officially opens this Saturday, but we got a sneak peak today…and you can too!
That's right, American Girl celebrates it's Grand Opening in Nashville (at Cool Springs Galleria in Franklin, to be exact) on Saturday, May 30, but their "soft opening" was today, which means everyone is welcome! We didn't have to wait in line at the doll hair salon or to check out, which is a rarity at an American Girl store. But if you want to wait for the official Grand Opening, there are some treats you'll be able to experience (see below).
If you want a full tour of the new American Girl Nashville store, watch this video:
With any purchase of $50 or more, you can purchase this cute doll outfit for just $14:
Look at the American Girl Bistro! Isn't it cute? While it's not as big as some of its counterparts in other cities, I love the bar area where diners can enjoy something as simple as a dessert OR you can choose the private dining area for special events like a birthday party.
Kariss loved pouring over all the accessories and discover new ways to play with her American Girl dolls.
One of her favorite sections of the store was the area dedicated to Grace Thomas, the 2015 American Girl of the Year. Of course, with my own love for all things Parisian, I was quite smitten as well!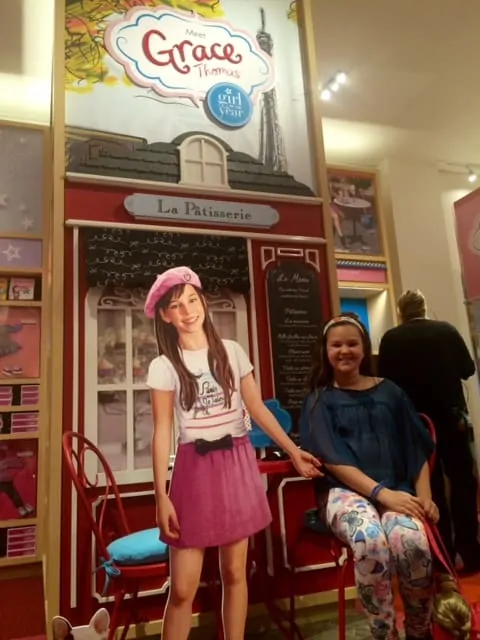 We even ran into some of our friends from NewsChannel5 covering the American Girl Grand Opening and Kariss helped them get some good B-roll shots like a good blogger's daughter should 🙂
Kariss brought "Lucy", her "My American Girl" doll to get her hair done at the Doll Hair Salon, my favorite part of the American Girl Doll stores. For anywhere between $10-$20, you can have a stylist create some amazing hairstyles for your American Girl. Kariss chose the Summer 2015 hairstyle for Lucy, the "Double Waterfall".
Now I know I just mentioned that Kariss brought her "My American Girl", but that line has rebranded and is now known as "Truly Me". In addition to the "Be Forever" (formerly the American Girl Historic Dolls), the Girl of the Year, and the Bitty Baby/Bitty Twins dolls, girls can also choose from several dozen "Truly Me" girls that are designed to match a wider variety of girls as it comes to their hair, eyes, skin tone, etc. Below you can get a glimpse of exactly what comes with each of the new "Truly Me" dolls.
Remember, if you want the goodies below, then you'll need to head over to the Cool Springs Galleria in Franklin on Saturday or Sunday. But if you'd rather shop in a less crowded environment, the store is currently open to the public.
All in all, we spent a total of 2 hours in the new American Girl Nashville store…but that's what we love about it. Even though we only walked out purchasing two books, my daughter and I immersed ourselves in the full American Girl experience, which allowed us special time together for just us girls.
On the car ride home, Kariss couldn't wait to dig into her A Smart Girl's Guide: Middle School (Revised): Everything You Need to Know About Juggling More Homework, More Teachers, and More Friends! (Smart Girl's Guides)
and she even asked me questions on one of the quizzes while I drove.
So how can you join in on the fun?
During the Grand Opening weekend celebration, girls will receive a free gift and can enter to win a Grace doll and paperback book and Grace's Welcome Gifts. Other festivities include a free craft activity, live entertainment, and much more.
WHEN/WHERE:
Saturday, May 30
American Girl, CoolSprings Galleria, 1800 Galleria Boulevard, Franklin, TN
8:50 a.m. Ribbon Cutting Ceremony
9:00 a.m. Doors Open
9:00 a.m. – 9:00 p.m. Free Entertainment and Activities
Sunday, May 31
10:00 a.m. Doors Open
10:00 a.m. – 7:00 p.m. Free Entertainment and Activities
If you want to know more about how this frugal mom became an American Girl fan, you can read about our very first American Girl Chicago experience.
Another favorite moment with American Girl was our Girl Mom Weekend in Atlanta a few years ago.
Read all my American Girl posts by clicking on the link.