This post may contain affiliate links, which means we may receive a small commission when you make a purchase at NO additional cost to you. Thank you for supporting our site in this way!
My daughter and I recently went on an Atlanta Girl Mom Weekend.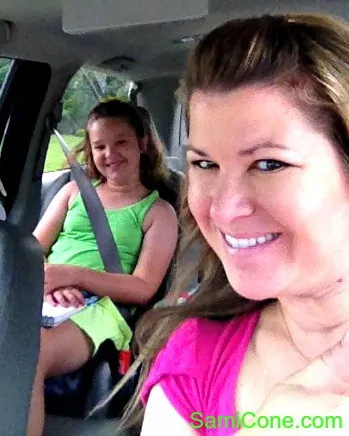 With my daughter quickly approaching the age of nine, I knew it was time for us to have "the talk".
Well, maybe not exactly the talk that you all are thinking of, but I talk nonetheless about what it means to become a young lady.
After surveying my friends with daughters a little older than my own, I had heard of a great resource from American girl. They have a book series called The Care and Keeping of You: The Body Book for Younger Girls
. They just came out with a revised edition and they also have The Care and Keeping of You 2: The Body Book for Older Girls
. This book, written by Dr. Cara Natterson (yes, a doctor wrote it!) has all the technical information you could ever hope to share with your daughter, but presented in a way that she actually understands it. In fact, my daughter couldn't put the book down!
I had hoped I would find an event center surround the book at one of their stores, but it seems that has not been developed yet. So in lieu of an actual care and keeping of you event, we created our own!
I actually gave my daughter the book the week before we left so she could start reading through it and give us something to talk about on our drive.
Since Atlanta is just a short 4 Hour drive from Nashville, we decided to make a weekend out of going to see some of Atlanta's newest and favorite landmarks, as a mother and daughter pair, as well as an early birthday trip to the American Girl Boutique and Bistro in Marietta.
The weekend was a huge success! Let me share just a few of our favorite highlights and photos:
Atlanta Girl Mom Weekend
World of Coca Cola
We drove right into the city and our first stop was the World of Coca Cola. I completed my undergrad degree at Emory University and let me tell you, this is an ENTIRELY new World of Coke experience from when I lived in Atlanta in the 90's! We probably only spent an hour here and Kariss wasn't as interested in the Secret Recipe Vault as she was in the 4D movie experience. Of course, no trip to the World of Coca Cola would be complete without the tasting room, where you can sample Coca Cola made beverages from all over the world. Kariss actually tasted her very first sip of classic Coke ever! Her review: "It was sprickly!!"
Georgia Aquarium
Located just across the grass from the World of Coca Cola sits the amazingly stunning structure that houses the GA Aquarium. No, really, the building itself is incredible! But what's housed inside this beautiful structure is perhaps even more incredible. We were most enamored with the sea creature 'petting' areas, the underwater walkway, and our ultimate favorite, the Dolphin Experience! (Kariss even made me sit in the Splash Zone!).
Centennial Olympic Park
Even though we were tired of walking for hours, I simply had to show Kariss the history of Centennial Olympic Park – located just across the street from the World of Coca Cola & the GA Aquarium. I actually graduated from college in 1996 and was privileged to work during the Olympics, so it was special to now be able to bring my daughter back to this site.
Residence Inn Alpharetta
After enjoying our afternoon in downtown Atlanta, we drove outside the perimeter to what would be our home for the next two nights, the Residence Inn Alpharetta. American Girl graciously set up an American Girl Experience for us there, but ANYONE can take advantage of this – and let me tell you – it TRULY was the highlight of the trip for Kariss. Not only did they welcome her with a special pink rope and pink carpet, but they truly treated her like a VIP during every aspect of our stay! From the goodies awaiting us in our room to the American Girl signature pink accents (even hangers!), it truly was everything we hoped the experience would be: great service, wonderful rooms and even free breakfast. We'd go back there in a heartbeat.
American Girl Atlanta Boutique & Bistro
So obviously, this was the pinnacle of the weekend for Kariss – so much so that we visited TWICE in our three day stay! I'm going to have to share all the details in a separate post since there's just so many great memories and photos, but let me try to do a quick re-cap here:
We started late Saturday morning with a visit to the Doll Hair Salon and then moved on to lunch at the American Girl Bistro (honestly, I would return to the bistro just for their Strawberry Salad…it was that good!). We upgraded our lunch experience (just a few dollars more) and that included a special tiara for both Kariss and her doll, as well as a sweet goody bag including a t-shirt for her doll and even an entire birthday cake and serenade. Delish! After almost four hours in the store, she finally agreed to leave, but only on the terms that we returned the next day.
On Sunday, we came back for two free events they were hosting, the Saige Hot Air Balloon craft and the Saige Scavenger Hunt. We definitely liked the latter better, and Kariss was particularly excited to get a free poster after completing the adventure. Really, I'll have to share more details soon.
Milton's Cuisine
When I asked Jade at the Residence Inn Alpharetta about where we MUST eat while in Alpharetta, without missing a beat, he answered Milton's Cuisine. He was totally right. You can read my entire Milton's restaurant review here, but after enjoying some amazing food and touring the back acre, we truly feel like part of the Milton's family.
***
I think more important than anything when planning a trip like this is just making the time to get away. Of course my daughter loved everything that we did together, but the thing that she loved most about the weekend with the fact that it was just the two of us together.
I want to help one of you be able to re-create the same memories with your daughter, so I'm offering an Atlanta girl mom weekend giveaway!
Atlanta Girl Mom Weekend Giveaway
One lucky SamiCone.com reader will win the following:
* Two tickets to the world of Coca-Cola
* Two tickets to the Georgia aquarium
* Lunch for two at the American Girl Bistro in Atlanta
Just enter below!
a Rafflecopter giveaway

I want to thank all the entities above who graciously invited my daughter and I to spend time with them and make some memories we'll never forget. I hope this inspires you to visit them and do the same!