This post may contain affiliate links, which means we may receive a small commission when you make a purchase at NO additional cost to you. Thank you for supporting our site in this way!
The 3rd Annual Caravan Tour of Places to Worship will be Sunday, October 8th from 11:15 a.m. – 5:45 p.m. in Nashville.
I've always believed in visiting other religious services, both within Christianity and other religions, so that I keep myself from living in a bubble, but I never knew there was an organized event that made this possible – until now.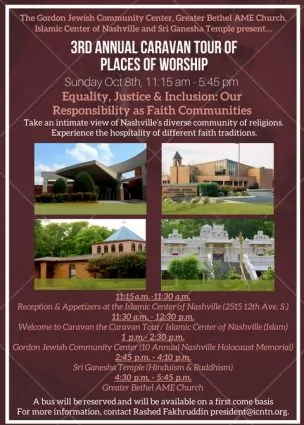 Presented by the Gordon Jewish Community Center, the Greater Bethel AME Church, the Islamic Center of Nashville and the Sri Ganesha Temple, the 3rd Annual Caravan Tour of Places of Worship gives you an intimate view of Nashville's diverse community of religions, and offers you an opportunity to experience the hospitality of different faith traditions.
Free and open to the public, a bus will be reserved to transport attendees and will be available on a first come-first served basis. Guest are also welcome to travel on their own. To reserve your spot on the tour, whether you are traveling on the bus or on your own, please register here.
The Caravan Tour of Places of Worship Schedule includes:
11:15 a.m – 12:30 p.m. –  Islamic Center of Nashville – Reception and Appetizers, Welcome.
1:00 p.m. – 2:30 p.m. – Gordon Jewish Community Center – Nashville Holocaust Memorial
2:45 p.m. – 4: 10 p.m. – Sri Ganesha Temple (Hinduism and Buddhism)
4:30 p.m. – 5:45 p.m. – Greater Bethel AME Church
I'm so disappointed that we already have plans this weekend, but now that I know this is an annual event, I'm definitely going to mark it on my calendar for next year. In fact, it's made me consider asking the places of worship on the tour if they'd be willing to do something similar for a group of students from our school.
Even if you don't live in Nashville, I encourage you to do the same with a variety of worship locations in your community. If I have any success in that area, I will let you know how I approached it.
What about you? Is this something you'd consider attending?