This post may contain affiliate links, which means we may receive a small commission when you make a purchase at NO additional cost to you. Thank you for supporting our site in this way!
Take a look inside the Art of Animation Cars Family Suite at Walt Disney World:

Have you seen inside the Art of Animation resort at Walt Disney World yet? I've got a peak inside the Cars Family Suite for you this Christmas at the newest Disney resort, the Art of Animation.
If you watch the video, I also give you a tour inside Animation Hall, which houses registration, the "Ink & Paint" Food Court as well as the gift shop and arcade.
Here's the tree inside the Art of Animation lobby:
The sky light just above the tree:
The registration area:
Detail of the animation wall:
I got to bunk with my friend Joey Fortman in a Cars Family Suite for the night while in Orlando for some meetings. The Art of Animation resort is 75% family suites, which means you can fit up to 6 people in these rooms. Take a look:

Each room contains a main bedroom with its own bathroom, a separate family room area with its own bathroom, a couch that folds out into a bed and a kitchenette. As you saw, they also have a family friendly desk with a murphy bed – too cool!
The courtyard around the Cars Family suites are also pretty amazing. It looks like you stepped right out of the movie into Radiator Springs!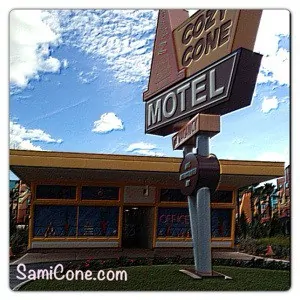 I also LOVE the CARS details in the rooms. Of course this has nothing to do with the fact that our last name resembles most of the decorations…
I can't wait to bring my family back to the Art of Animation suites here at one of our favorite vacation destinations, Disney World! The New Fantasyland also opens this week. Unfortunately I won't have a chance to go into the parks this trip, but we can't wait to uncover the fun and make even more memories here.
Have any of you stayed at the Art of Animation resort yet? Which section would you choose: Lion King, The Little Mermaid, Cars or Finding Nemo?